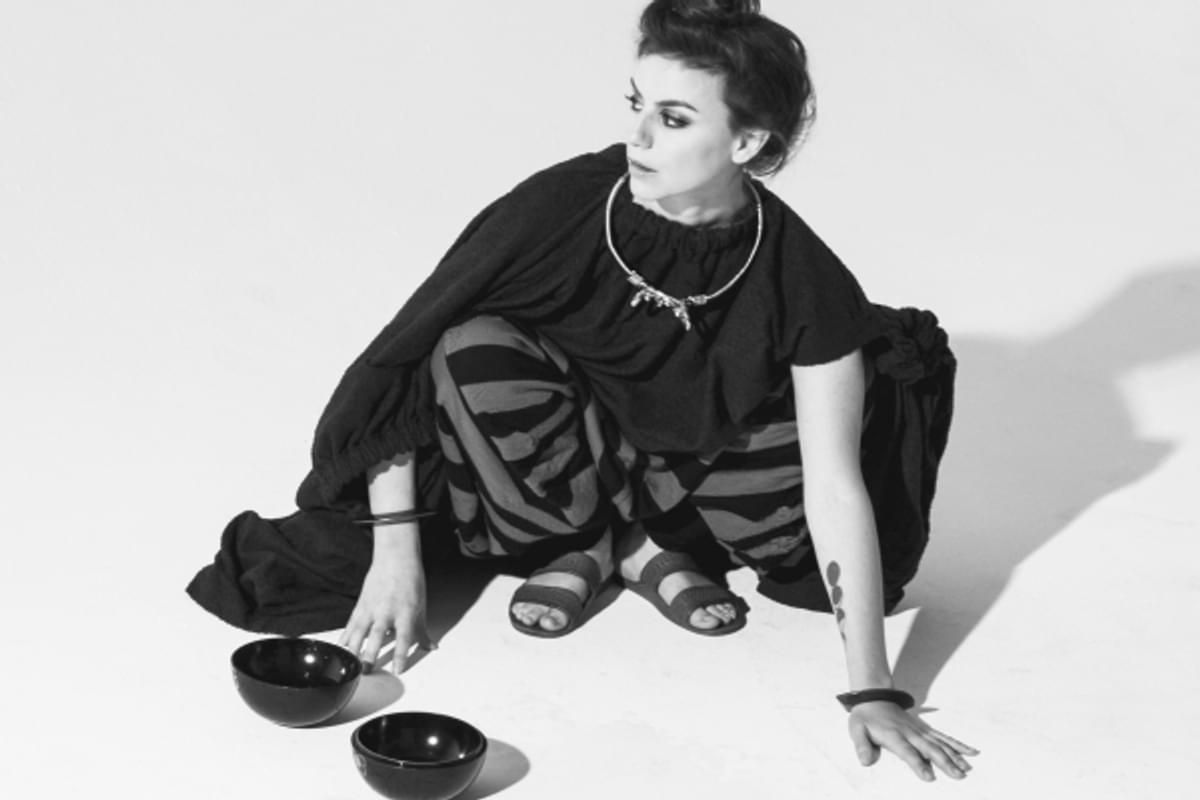 Deradoorian: A Higher State of Consciousness
10 September 2015, 09:30
Sometimes a record comes out of nowhere, which reminds you that music still has that indefinable capacity to create something you've never heard before and expand your personal musical frame of reference. Angel Deradoorian's The Expanding Flower Planet is just such a record. Brimming with ideas and creativity, it's a literal head-trip through her psyche that takes in brilliantly rhythmical pop songs, spaced out folk shanties and multi-layered chanting.
A conversation with Deradoorian is as mind-expanding as listening to her music. In the hour we spend talking the topics are as diverse as the sounds on the record itself - from finding inspiration from the A Clockwork Orange soundtrack, her fascination with time travel and the personal imagined worlds that she inhabits from time to time.
Deradoorian joined David Longstreth's Dirty Projectors on bass and vocals when they toured 2007's Rise Above, going on to be an integral part of the recording of their breakthrough record, 2009s Bitte Orca and its follow up EP the collaboration with Bjork, Mount Wittenberg Orca. At this point she and Longstreth parted ways
The songs on The Expanding Flower Planet are so strikinly different to the majority of music currently being pedalled it's hard to comprehend how Deradoorian came to write the songs in the first place. As it turns out discovering a creative approach she was happy with took her a while, as she was used to working with other musicians. Since leaving The Dirty Projectors she's been part of Avey Tare's (of Animal Collective) Slasher Flicks, sang on Flying Lotus's You're Dead and most recently Brandon Flowers' The Desired Effect.
So far her only foray into releasing solo material was 2009's Mind Raft EP, but when she came to make her debut album proper Deradoorian found herself in a very different place musically. "I felt like a completely different person in The Dirty Projectors, the stuff that I like and the things that I wanted to make now were different, but I didn't know how to actualise those things right away, they were inside myself, but how would I make that listenable?" The lengthy gestation period was necessary for her to find her musical voice, even if that was initially daunting. "I was just like, 'Oh man, I'm going to be in the darkness for a while.'" She took a couple of years off before she started writing the album and it was another year before she was in a position to create the songs that would feature on the album.
Deradoorian - "A Beautiful Woman" Live from anticon. on Vimeo.
Her eureka moment arrived quite unexpectedly. After she'd moved to LA from Baltimore, whilst juggling moving into to a new apartment, trying to find work as well as writing, Deradoorian was in what she describes as a "pretty dark" space. One day she found herself staring at a wall in her studio as she was writing a song about how she ended up there, the wonderfully compelling "DarkLord" and initially she wondered if the song was right for what she was trying to do. "I was like 'Why am I even writing this song? It's super weird.' I think it's the weirdest song on the record, because it's so dissonant and maybe makes the least amount of sense in a way."
Something in the song clicked and unlocked how she would articulate the record and gave her the belief that she was on right path after three years of thinking. "I thought 'OK, I got it.' I don't even know why I felt that way, but I thought 'You did a certain amount of time and the hurdle you were visualising, you got over it, so now you have the freedom to make these decisions in a seemingly relaxed way.' I had a better grasp on making decisions on how I wanted it to be, it wasn't like 'Is this right, is that right?' It was like 'This is what I want' and it felt really good to get there."
Key for Deradoorian in the creative process is having a physical connection with the music she's making and she describes this physicality as the bridge to a feeling of spirituality with the music itself. "It has to feel like it's almost beyond myself in a way," she explains, "even though I am my own spirituality. I think if I lose that idea, that feeling, I'm going to lose my creativity, because it has to feel as if it's working outside of me. There's just certain things that are so striking, it's like it taps into this weird unconscious part of my psyche and I just feel it in my body."
A study of the visual arts, which has always influenced her approach to music, prompted a shift in approach. "I read, listen and look at all this art and absorb it and whatever I get from that had some output, but a lot of it was being more influenced at a younger age. A shift has occurred and now I'm on the creator side but it's kind of a new thing for me, where I've had this grasp of this creativity." Deradoorian talks about her love of Medieval and Middle Eastern art and the "weird little worlds" they created: "Looking into those worlds they created and feeling like it's completely alien… but you're part of it at the same time. I want to be able to explore those feelings more when they come to me and music is the best output for that, but I'm a daydreamer! I want to be in those worlds all the time, I want to understand why those artists did what they did, but at the same time I don't want to, because I'll never really understand. I mean, I could never ask Hieronymus Bosch why he painted his paintings, unless I could transport back in time, which would be awesome."
Songs on The Expanding Flower Planet are layered, with unexpected fusions of different musical styles. "Violet Minded" is reminiscent of a madrigal, the lead instrument sounding like a harpsichord, but then it moves somewhere very unexpected with an almost Beatles-like touch to outro. "Yeah, the weird Beatles coda!" exclaims Deradoorian. "I studied classical music and I really like Bach and Beethoven and Stanley Kubrick, tonally that one started to remind me of the soundtrack to A Clockwork Orange, in the thinness and fullness of the sounds." The song was the only one on the album written on just one instrument and it made her realise the importance of a different approach to writing, which gave the other instruments more room to breathe. "That song sounds a lot different to the other songs because of that, there was more freedom in the bassline. I wasn't going to put drums on it, but one of my friends said it would be cool if there was a beat under it, so I tried it out and now it's the only way I can hear the song."
I ask her about one of its lines "Looking out across the sea, one body, one body", which struck me because it felt very connected and observational at the same time. "It's a love song; it's talking about love being beyond myself and the other person," she explains. "It's this symbiotic love relationship where you fuse; do you know that word from Jungian psychology 'Coniunctio'? It's like the fusing of two, the sacred marriage of the divine spirit. It's like the sacred marriage in alchemy, but I think it can work in many ways." Deradoorian generally doesn't like to talk about the song lyrics, primarily because they're intensely personal, whether they're about her life or worldview, but also because she wants the listener to draw their own conclusions. "I don't like to go too deeply into the ideas and that's why the lyrics are a little bit ambiguous, because I like the listener to take what they want."
Deradoorian continues: "There's a lot of ideas that are seemingly outside of myself, even though I'm the only I person I know in a way. So it's bigger ideas of how humanity is evolving, whatever is going on in human civilisation and the world in general. Mostly it comes from the infinite ability that you have inside of yourself to learn and constantly connect with others and the universe. It's kind of scary, because you realise that when you're infinite you aren't safe, but you can find comfort in discovering these awesome things. It's just so scary to know that you aren't really tied to anything in life." She finishes the sentence laughing at the great existential questions. "Life is weird and what are we doing here?"
The closing song on the record, "Grow", sees Deradoorian's fusion of ideas reach its zenith musically. "I thought 'What would it be like to fuse two ideas together?' she ponders. "They're so different but they're connected with the flute sound, which is almost like singing, that's why I like flutes so much, they're like passage instruments to me, a conduit for energy. It's kind of like a transmutation, the idea of going from one place to the next, an experiment in contrast and structuring a song. Also it was a challenge for me to write something on a guitar like that, something more seemingly subdued, but I like the idea of having it subdued and then having these loud cracks of vocals in between each of these quieter parts."
As well as the fusing of ideas in the music, the vocals go to lots of different places, from crooning to chanting and more besides. I tell her they reminded me of the vocals on Kate Bush's The Sensual World, in spirit more than sound, which as well as Bush's vocal dexterity featured the wonderful three piece choir Trio Bulgarka, with very different cultures at play in the singing as well as the music? "Definitely, being in The Dirty Projectors really influenced some of the vocal arrangements and a lot of that came from Bulgarian influences. I was actually thinking about Kate Bush right before I went to sleep last night. I haven't heard that record but I do remember she did that and Bjork has something similar but it's an Inuit choir with abrasive tones and I really like that aspect of vocals a lot, because it turns into its own instrument."
Another method she used to create the music was visualization. The song "Komodo" was inspired by a 1970's documentary about two explorers who travelled to the island. She explains she pictured its environment to make the song. "I could see where it was, I could see the island, I could see the animals… so the music is just a weird soundtrack to that place in that moment." Whilst she considers it to be the most cinematic song on the album, each one is visual in a different way for her. On the title track she can see "a lot of mountainous cave-worlds but some are more abstract, intertwining colour things, like 'Ouneya' has a very pink and orange soundscape in my mind."
As we're talking about visualisation she tells me about the "weird imaginary worlds" she likes to go to in her imagination. "I know I'll never totally get there, I'll never be in those places," says Deradoorian. "I can tap into them but if I got caught up trying to get into these imaginary worlds or trying to find them on earth… I'll never find them. Oh man, it's hard to explain… I don't know how to explain it very well, they're just places I can see or feel sometimes and I want to know where they are, I think I'm just making them up, but it would be so fun… it's like an escape from society."
I wonder how she feels about the impact of social media, which has allowed songs to generate a worldwide buzz and go viral... "Yeah, but it would be funny if something of mine went viral," laughs Deradoorian. "For some reason I would be very surprised, I don't know if that's the kind of energy I emit. I guess maybe my perspective on myself seems very mellow and I don't know if I have the tinge or the vibe of being a viral music maker! Maybe one day, I don't know, but it doesn't feel like part of what I want maybe, so it doesn't really happen."
For the moment she's focussed on playing the songs live, with an upcoming US tour with Laetitia Sadier (whom Deradoorian and her sister will join onstage each night to provide backing vocals) and dates in Europe hopefully happening later this year. "I want to play the songs live, it's important to grow that connection with people on a physical plane and so much of it is out of your control when you put it out there, so I really don't know what will happen but it's there for people to access."
Ultimately, she's just happy to have finished the record: "I'm really excited to get some time to work on those ideas, finally! It took a while to get the creative flow going but now that it's here I'm like 'Thank you God!'" Now that she's come to the end of the writing and recording process she explains that she likens it to a puzzle. "You see something but you don't know how to get it yet, so you have to find all these ways to get to it until you get there. There was a lot of having to figure out what it was I wanted and to feel comfortable with it and now I have a better grasp of that."
For Deradoorian the next challenge will be redefining the creative process for the next record: "I've got a lot of ideas for the next one and it could go in a lot of directions. Even though I think it will be challenging to make another record, and I hope it is, I want to be able to make something that is just out of reach. That's how I know I'm doing something beyond my capabilities. I love music and it's been the thing I've done my entire life, at this point it's just one vehicle for creating ideas, but it's the one that I know how to do the best."
Get the Best Fit take on the week in music direct to your inbox every Friday