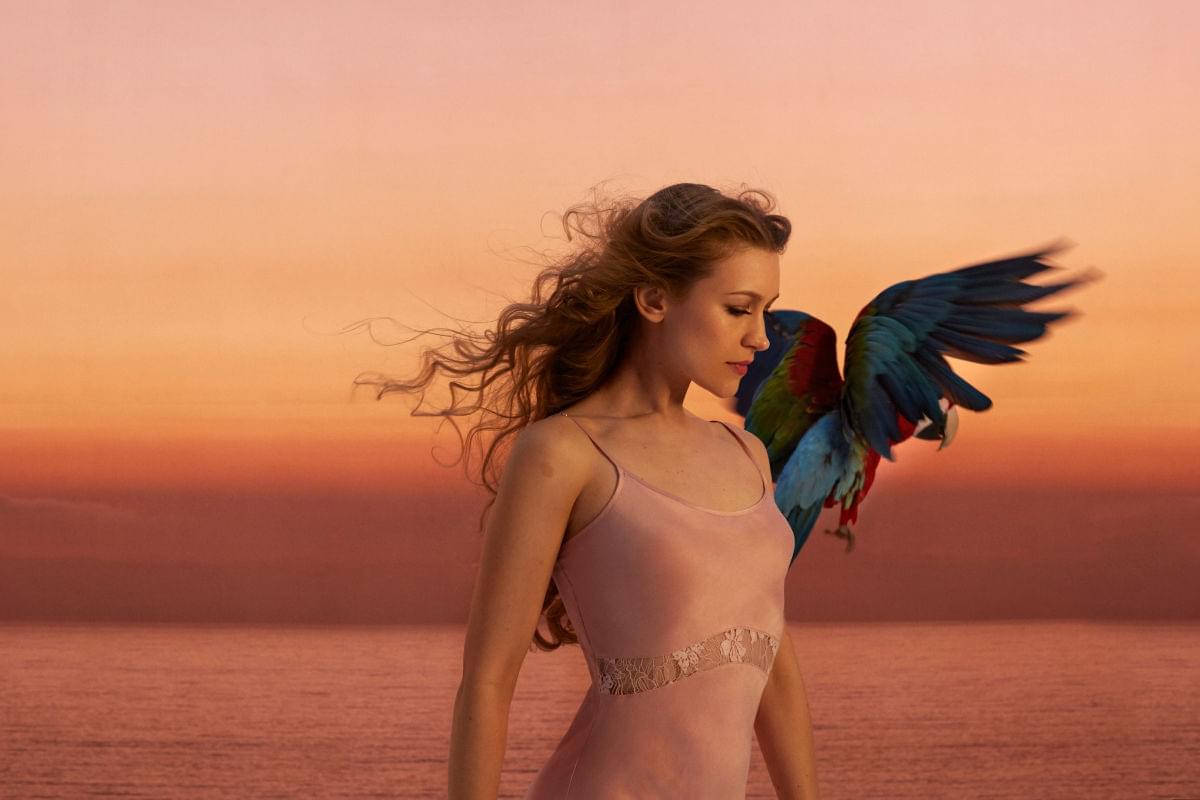 Joanna Newsom makes new LP Divers the resounding centrepiece of her live show
04 November 2015, 16:00
Joanna Newsom released fourth long-player Divers to acclaim last month – arriving a looooong half-decade after triple album Have One On Me. As the eminent multi-instrumentalist begins to perform the new material, onlookers teeter on tenterhooks.
Even before she takes to the stage, Newsom's got an iron grip over her congregation. So revered is her musical prowess that Colston Hall sits quivering in anticipation of her presence – it's a silently fevered reaction which suddenly erupts into a choir of whoops and hollers and plate-handed clapping when she bounds into eyeshot.
A bundles of smiles and gracious nods, Newsom launches into "Bridges And Balloons", the opening track from 2004 debut The Milk-Eyed Mender - the atmosphere's thick with gasps as she plucks the harp strings and sings into a headset mic.
She's only three stops deep on her tour of Divers, and she makes a point of saying how long its been since she and her band have performed together, but she looks right at home. It's a genuine pleasure to see someone still so in awe of music, despite being in the notorious industry for well over a decade; she slips into improvised jazzy interludes, slips into wrong chords that get turned right by way of devilishly quick fingers, and she beams as she does so. The gig is almost certainly meticulously prepared, but buoyed by her joy it feels like a show magicked from a whim rather than a concrete setlist.
Even though she's touring her most recently released sounds, some of the evening's grandest moments arrive in the form of earlier cuts, with "Cosmia"'s languid moth-centric melodies and the bluesy burst of "Soft As Chalk" being met with wide-eyed glee. Each of her previous records gets represented in some form, much to widespread delight, with Ys' 12-minute opus "Emily" getting a particularly raucous welcome.
The tracks from Divers, of which many are given live airings – over half the set – are the realest chances to admire her depth of sound. Bass is a commodity in Colston Hall tonight, but during Divers cuts there's vast dimensions to the sound which hit with a breath-stopping wallop. The contrast between the likes of "Divers" compared to "Emily" is multi-faceted, but the physical resonance is one of the most obvious differences. It makes the newer material connect a lot easier,
"Sapokanikan" is a highlight of 2015, and there's little surprise that it's the standout performance of the night too, even though Newsom's band is caught off guard when she launches into it out of order. The twisted tale of "Sapokanikan" waltzes through the emotional gamut and nigh every instrument on stage – the rest of the band jump, almost literally, between instruments while she croons from her keys – and the climactic resolution is the hugest moment Newsom can lay on.
After "Time, As A Symptom", Newsom departs, the crowd catapulting to their feet for a standing ovation. Then she comes back and everyone feels a bit silly. Even before the final beat of "Peach, Plum, Pear", the assembled masses are perched, ready to rocket once again into a pose of appreciation. Newsom bids the Hall adieu as many balance en pointe to make sure they're standing the standiest of standing ovations. Despite all the fawning, Newsom undoubtedly is a master of her art, and tonight piles on the proof.
Divers is out now on Drag City.
Get the Best Fit take on the week in music direct to your inbox every Friday