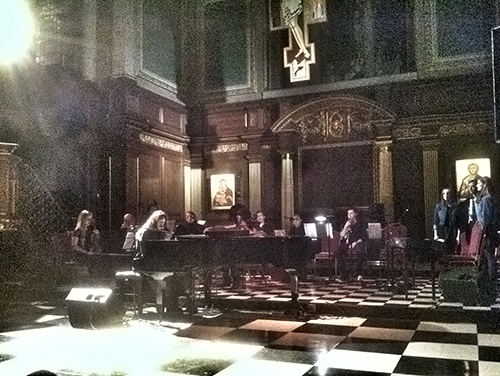 The pleasing cacophony of a tuning string quintet is familiar to classical music concerts goers and instantly set the mood in St Andrew's Church the way filler music fading out at the Brixton Academy would, for last night's Rachel Zeffira show.
The attentive forward-facing audience was tricked though and the lights at the back of the church revealed Zeffira perched at the organ, accompanied by half a dozen teenage female chorists. After such a charming introduction the little troupe made its way downstairs just in time to catch up with the strings and begin the set. The classically trained soprano led at the piano, accompanied by her small orchestra and Melissa Rigby (from S.C.U.M.) alternated on drums, keyboard, and flute.
Zeffira delved into songs  from her upcoming records – such as 'Star' with its interesting harmonies – nodding encouragingly at the choir from time to time. Band and label-mate Faris Badwan was seen lurking in the heights of the church, but – appropriately – didn't join in.
A moody cover of My Bloody Valentine's 'To Here Knows When' and another Cat's Eyes song delighted the audience for the encore, but left us hungry for more solo material. It was a generous performance, reminding us how live music can be both surprising and elegant.
More from Best Fit