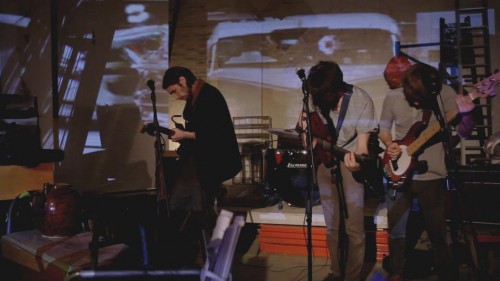 From the music itself, to the poetic lyrical sentiments, the album art, and the music videos, it seems all mediums are accounted for. Who or what comes to mind when you bring all these things together?
Liam: We're lucky to have people we know with wonderful talents, Amy who does the artwork has a vision that far out-reaches all of us, we're so fortunate that she's agreed to do the artwork for all the singles so far, it adds that extra dimension to the music which is really important.
The latest music video was co-directed by our bassist Nicholas Jones and Colette McWilliams Corillho, who both attend London Film School together, they put together a brilliant team of people, and took on the themes/ideas expressed in the song and created a whole new visual dimension, it was all so meticulously story-boarded and set that it was a real pleasure to be amongst, it's always nice to get the inside line into what's happening in other peoples' heads.
So far as the words go, they're usually the thing that influence the songs' pace and mood but only on a very fundamental level, I try and work from basic vocal sounds/noises/melodies and then develop them into cohesive themes, occasionally with success. The music then is what defines it, I read someone describe it as a 'widescreen sonic soundscape' recently which is basically exactly what we are aiming for, a real composition rather than an accompaniment to the lyrics.
What would you say you value more, consistency or experimentalism?
Liam: Experimentalism is key to developing to anything worthy of a real audience, nobody should be comfortable churning out formulaic nonsense because it sold or was popular once. We're nowhere near where we want to be with the songs and the sound, but have always thought it's best to take it slow and figure it out properly rather than jump on someone else's line of thought.
However, we want the progression to be based on a foundation of well written songs and not use 'experimentalism' as an excuse for a lack of ideas, so in that sense consistency is important. When you look at the progression of people like Scott Walker, Captain Beefheart, Brian Eno etc… they took their time, worked hard, and got where they wanted to be.
There's been a lot of trial and error, but it does now feel like we're starting to carve ourselves the beginnings of an independent sound. I hope in a few years time with a couple of albums under our belt we could really do something.
How do you guys record, have you ever worked with a producer you didn't agree with, and what are your thoughts on synthesizers?
Steven: Recording 'The Boredom Rose' was a whole new experience for the band as everything prior to it was recorded either by ourselves or by our old bass player Tom (each being home recordings), so going into a 'proper' studio was very much a kid in a sweet shop kind of experience.
We've been fortunate enough to find an immediate bond with our man Jim Anderson, it's of exponential worth to have someone who's on your level. Even more so, his ideas and ambition run parallel with our own so it's a real pleasure to work with him.
Who/what is a recurring source of inspiration for you?
Liam: People and personalities are really important, it's near impossible to create anything without the influence of the people you're surrounded by. Conversations/debates/arguments are where ideas really get picked apart and refined, so people with a strong independent viewpoint and a real passion for anything and everything are the best to hang out with, we're very lucky to have a very genuine and eclectic group of pals. Basically the final piece is always in debt to many many more people than it lets on.
Aside from this my brother had a baby two years ago and it really changed my perspective, I found myself imagining things more from his point of view and it really began to make me less cynical and appreciate everything much more. That might not be completely evident in this single but in the pipeline there's a lot more sunshine.
How do the differences/similarities of each band member contribute to your finished sound?
Steven: The band was built on friendship rather than the other way round so we've already common interests and tastes. I find this eases the different processes of writing/recording and ultimately feels more natural, plus I wouldn't want to spend 9 sweaty hours in a rehearsal room with 4 strangers.
It's also extremely important for each member to have a 'voice', the songs are roughly knocked together in demo form and then we take them to the rehearsal space and allow Ross and Nick to go wild with them, we run a democracy here.
What do you love/hate to hear said about you guys?
Liam: A friend of mine spend a great deal of time recently explaining why he disliked 'dark' as a descriptive word so much (except for in its literal sense), we get that a lot and though the usage doesn't offend me like it does him, I do feel like we're perhaps seen as overly gloomy and it's not completely reflective of us as people (or songwriters).
I love it when people pick up on the compositions and the lyrics over the voice and it's always a compliment to get compared with musicians that we've clearly taken a lot from.
The Boredom Rose is available now via Dancing Coins. Grass house will play atThe Macbeth on 28 September and Catch on 9 November.