Recorded while the Africa Express team were out in Bamako, Mali in October this year, London singer/producer Ghostpoet and Malian talking drum band Doucoura's collaboration "Season Change" now has a video courtesy of Roland Hamilton.
- Taken from our album of the week, Africa Express Presents: Maison Des Jeunes, the Two Inch Punch and Damon Albarn produced number is a rolling, down-tempo affair that sees British rap traditions meld with vibrant Malian sounds and minor electronic flourishes, while the video takes us on a sun drenched journey.
Driven by a wonderfully cumbersome beat "Season Change" is just one of Africa Express Presents: Maison Des Jeunes incredible sonic adventures. The album is available digitally on Monday 9 December via Transgressive Records with a physical release coming next year.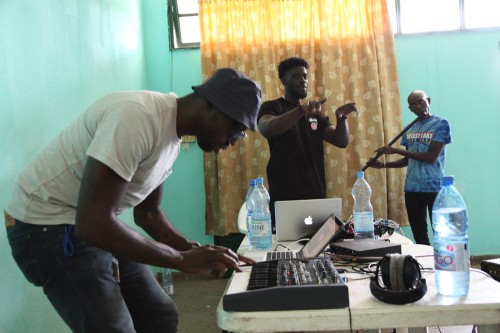 Photograph by Alioune Ba taken in Mali during the recording of the album. (Left to right) Ghostpoet, Lil Silva, Cheick Diallo.