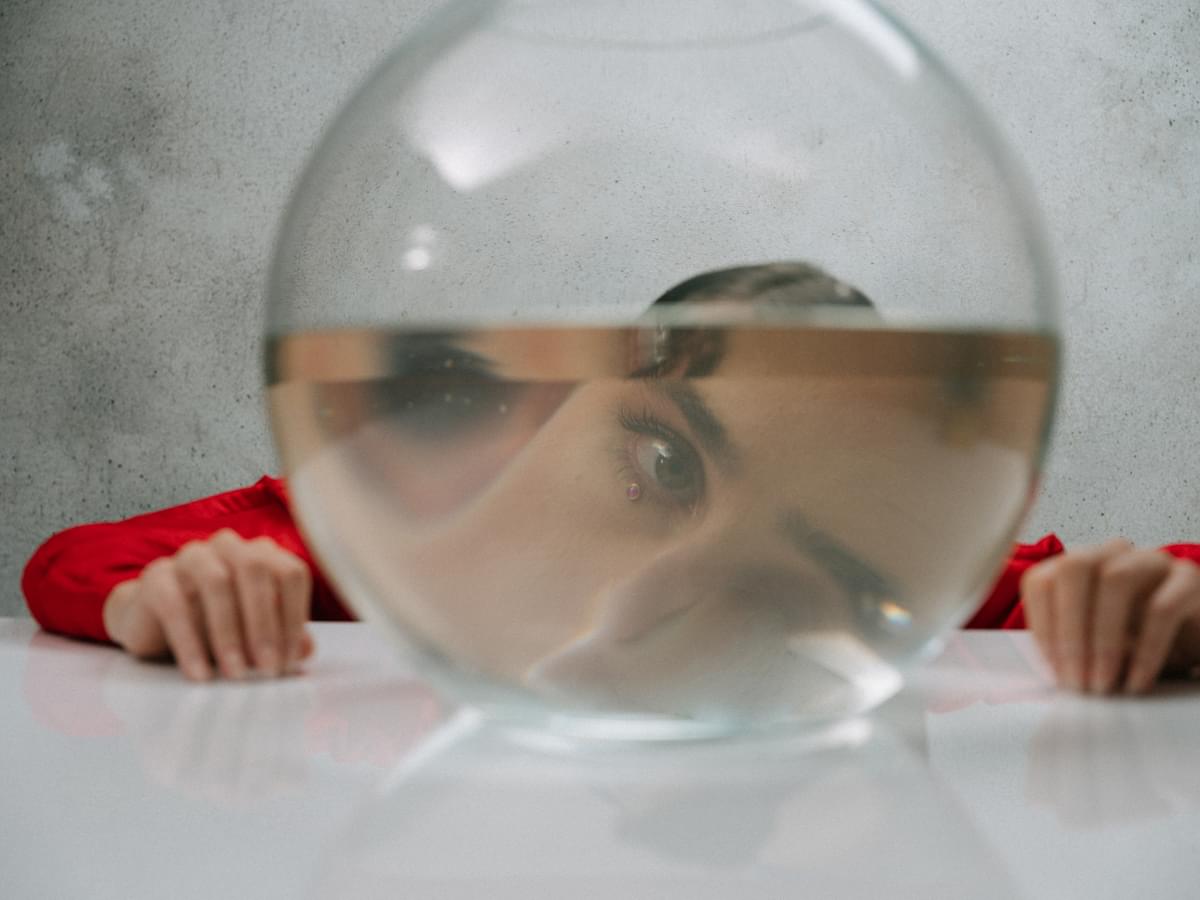 Tragic Sasha's "Bottle It Up" opens the lid on mid-twenties turmoil
Tragic Sasha, the alias of London-based Sasha Gurney, is an artistic project centring on detailing life's uncertainties and nuances with candour, vulnerability, and a helping of glitter.
If you're someone more likely to skulk squeamishly into a new year than embrace it with open arms, Tragic Sasha's latest release "Bottle It Up" might just be for you. Taken from her forthcoming EP, it's a track which cements North London-based Sasha Gurney as a mouthpiece for mid-twenties turmoil – with a side helping of scarlet-lipped, vampish glamour. She's also an artist unafraid to be caught in the depths of emotion. Publicity photos portray her looking stricken with a tear-stained face, in full Lesley Gore mode – but rather than mop up those tears, she accentuates them with glitter. Well, if you're going to harness that sad girl aesthetic, you might as well do it in style.
Tragic Sasha's previous songs have addressed self-deception, battling to keep other people's secrets, the sucker-punch of entering adulthood, and "being the drunkest girl in the room." Life isn't a bed of roses, and she's not about to pretend otherwise. Despite the unvarnished candour of her lyrics, it hasn't always been easy for Gurney to confess to her demons, which is what ultimately sparked the song. "I wrote "Bottle It Up" a while ago with my co-writer Scott Colcombe about holding in emotions," she explains. "I wanted the song to feel like a stream of consciousness that spiralled into chaos at the end. We wrote it in two hours – it was surprisingly easy to write and very cathartic!"

Collaboration has turned out to be a lifeline for Gurney, particularly after the struggle of being an early career artist hemmed in by lockdown. Taking a step back from her own music and lending her skills to others added the perspective she needed to move forward. "The difficulty of being an upcoming artist in a global pandemic was that most of the opportunities necessary for breaking out were either no longer available, or too saturated to stand a chance against bigger artists," she muses. "I found myself more motivated to work with other artists than I did for my own project, something I've never done before."
The accompanying music video for "Bottle It Up" is suitably vulnerable, featuring a supine Sasha with a defeated look in her eyes. She's surrounded by multiple glasses of water which catch her reflection at different angles, as she addresses her deepest fears to the ceiling. The song's auto-tuned elements hint at the superficiality people adopt to get through social situations, while the murmured intonation of her lyrics bring to mind a chastened housemate, whose voice you strain to hear dropping by her room in the aftermath of a wild night out.
This is after-the-party music, appropriate for massaging those January blues. Forget making resolutions; it's more important just to spill. Tragic Sasha might have entered lockdown "making crap collages and complaining" but she's emerged a more able songwriter, willing to voice insecurities with honesty and wrestle her darkest emotions rather than letting them stew.
Get the Best Fit take on the week in music direct to your inbox every Friday