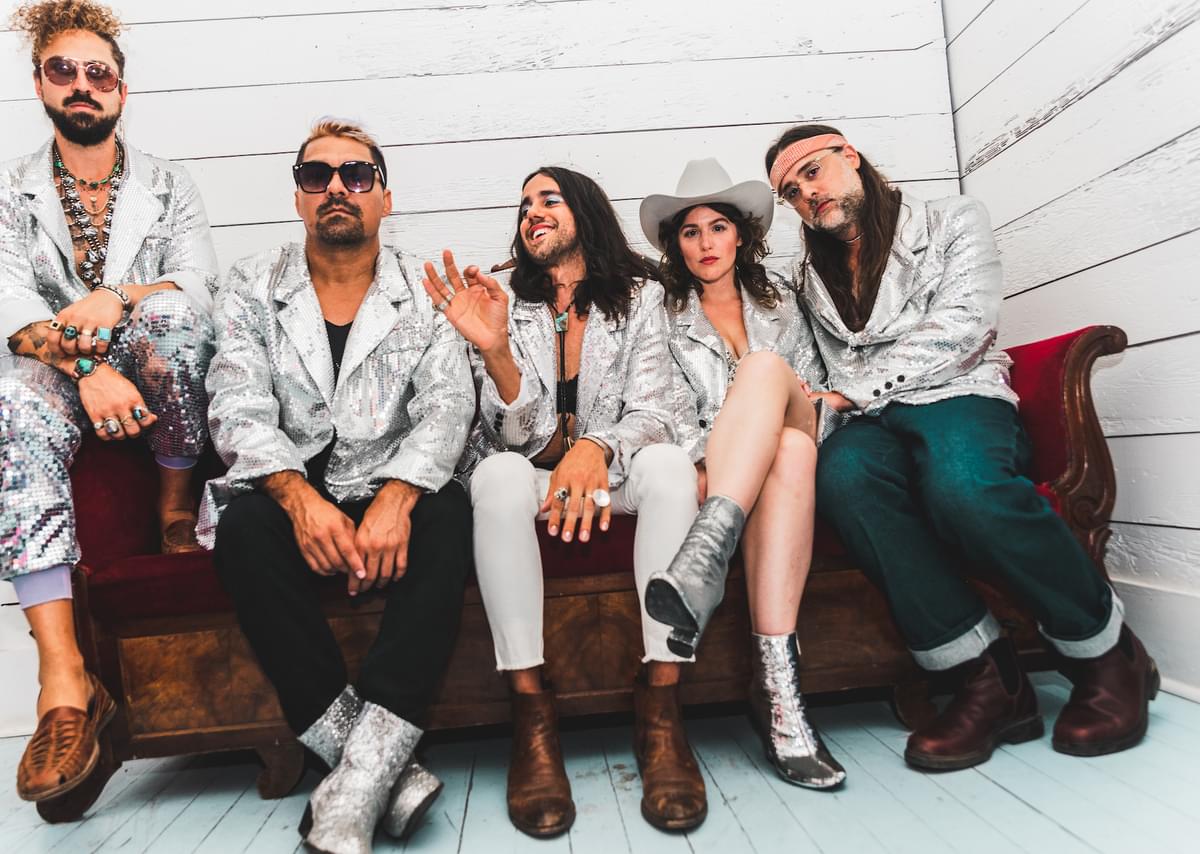 The Bright Light Social Hour's "Not New" is musical champagne
Indie-psychedelic Austin outfit The Bright Light Social Hour release the frothy, festive, and (literally) intoxicating "Not New", ushering in a new era complete with the promise of an album and tour.
It wouldn't come as a surprise if fans start following The Bright Light Social Hour from city to city, much like the cult following built by The Grateful Dead. The indie-psych band are a breath of fresh air (well, cannabis-filled air) compared to the many pop singers who take a more sombre approach to their mental health woes. Exemplifying this at its best, latest single "Not New" is musical champagne – and the band sloshes plenty of that in the track's accompanying video.
The Bright Light Social Hour comprise of founding members Jackie O'Brien (bass/vocals) and Curtis Roush (guitar/vocals), as well as Mia Carruthers (keys/vocals), Zac Catanzaro (drums) and Juan Alfredo Ríos (percussion). They hail from Austin, Texas, the city that has given us Kinky Friedman, the South by Southwest extravaganza, and much more. Having opened for Aerosmith and played noteworthy festivals like Lollapalooza, the band have embraced their larger than life Southern surroundings, and embedded the ethos into their musical practice.
"Not New" has the potential to elevate their career even higher. Speaking of "higher," the band's previous single "Smoked Out" was accompanied by a must-watch video that shows the quintet smoking a blunt, then taking off for the pyramids, as well as outer space. Underneath the levity there's a serious message: cannabis imprisonment in the U.S. is still a huge problem. In fact, the aim of "Smoked Out" is to raise awareness of the nonprofit group Last Prisoner Project.
Having a moment of pause over the pandemic, The Bright Light Social Hour are joyously starting again, returning rejuvenated. "In 2019 we did a tour we didn't realise would be our last. At least for TBLSH as we knew it. Emergency Leisure is a fictional autobiography from this period, centred on a seminal, hedonistic night at Bar L'Escogriffe in Montreal - our own Tropic of Cancer of sorts. "Not New" kicks off the odyssey, a new beginning in our fool's journey," says O'Brien.
""Not New" is a late night smouldering in a Québécois alley punctuated by three-part harmony, dusty driving drums, fat Mustang bass, glitter and congas," Roush adds. "It's our first single as a renewed band in advance of our fifth album, a homespun moody after hours soundtrack to strange times called Emergency Leisure."
Notably, the members of the band are also a sync machine, having written original soundtracks for HBO, MTV and Nintendo. Actor Bryan Cranston ("Breaking Bad") was so impressed with their music that he asked them to compose and perform the theme for Amazon's Sneaky Pete.
With a new album on the horizon, the band will soon kick off an extensive North American tour that takes them everywhere from Mexico City to Montreal. It's a 37-city tour, and I anticipate that hundreds of fans (call them "Bright Lighters") will catch multiple shows. The Bright Light Social Hour is the perfect antidote for the near-terminal gloom that has overtaken society. "Not New" invites us to dance through the apocalypse.
Get the Best Fit take on the week in music direct to your inbox every Friday