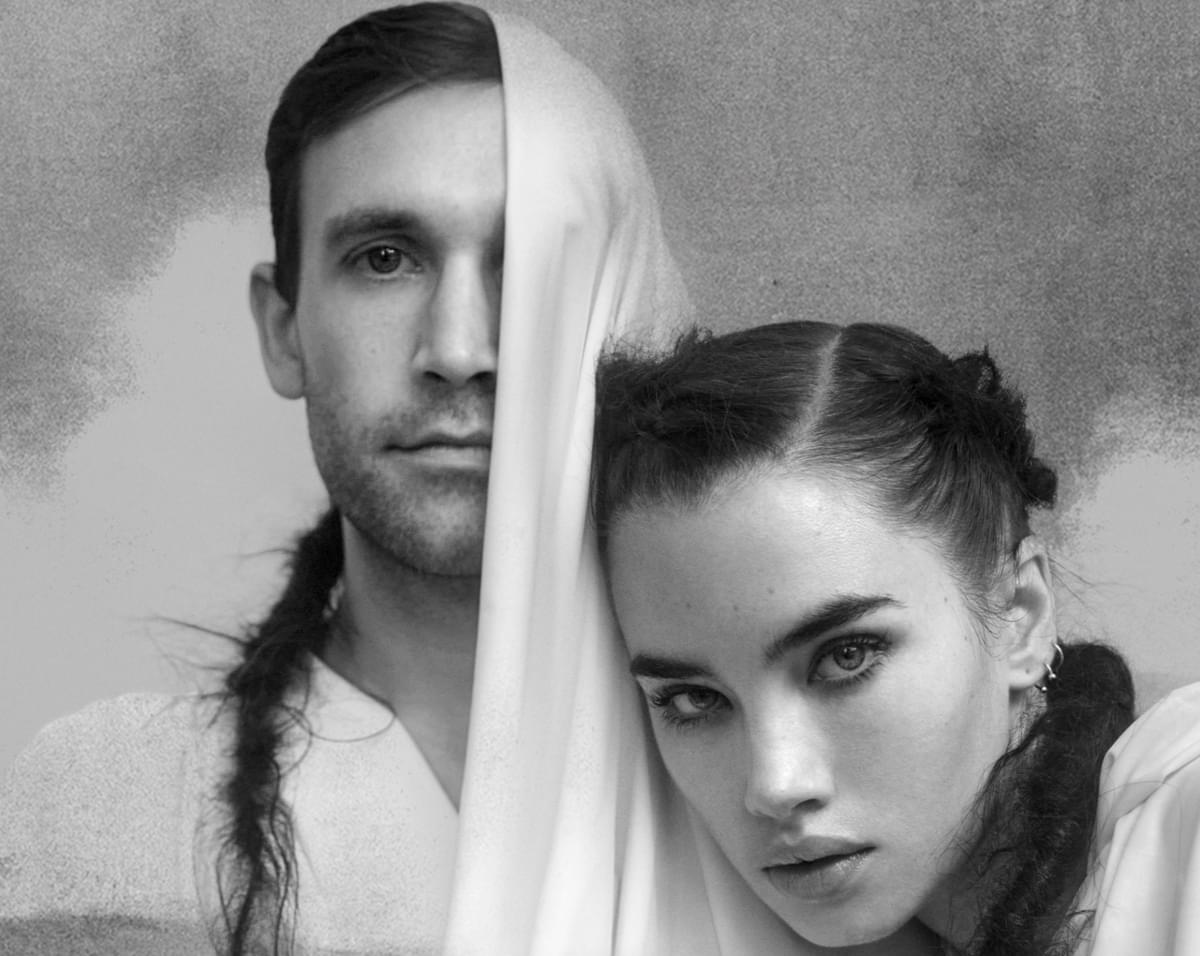 Isamaya Ffrench and Sam Thomas' atmospheric "Mantle" envelopes listeners in a sensory plight
As narrator on "Mantle", Isamaya Ffrench guides us through the contorted quirks and haunting sounds of Sam Thomas' immutably vast experimental-pop world
A debut single should always evoke intrigue, signalling artistic identity and integrity to new audiences, and providing a taste of potential musical directions to come. It is rare, however, that the track itself is saturated with as much mystery and fascination as Isamaya Ffrench and Sam Thomas' collaborative offering, "Mantle".
Although already connected to experimental supergroup ALTO ARC, dealing in eccentric and multi-levelled electronic-pop productions, "Mantle" marks Isamaya's first foray into the scene under her own name. For an artist brimming with perspective and creativity, it is no surprise Isamaya is already highly revered for her output in other arenas. A celebrated make-up artist, she released her own boundary-breaking make-up line Isamaya Beauty in June, under the mission statement that make-up should be used to feel more confident in one's unique identity rather than just conforming to generic beauty conventions. Individuality has also carried across to become a core principle of her music, pushing boundaries and breaking expectations with a genuinely exciting brand of folklore-inspired electronic-pop.
Teaming up with the masterful composer Sam Thomas, renowned for his imaginative world-building and atmospheric composition across music, theatre, and film since his debut album Blind Theatre in 2013, "Mantle" paints a rich lore through its cinematic, full-bodied, and intoxicatingly eerie production. With an untameable imagination and a taste for the left-field, Thomas brings his signature touch to the track, creating an audiovisual escapism for listeners to be enveloped by. Ostensibly sensory at every turn, "Mantle" is the product of two creatives pooling together their influences and formidable talents.
Like any good novel, "Mantle" is a track steeped in sensory world-building, transportive in its gritty sound and immutable vastness. With Isamaya as the narrator, listeners are guided through each contortion of Thomas' production; a soundscape at once starkly minimalist in its paired back instrumentation and punctuated moments of quiet, but yet wildly impactful in its enduring percussive line and foreboding atmosphere. The track almost creeps at first, gathering steely momentum, before lurching forward all at once in an audiovisual flurry.
Unsurprisingly the accompanying video of "Mantle", directed by Isamaya, presents a perfect book-to-movie type adaptation of the track's haunting and powerful imagery. At first, the visual focuses on her lying lifeless on the forest floor, before being dragged through thickets of towering and oppressive trees. In its closing Isamaya is pushed, unwillingly, into a sacrificial baptism, or drowning death sentence, as onlookers gleefully celebrate the ritual. As shrouded in mystery and intensity as the track's vocal, the visual underscores Isamaya and Thomas as talents who revel in dark edges and social peripheries.

"Mantle" is escapism at its beautifully tortured best, with Isamaya and Thomas' tracks acting as sensory worlds of their own to unravel or hide within.
Get the Best Fit take on the week in music direct to your inbox every Friday