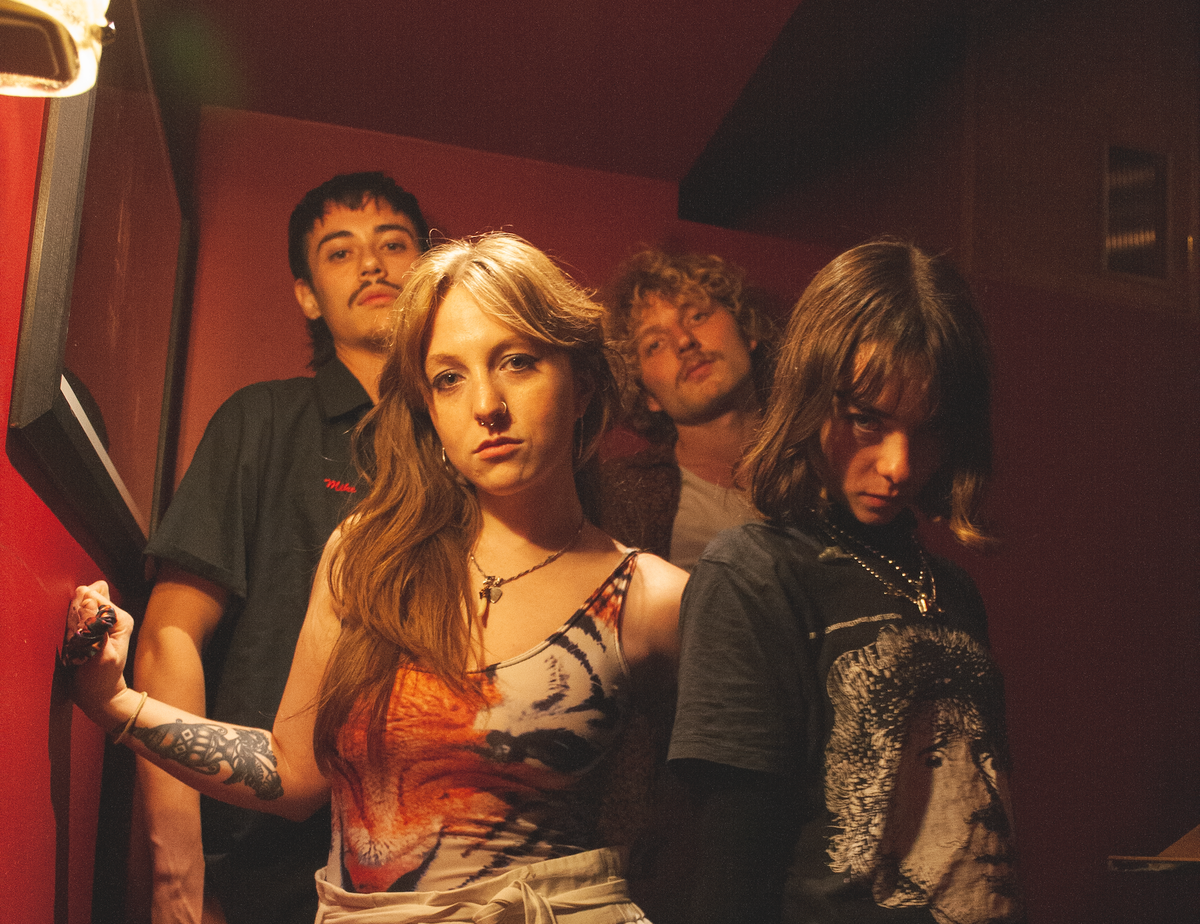 Cosmorat unfurl a tale of emerging into womanhood on the textural and tactile "S.A.D L.U.V"
Creating relatable callbacks through the construction, and intentional coarseness, of their music, Cosmorat are a band with a true vision for their place in the industry.
It is rare for an artist to have carved out an entirely fresh and fully realised sound on their first album cycle, let alone in their earliest few tracks. Cosmorat however, a US outfit now based in London, had their textural and calcified sound figured out from their debut offering "Backseat Baby". Interpolating school-like chants over a bombastic drumline, and with their sardonic songwriting married with vocals that shifted from hushed taunts to expulsive screams, the single drew high praise from indie-pop circles and left fans eagerly awaiting their next move.
Their follow-up single "S.A.D L.U.V" broods with the same ingenuity and authentic novelty. Whilst painting a slightly more paired down sound to its predecessor, it remains rich and nourishing as tightly woven lyrics unfurl against layers of percussion, claps, and gushing guitar tones. Inspired by singer Taylor Pollock's experiences of breaking into womanhood and the feelings stained with apprehension about leaving your innocence behind, it's a narrative that the sonic scenery cradles and allows appropriate time to let sit.
"Ascending into womanhood for me was quite a turbulent experience, and I still have some scars that linger from that time in my life," she explains. "'S.A.D L.U.V' is meant to channel my inner child, girlhood, and rage. I remember hitting puberty and having attention from boys and men that were way too old for me, which made me embarrassed by my body. I would cover up and awkwardly laugh. Then, when I started rejecting the inappropriate comments, I became known as hysterical and over-emotional."
"I thought getting older would change me and people would mature, but unfortunately, some things are so embedded into our culture and some things were so lodged into my brain that unlearning that self-hatred has taken years .This song was very cathartic for me to write as it feels like I am finally working out of my diffidence and forgiving myself for the years of self-deprecation caused by not matching the standards of what a lot of people expected me to be." Taylor adds, "I hope when people listen to it, they think of Carrie and her rage."

Now a four-piece, Cosmorat is the brainchild of Taylor and bandmate Olly Liu who both grew up in rural small town farm areas. Meeting in college they bonded over their love of blues music and Alabama Shakes, taking up recording engineering to explore their joint passion for how music can be used to tell stories through embracing its fabric-like qualities and interweaving textures and sounds.
On "S.A.D L.U.V", for instance, "we kept this arrangement sparse and organic to make it feel like we were all a bunch of kids playing around in the kitchen, hitting bottles and pans, chanting along together." In a beautiful through-line they also begin "Backseat Baby" with a similar child-like rallying call; in this way, the soundscape of each track they create are like different doors in the same playhouse, opening portals to tell tales of past experiences.