Festival season is upon us. How can you tell? Well, bands are playing tiny warm-up shows, using the opportunity to test out new material, variations or lighting and set lists. For someone who doesn't live in London, this is our time. Cambridge gets the first date of Yeasayer's pre-festival tour, fresh from their Guardian Guide front-cover weekend.
On entering The Junction, the first thing that hits you is the Bedouin-style tent drapes erected over the stage. Amazingly, they work in transforming the rather industrial surroundings of the venue into something much more homely. When we arrive, Clock Opera are currently wooing the crowd with their particular take on the post-Arcade Fire musical landscape. Blending AF's early, grand and exploratory take on indie, they've added the repetitious sparkle of Steve Reich plus the angular funk and post-punk influence of Talking Heads. Whilst it might not be particularly original, it's mesmerising and accomplished and, for the small crowd that have arrived early, it's a great set.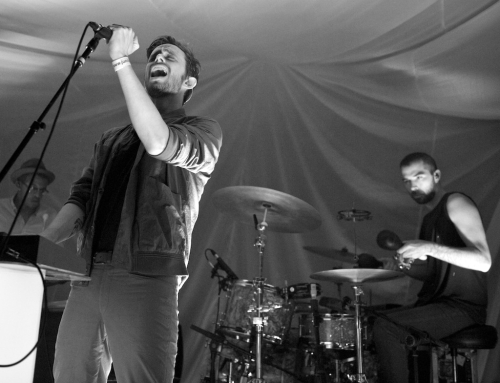 Yeasayer take to the stage as champions elect. The swathes of cloth over the stage give the lighting a nice, diffused effect, and seems to perfectly match the slow, hypnotic vibe that percolates through their entire set. What strikes me initially, as this is the firs time I've caught them live, is how dependent on electronics and pedals they are. Each song seems crafted and tinkered with live. The underlying rhythms are pretty much already there, and it's the beats and percussions that are added live, giving the songs an urgency and directness and augments this low-level repetition.
The entire set turns out to be a party. A giant dance party no less. Yeasayer's musical greatness comes from their ability to blend a wide variety of influences. Whilst not being "World Music(TM)", their live set bellies their magpie nature, taking in West Coast, East Coast, European, African and Far East musical threads and weaving them into something new. Those exotic, alien, rhythms just make everyone want to dance. 'New Year', 'Ambling Alp' and 'O.N.E.' break free of the confines of the record, and take on an additional dimension, feeling more vibrant and less cold. In fact 'New Year' still sounds as alive and as brimming with excitement as the first time it burst from my headphones.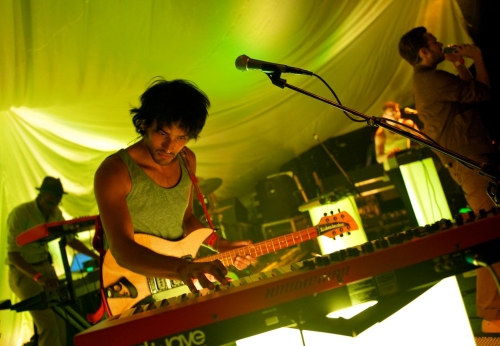 As the party continues, there's a brief break as Chris Keating spots a kid wearing a Clash t-shirt near the front. As the crowd responds feverishly to him saying their one of his favourite acts, he mentions that they're "Trying to be as good as them". It's an interesting acknowledgement, and makes a great deal of sense. The Clash also wanted to move beyond their garage-spun roots (to varying levels of success), but became a massive "rock" band. And it's this cross-roads that Yeasayer have also arrived at. Where they go from here is entirely up to them, and they'll need to find the right line between making popular, and yet personally satisfying, music. But whilst their live sets are as impressive as this, they've got one less thing to worry about heading into the festival season.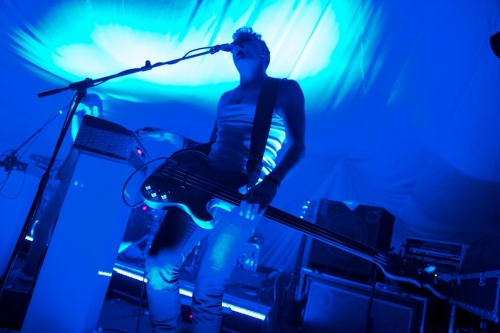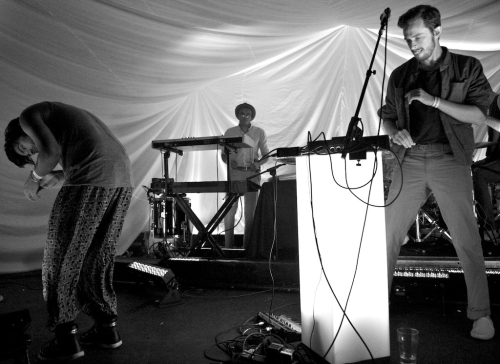 Photos by Valerio Berdini