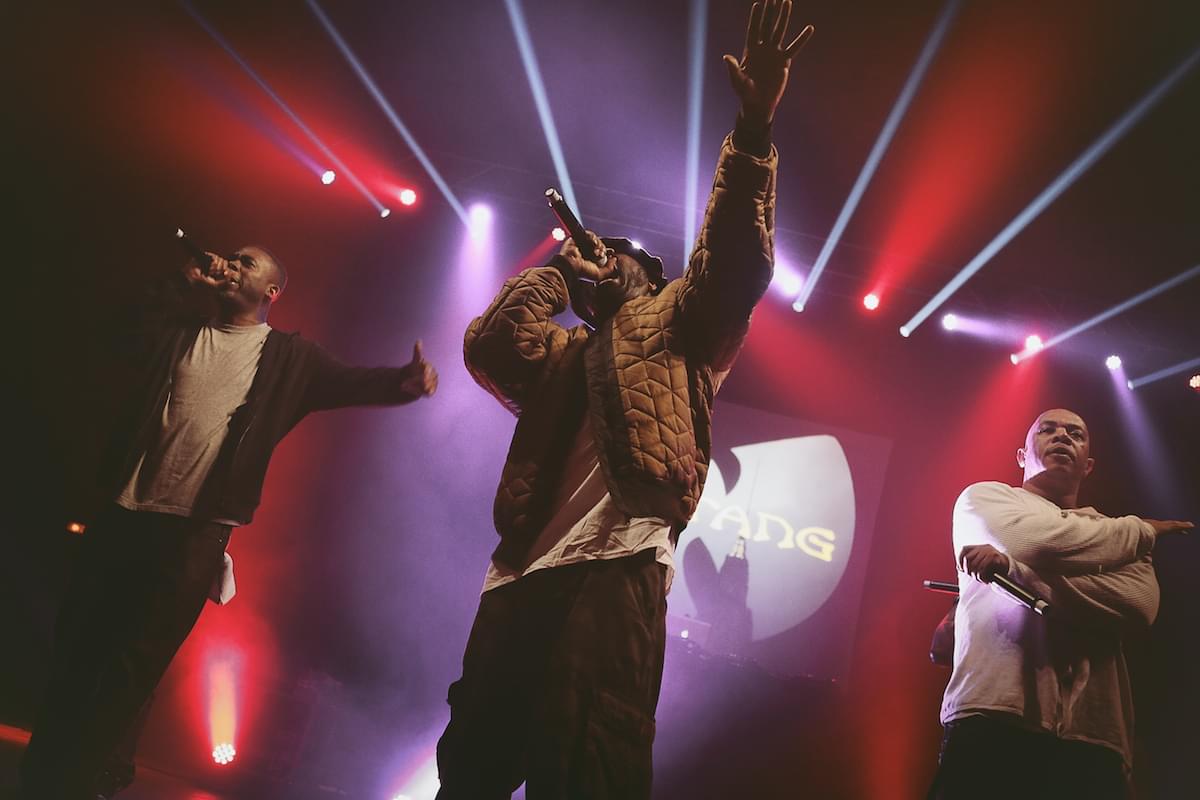 Wu-Tang clan bring a slightly muted ruckus to London
Frankly, Wu-Tang Clan's first London appearance in nearly two years is none too tempting as we leave beaming sunshine to enter Brixton Academy's dark caverns. The balmy summer's evening isn't a good fit for hip-hop with its rowdy rhymes and feisty fans. This had better be good.
And to be bitterly honest, it wasn't great. Though tonight (4/6/15) was fun, and the legends of Staten Island have energy in spades, sound quality was the major letdown. From the bar, as we hurried in a little late, it appropriately sounded like we were listening through a brick wall. Once we stepped inside, it didn't fare much better - the funk based breaks muddy, and poetic lyrics lost amid the reverberating clutter. Words slurred into each other, heaving and groaning like poor quality porn.
The Wu-Tang Clan are a genre defining act, and more than 20 years after their inception, you would be forgiven for assuming they must be pretty washed up, a group of wealthy 40-somethings reminiscing about the hood and the ghetto they have long since left behind.
What a surprise then to find them lively and fierce – stomping upon the stage with the menace we know from their prime. I had half-expected to be pre-occupied by their middle-aged spread, stifling yawns to tracks from recent album A Better Tomorrow and their lyrics about DVD box sets and BBQs on the lawn.
Instead, they spat out a mix of tracks from their extensive back catalogue. If you were a fan of the Wu-Tang during their meteoric rise to fame or the following ten years, there was something for you here. Favourites "Shame on a Nigga", "Da Mystery of Chessboxin" and "C.R.E.A.M" from their debut studio album Enter the Wu-Tang (36 Chambers) were played alongside solo offerings such as the GZA's 4th Chamber and Liquid Swards, all delivered with trademark Shaolin intensity, faces grimacing as gruff salutes struck beneath baseball caps and hoodies.
Yet at times it seemed premeditated, like they might be caricatures of their younger selves, rolled out to perform yet again to keep the coffers topped up. Another disappointment was the lack of a full line-up, with Method Man and the RZA most notable by their absence. The fissions in the group, temporarily sealed by sticking plaster for their recent performances and recordings, are hardly a secret. Nor are they unexpected, after these hot-headed characters have travelled such a long and exhausting, money-rich and drug-fuelled journey together.
Those that were present came 'raw style, hardcore' and battered ownership of the mike between them like a pinball machine. The sold out venue – with tickets at an eye-watering £45 a pop – surged forward with each pulse. But on the other hand, this is an act with bass lines so booming, their tunes are being used to ferment beer. Strapped to the barrel, speakers at a Philadelphian brewery blare Wu Tang's iconic rap, cascading vibrations that activate the yeast to produce a new and "music-themed" taste. Wu Tang's taste is apparently spicy and tart – go figure!
Throughout the performance, I couldn't help but think of those barrels of beer. Bouncing and undulating to Wu-Tang's muffled beats through an alcoholic haze in a dark musty chamber; I knew exactly how it would feel.
But this chance to see such a momentous and landmark hip-hop act is one I relish. A box ticked on the checklist of 'must-see' groups. And given those expanding waistlines and ongoing tiffs, who knows when the chance will come up again.
Subscribe for news and competitions