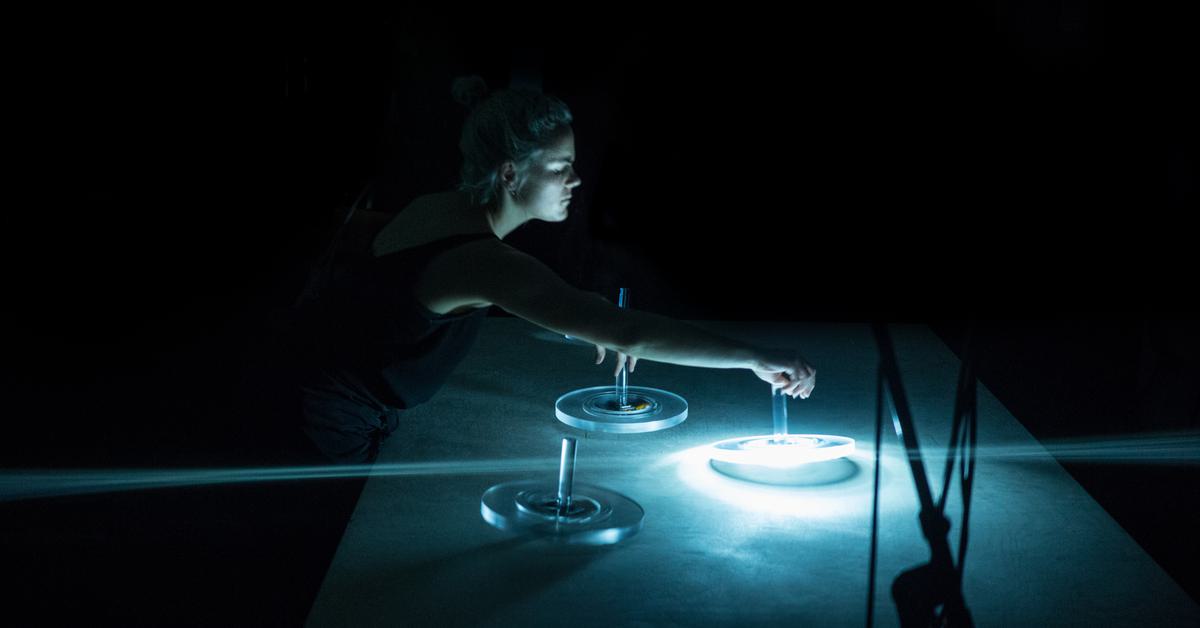 A Bold Step: Unconscious Archives at Cafe Oto
There's a sort of pulsing, buzzing noise as I approach the queue outside Dalston's Cafe Oto.
I look up and around, naively, for the air conditioning unit it must be coming from until I realise it's the music playing inside. Of course it is; the celebrated east London venue is a nucleus for experimental and avant-garde music, tonight hosting Compositional Constructs – the first of three live events comprising the inaugural Unconscious Archives Festival. Billed as an event "showcasing vibrant artist-made systems of technology and performance interventions", all of tonight's acts are to be as mesmerisingly visual as they are aurally captivating.
The usual characterful assortment of humans that make up Oto's clientele are in avid attendance, though it does feel notably lively, especially for a Sunday night. Unconscious Archives has operated as a multidisciplinary events series for the past seven years, taking place at various London venues. So while this week marks their debut jaunt as a festival, it appears they've already picked up a few loyal fans.
Austrian new media artist Dawid Liftinger kicks things off with Sound and Light, crouched in the centre of the room surrounded by the hushed audience. It's a very literal title for the piece, which consists of ten fluorescent tubes arranged in a row, each hooked up to their own channel on a mixer, through which the sound of their turning on and off is recorded, replayed, and amplified as they flash. That momentary, low hum that accompanies the light being turned on transforms into bassy rumble, soon morphing rhythmically into a steady techno pulse.
As tempo and intensity increase, glacial clicks and cracks become steadily louder, to the point where I begin to worry one of the people sitting in the front row is about to get a shard of art in their eye. They don't, of course, and the piece ends suddenly – brilliantly unsettling, especially in a room of total darkness.
Mariska De Groot's is a similarly dazzling display. Light- and motion-sensitive speakers attached to de Groot's arms and body sound off at varying frequencies, depending on their interaction with shadows of concentric circles beamed down from above. What begins as sound art soon develops into vivid performative dance, as de Groot spins, ducks and gesticulates in order to achieve increasingly resonant noises.
So far, so cerebral. Musician and inventor Leafcutter John, however, provides an affably clumsy entrance, spilling his cider and cleaning it up himself with a rag. His is a less serious but equally impressive act, using an array of everyday objects such as torches, bike lights and fidget spinners to interact with his photosensitive interface, creating warped, ambient textures. It's a nice, often comical juxtaposition of the quotidian and the high-tech, manifest in the advanced equipment with which many of tonight's acts have been interacting.
But where John is light-hearted, Canadian artist Myriam Bleau delivers a profoundly dynamic headline act. Soft Revolvers, her piece for four acrylic spinning tops, is incredible to experience. The performance, or spectacle, features the four tops, each one representing a different component of electronic music - vocal samples, bass, beats, synth - all continually spun by Bleau. Motion data is collected by accelerometers that communicate with a computer, all feeding back out as hyper-modern club music. The level of detail and rhythmic consistency is remarkable, almost unbelievable.
For all its technological and neoteric innovation, though, it's the manner in which Soft Revolvers recalls the more familiar culture of DJs and turntables which is most effective. Bleau darts back and forth keeping the musical components alive, reinjecting a physicality into live electronic music that's arguably been lost amidst buttons, knobs and faders.
Watching Bleau, I feel the same unique sense of awe as I've felt throughout the night. These machines and their inventors are incredible to see, incredible to hear, and have been incredibly curated. Unconscious Archives Festival's first step into the festival circuit has been a bold one.