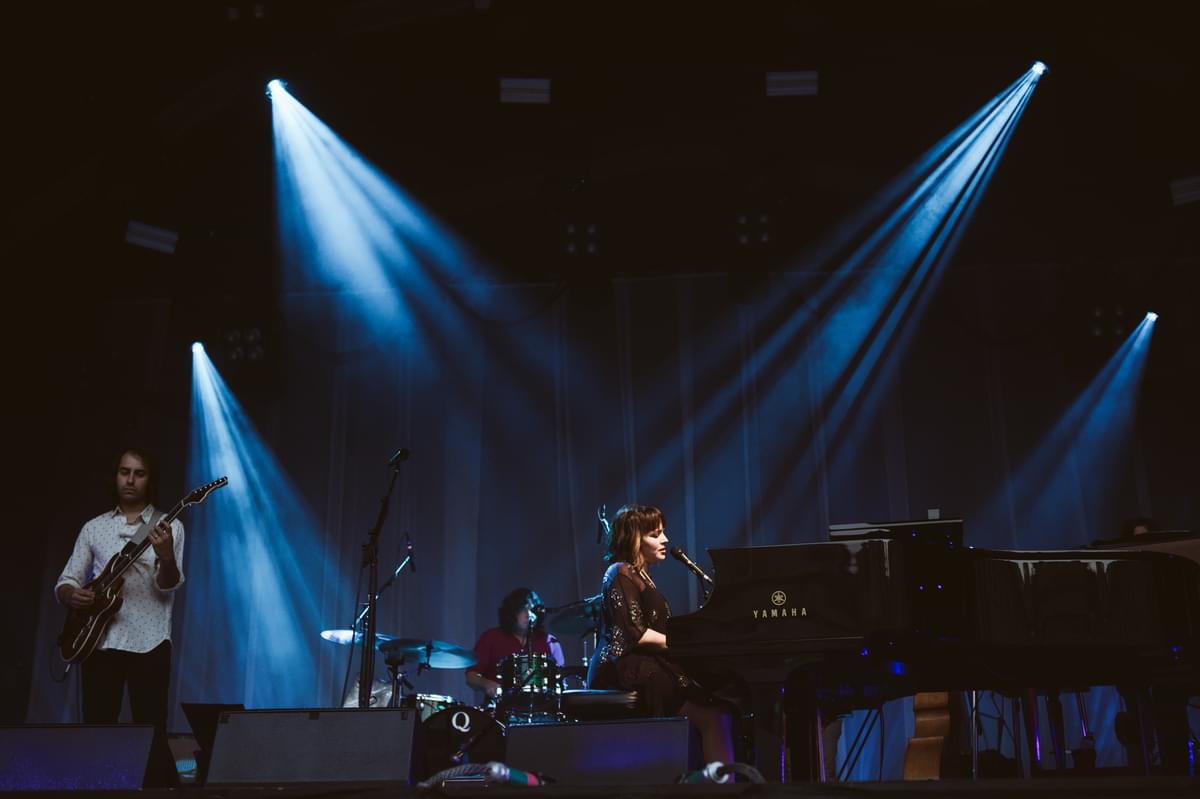 Unbridled Intimacy: Norah Jones, Live in London
Following up her one-off Palladium show last year, Norah Jones makes a welcome return to the capital to play an intimate set in the grand surrounds of Somerset House on the opening night of the Summer Series of concerts.
Appearances by Jones in the UK have been selective in recent years. Before the Palladium, her last shows were part of a small Little Broken Hearts tour at the iTunes Festival and the Southbank Centre back in 2012. While the new record Day Breaks and one-off show last year gave a respite to fans, there's a definite audience for her live performance - and this event sold out within a week. It's easy to see how seamlessly Day Breaks connects with the jazz and piano of her early material, succeeding the pop experimentation seen on the Danger Mouse-produced Little Broken Hearts (including guest-spots appearances on his record Rome, alongside Jack White), and the folk, country and honky-tonk inspirations heard on prior releases.
The latest LP gets full prominence in the courtyard, with "Flipside" an obvious high-point, though Jones' ability to ease in and out of the previous back catalogue and switch between piano, acoustic and electric guitar, all assisted by backing band The Candles, means there's no loss of consistency here. There's a poignant duality in "Flipside", a track that reflects on the current political situation, while being inspired by Eugene McDaniels' 1969 anti-war anthem "Compared To What". Jones told NPR the original song was "still relevant so many years later. And I think that's really interesting and sad and also makes you want to shout". The Little Broken Hearts track "All A Dream" is a punchy country-tinged version of the sweeping strings original, and as a result is much more energetic, and a similar effect is given to her early song "Nightingale", which culminates in a riff-filled jam session on stage. Jones is well known for inspired cover versions for live performances, and Day Breaks' "Don't Be Denied" takes Neil Young's 1972 track off Time Fades Away into more reflective piano ballad territory, adding her own spin on the lyrics. Jones is relaxed and jokes between the songs, she comes out with "I smell sausages" - referring to the food stands – and later amusingly reflects that that must be her quote of the evening.
There's an understated, confident simplicity and restraint to the performance - the strength of the songs, her soulful vocals and tight-knit backing band make it all seem effortless, and it's the perfect venue for this type of unbridled intimacy. There's a lot on offer here, and it's a succinct, yet varied set of songs perfect for a blissful, though swelteringly hot, summer evening, and a more than welcome return.
Get the Best Fit take on the week in music direct to your inbox every Friday