The multifaceted troubadour had been on something of a downward trend in terms of popularity before last year's Grammy-winning, Kanye-ruffling full length, Morning Phase (his 12th), brought him rapidly back to our collective attention. Today's career-spanning, gloriously crowd-pleasing but teasingly short set proves that he's rediscovering his pre-millennial, zeitgeist-defining form in the live arena too.
His back-cat cherry-picking doesn't focus on safer, older material though - far from it. For every monster sing-along like "Loser" or "Where It's At" he drops a lesser-known cracker you'd forgotten existed, like the baggy-aping "Black Tambourine" or the deadpan twang of "Gamma Ray".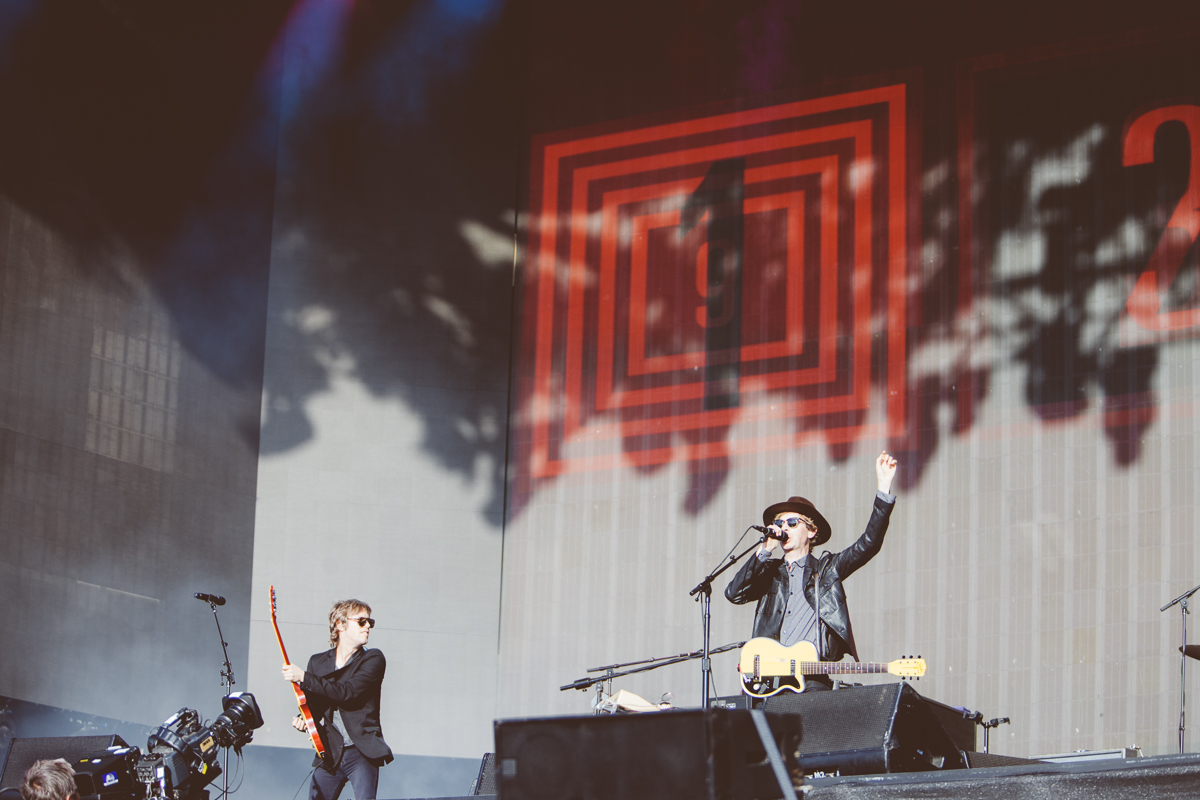 The show itself harks back to the Midnite Vultures era, probably his live peak in terms of both spectacle and set list, although only a late one-two punch of "Sexx Laws" and a heavily truncated but nonetheless welcome "Debra" come from that record. His unimpeachable backing band of Smokey Hormel, Justin Meldal-Johnsen, Joey Waronker and Roger Joseph Manning Jr. are all back in action, and are clearly having a whale of time. They even pull the wrapping-the-stage-in-police-tape skit that some of those present might remember from a brain-melting Reading Festival show, way back when.
It's not all over-familiarity, mind you. The under-rated motorik chug of "I Think I'm In Love" segues nicely into a curveball interpolation of Donna Summer's "I Feel Love" - Beck built his reputation on a hip-hoppy, sampledelic take on indie-rock, so such mischief shouldn't really come as a surprise. And later he plays 8-bit's "Ghettochip Malfunction" remix of "Hell Yes" rather than his original, bringing the chiptune underground to an unsuspecting audience and prompting a whole-band vintage synth wig-out.
The only negative is that Beck can't possibly play everything we want to hear in a measly hour – roll on next year when he really should be headlining something like this.
After witnessing The Strokes get a bit lost in the concrete expanse of Parc Del Forum at Primavera Sound only two weeks ago, my hopes of a performance worthy of following Beck's were smaller than the pint-sized popstrel's plimsolls. That day, the band had seemed bored and complacent, and the crowd indifferent. Barcelona's Copa Del Rey victory that night had incited far more passion and fervour amongst the festival-goers.
A twinkling of hope remained though. Despite Casablancas and co being NYC-incarnate, it was London that first embraced them, played their records incessantly in its indie discos and filled its high street shops with skinny jeans and leather jackets in their image. And so it's with the buzz of a triumphant near-homecoming in the air that the quintet mooches onstage and slide into the nursery-rhyme shuffle of "Is This It".
Starting with the first track from their best-loved album is about as low-risk a strategy as it gets, but luckily enough it works. Songs from their debut, and to some extent Room On Fire, are what we came to hear, and that's what we get. Immediately we're back on the Stella-slippery, Converse-covered dancefloors of our youth and Casablancas has us at his mercy again. "Someday", "Hard to Explain", "Last Nite", "Reptilia" are all played with more gusto than I've ever seen The Strokes manage. They never had a reputation as a live act, but tonight they're super-polished, professional and live-wire energetic.
A sprinkling of songs from their last few records do crop up, but none are met with anything like the same reception from a crowd ravenous for more choruses to holler in their mates' faces. And here lies the rub. Unlike Beck, it just doesn't seem possible that the now neon-mullet-topped Casabalancas et al could produce something fit to stand anywhere near their early material. This isn't quite the Noughties equivalent of a Bananarama set at Here And Now in Bognor, but the chance of hearing something genuinely new or surprising is similarly small.
As they close with a triumphant, "Take It Or Leave It", they can be sure they were back on top for tonight at least. And yes, it is the last song from their debut, but let's be honest, that's The Strokes we came to see. Take it or leave it.