Today was by far and away the best SXSW day. In and amongst performances from the likes of THEEsatisfaction and Eleanor Friedbegrer, a surprise appearance from Tom Morello and constant sightings of Bill Murray I managed to see a whopping 17 performances from noon until well gone midnight.
Poliça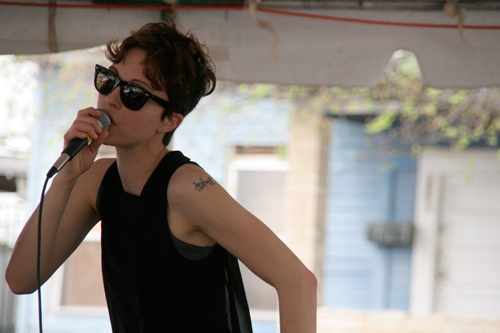 Getting up early and trekking to the other side of the highway I find ex-Gayngs singer Channy Leaneagh and Ryan Olson's new project Poliça playing at Brooklyn Vegan's Hotel Vegas day party. Slinking around the stage completely comfortable in her own skin, Channy's smooth, affected, sultry voice rises over the slick hip hop grooves and intoxicating bass lines of Give You The Ghost number 'I See My Mother'. Each percussion clap and glitchy beat seems deliberate, and carefully enunciated; rising above the ambient haze. Playing a set that includes 'Lay Your Cards Out', 'Dark Star' and 'First Teeth Money', they finish on 'Leading To Death' it's core emotional content finally rising to the surface as the two drummers on stage bring things to a cacophonous finale.
Widowspeak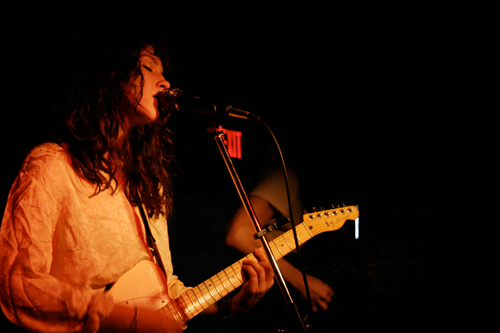 Formed in Brooklyn, Captured Tracks signed Widowspeak played a rousing early set, their dreary slightly sinister Lynchian sonics and front woman Molly Hamilton's subdued vocals are perfectly under pinned by Robert Earl Thomas' abrasive guitars and Michael Stasiak crisp percussion.
Hospitality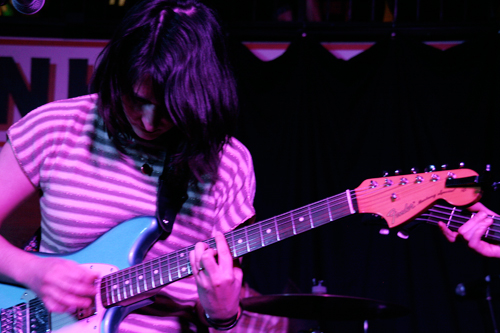 Formed as a trio in 2007, Hospitality released their self-titled debut album as a four-piece in January via Merge Records. A jangly indie pop record that had its roots firmly grounded in 70s grooves and the rougher edges of 80s stalwarts Psychedelic Furs, in fact front woman and vocalist Amber Papini apparently learnt to sing by trying to imitate Richard Butler. They played a charming set at Frank's after M. Ward, it is easy to tire of their off kilter slightly twee sound in tracks like 'Betty Wang' and 'Friends of Friends' but today there wasn't even a hint of that in the audience. Swirling around stage, growling in between staggered, jagged guitar hooks and softly sung melodies Papini and her cohorts exceeded expectations.
Kishi Bashi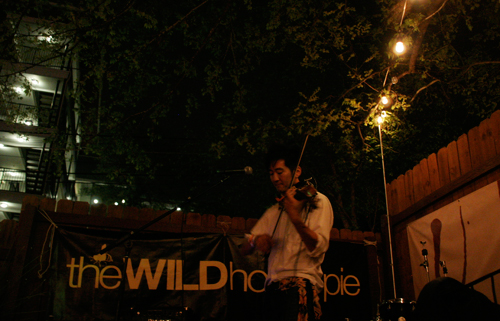 The solo project of Of Montreal violinist Kishi Bashi is one of the most talented artists I have witnessed this year. Taking to the stage at the Uncorked Wine Bar for the Wild Honey Pie's party he is humble and unassuming and clearly overwhelmed by how many people have turned out to see him. Armed with nothing but a violin he live loops everything on stage: the soaring strings delicately crafted with his bow, the guitar-esque sound rising from strumming the instrument like a banjo and the percussion blasting from his beat boxing. Everything is drawn together by his low crooning voice, 'Manchester' fills the air with a deep sense of longing and desperation before taking everyone's breath away.
Close But No Cigar
Lower Dens played Hype Hotel at midnight. Easily one of my favourite bands around at the moment their set was hampered by poor sound and the fact that there was an open bar which resulted in a level of shouting and crowd banter unequalled in any venue, probably ever.
Disappointment Of The Day
Missing Jack White's appearance at SXSW for the second year running. Clad in a three-piece suit and a fedora, the Michigan born man played numbers from his forthcoming solo record Blunderbuss at The Stage On Sixth to a crowd that included a bar top dancing Bill Murray.