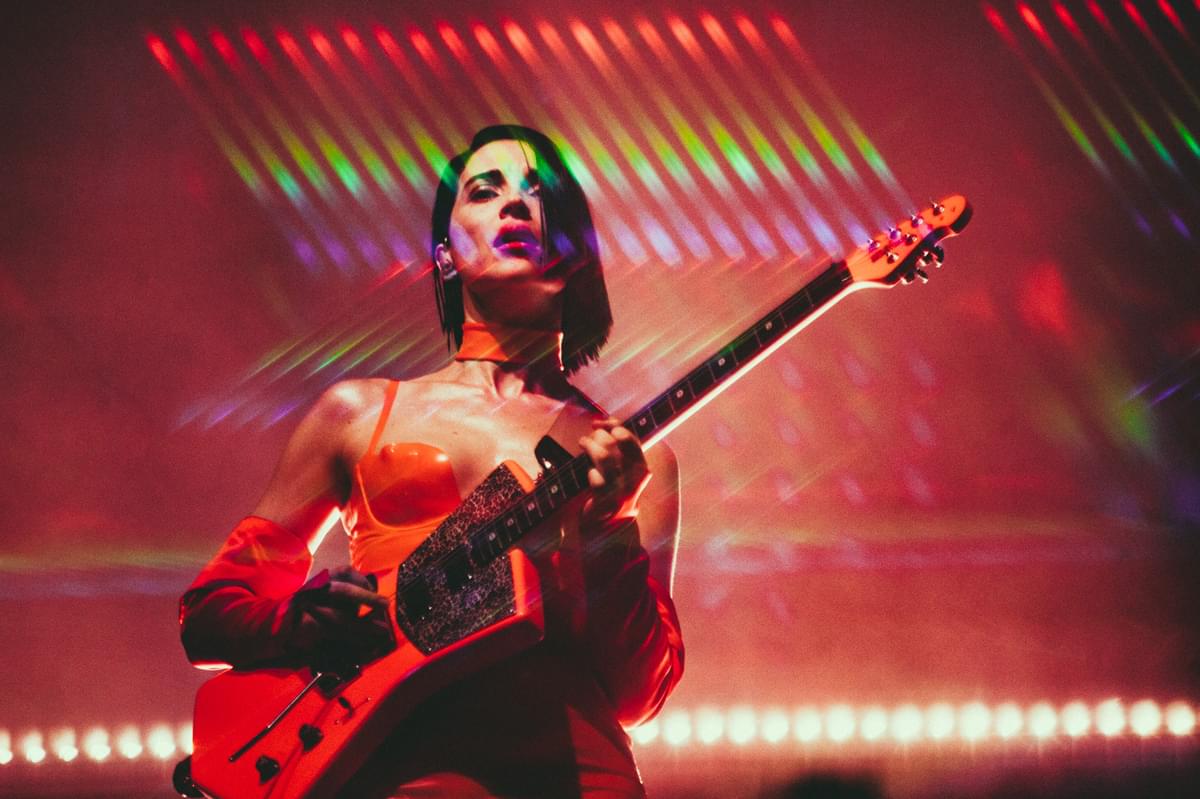 She Is a Lot Like Us: St. Vincent, Live in Leeds
In the end, St. Vincent's Masseduction era is likely to go down as a tale of two tours.
Her first run last Autumn, dubbed the Fear the Future tour, was an ambitious solo affair that musically involved nothing more than her and her guitar, with everything else a backing track. She playsd two sets, with a chronologically-paced charge through her greatest hits in front of a very Twin Peaks angled-curtain backdrop swiftly followed by her latest LP in its entirety, accompanied gloriously by searing visuals.
It felt both characteristic of the artist we've come to know to take that kind of risk and kind of necessary, too; by putting her perennially-underrated guitar playing front and centre, she was offering both critics and the audience little room to evade how scorchingly talented she is on the instrument. 2018, though, is - in her own words - "time for the rock show." That might be underselling the I Am a Lot Like You! tour a touch, but at the same time, this is the loosest St. Vincent show in a long while.
It is still, of course, closely stylised. Annie Clark takes the stage at a packed Academy in Leeds in the garish latex fembot get-up that's become the signature of the Masseduction era, all violent plastic pinks and reds. Long-time bandmate Toko Yasuda joins her, mainly on bass, while the male drummer and keyboardist are clad surreptitiously in flesh-coloured boiler suits and have similarly-hued lycra masks covering their faces. It's one of a few things that lends the show a strong feminist bent.
The latest album dominates the setlist, with eleven of its thirteen tracks making the grade, but unlike last time out, Clark is allowing them plenty of space to grow. On record, "Los Ageless" is all electro rumble; here, it's positively glam rock. "Pills", previously set in a maddeningly catchy pop mould, is all of a sudden a furious punk effort. Yasuda's slinky bass line lends "Savior" a menace that was missing on Masseduction. The experimentation extends to the older cuts, too; the opening minute or so of "Huey Newton" is drawn out in spacey fashion, making the monstrous riff pay off all the more, while on "Cruel", what was previously spiky indie pop becomes some gripping hybrid of disco and calypso.
All of this is likely to come as news to anybody who caught a show at any point on her extensive tour for her last, self-titled LP; those gigs were choreographed down to the inch, with everything from her deliberately weird stage banter to the dance moves that she and Yasuda would lace their guitar-playing with scripted to within an inch of its life. Tonight, there's no chatter save for the odd platitude. "It's a miracle that you all made it here", she says cryptically at one stage. "The world might be fucked up, but there's always a reason to dance," is another she saves for later. The new visuals, too, are well-planned, featuring Clark and her band in their stage get-ups. They remain just as striking as on the Fear the Future jaunt. With that colour scheme, how could they not be?
There's moments, towards the end of the set, that do the same neat job of reminding you of Clark's considerable ability as a songwriter as they do on record; the delicate, desolate "New York" inspires a singalong, while a solo take on "Prince Johnny" closes the encore prettily. Just as on their individual albums, those songs remind you that behind all the scrupulously-planned stagecraft, there's a tremendously empathetic musician, and that when the dial is turned down just a little on the contrivance, there's a terrifically fun rock band chomping at the bit. All things considered, Clark might finally have found her sweet spot.
Get the Best Fit take on the week in music direct to your inbox every Friday