The UK has a unique penchant for festivals; from boutique gatherings in secluded woods to monstrous, makeshift towns, there is a music-driven party to be found almost every weekend of our British summer. What is more, new festivals are becoming increasingly enticing with every passing year as punters look for greater variety and the mainstream continues to embrace genre diversity. How does Reading Festival, the legendary, rock n' roll stalwart of this circuit, endure then, alongside its arguably more relevant, emerging competitors?
On first impression it is very easy to allow cynicism to creep in: jokes about how the burger van-lined field appearing to be little more than a disinterested, over-sized GCSE results party are rife; a lack of the traditional, iconic Sunday night headliner is an anti climax waiting to happen and any obvious thematic stage breakdown make for early grumblings among the music-minded attendees.
However, Reading is not a place for the cynic or the music snob, and this August bank holiday get-together remains a place where a carefree attitude and nostalgia reign supreme.
Away from the devil-horned hands that dominate the festivals Main Stage, a smattering of exciting new and predominantly electronically-driven artists feature: one-man dance-drum extraordinaire Robert DeLong pleases early revellers with his high-octane performance; a beeping, FX-heavy sample of Rolling Stones' 'Missing You' feeling brilliantly metaphoric of the nature of the festival. Disclosure's long-lost brothers Bondax deliver chart-heavy remixes, reaffirming the strong position UK dance music is in, before the Lawrence's themselves emphatically drive this point home, proving their house hero status on the final night.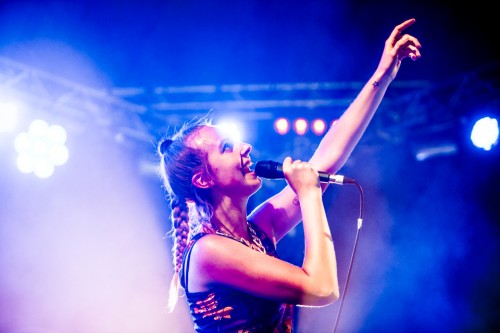 Glossy electro-pop from New York's MS MR has the Festival Republic Stage swarming, with front-woman Lizzy Plapinger the only person beaming more those in the packed tent. Copenhagen starlet and Best Fit favourite MØ follows, delivering one of the most energetic performances of the weekend; her presence suits the old festival, throwing herself around the small stage with big songs, her creations remains some of the most attitude-filled and infectious to come out of the ever-impressive Scandinavian pop circuit.
This small tent becomes the setting for many of the weekend's highlights: Lucy Rose is typically enjoyable; CHVRCHES appear to be coming of age, with their brilliantly sugar-coated songs sounding bigger and more comfortable than previous outings while garage psych-rockers Temples and Splashh impress.
Although Saturday's rain (and a recommendation from a rather high-profile fan) may have been a factor towards the popularity of Drenge's performance, the Sheffield brothers prove why they are a young, pumped-up rock duo to be reckoned with – thrashing through the memorable set, which is as tight as it is filled with punk-rock nonchalance.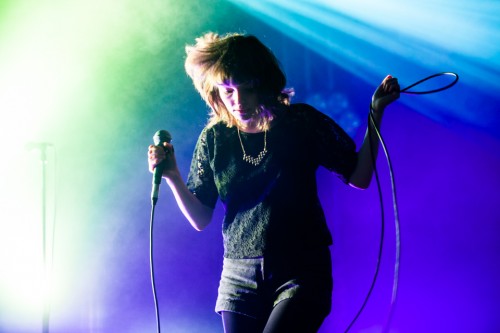 The BBC Introducing Stage plays host to a handful of exciting new hopefuls, acting as closest thing to a newly or unsigned showcase for the weekend. Thumpers bring their foot-stomping rhythms and intricate melodies to the small stage; Mausi's 'Move' remains a real summer gem, while Glasgow's Prides feel like a proper weekend discovery; their synthy-pop enjoying a confident outing to a small gathering of lucky onlookers.
Elsewhere, Aussies caught the eye – Jagwa Ma's kaleidoscopic, dance-fuelled performance and Tame Impala's trippy, jam-heavy set are immaculately messy. Similarly, LA's favourite sister-act Haim get typically stuck into a squash-buckling, if well-rehearsed, jam, again justifying their status as leading guitar-wielding virtuoso's, with air-guitar inducing solos and thunderous, energetic drum finales.
AlunaGeorge enjoy a similar-sized turn-out for their array of potential chart-toppers – Aluna appearing more and more the popstar with every performance we see.
Maybe Twenty One Pilots' drummer takes it a step too far, summersaulting off a piano during their Sunday set, but it is becoming something of an exciting rarity to see a live band lose themselves and focus on sheer entertainment in a performance. It is something Green Day and Eminem – who of course wrote a song about losing yourself – are certainly guilty of, headlining Friday and Saturday nights respectively with ruthless professionalism.
It is also hard to ignore the all too accurate irony of FUN.'s sing-along anthem blasting-out, before the iconic rapper takes to the stage and rips through his extensive catalogue; intensely aggressive lyrics ('Kill You' comes to mind), are screamed out by the same fans chanting "We Are Young" just moments before – many of whom are now become overwhelmed with tears in presence of the superstar.
But who really cares? As strange as it sounds, seeing Dido join Slim on stage, it's hard not to roll back the years, smile and singalong.
Indeed these two simple pleasures go some-way towards expressing Reading's place in the festival market. For throughout this weekend in a muddy field, being on-trend, ahead of the curve and one step ahead of the 'next big thing' doesn't feel like it matters as much as coming together and being able to admit to a group of strangers that you too, at one stage, used to like System Of A Down.
Photographs by Jason Williamson; see the full Reading Festival 2013 gallery here.