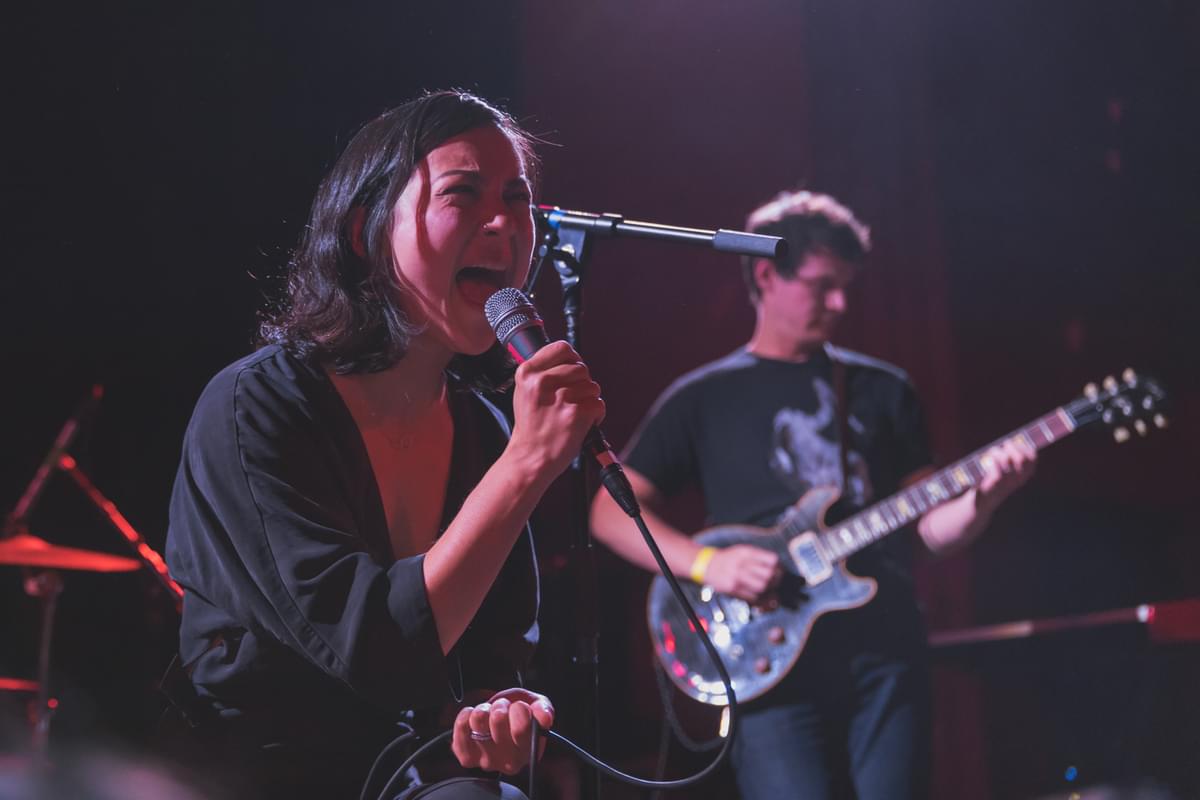 Purpose & Heart: Japanese Breakfast, Live in London
Michelle Zauner has been busy. Since spinning off from emo-flavoured Philadelphians Little Big League, she's released 2 albums in as many years. Tonight's show, here at the Dome in Tufnell Park, is the very last leg of a tour promoting her most recent effort, Soft Sounds from Another Planet. So, all things considered, you might expect a little road fatigue by this point. Thankfully, Japanese Breakfast are made of sterner stuff than that.
Now, for somewhere that bills itself as "a gig venue above a pub", The Dome is cavernous. Imagine a sports hall disco at your local comp, subtract the Panda Pops/experimental double-denim (just me then?), and you're pretty much there. Tonight though, it's standing-room only, and there's a palpable sense of excitement when the band file in from the wings. As they set up, "Planetary Ambience" – a dreamy instrumental from the latest record – is piped in through the PA.
The synths shimmer around the room, and if you've heard the album, you'd imagine that this was a scene setting exercise – a Soft Sound™ heralding more of the same. In this case, it's really establishing a false sense of security. A chattering synth ushers in a huge resounding beat, and "Diving Woman" kicks off a set that's as beefy as it is heartfelt.
Over the course of 14 tracks (a mix of tunes from Soft Sounds and 2016's brilliant Psychopomp), we're treated to an emotional rollercoaster as Zauner strips back the lush production of her recorded work to reveal a heart in spasm. From the raw screams that punctuate "Jane Cum" to the growling bassline that finds a new home on tonight's version of "Roadhead", you feel every lurch and distorted murmur as the frequencies fill the room.
But angst is just one colour on their palette. She drops in to a sweetly upbeat mode for "In Heaven", which is one of the catchiest numbers on offer tonight. "This House" and "Triple 7" are played as 2-handers between Zauner and her keyboardist, and offer up a confessional detour that lets us really hear the ache in the frontwoman's voice. We're even treated to a bit of Proper Songwriting in the form of "Till Death", which features a key change worthy of Manilow (rest assured, there is no higher praise).
They close with "Machinist", a space-age number about falling in love with a robot. While the auto-tuned vocal and disco rhythm feel a little incongruous after the viscerally analogue set we've just witnessed, it's a whole lot of fun.
There's so much to love here, and crucially, the sheer variety of the set means that there's not much that feels like filler. Zauner's a charming presence onstage, too – engaging without forcing you on to the banter bus at knifepoint – and her band is tight as you like, without sacrificing an inch of feel.
You should see Japanese Breakfast. There really is something for everyone.
Get the Best Fit take on the week in music direct to your inbox every Friday