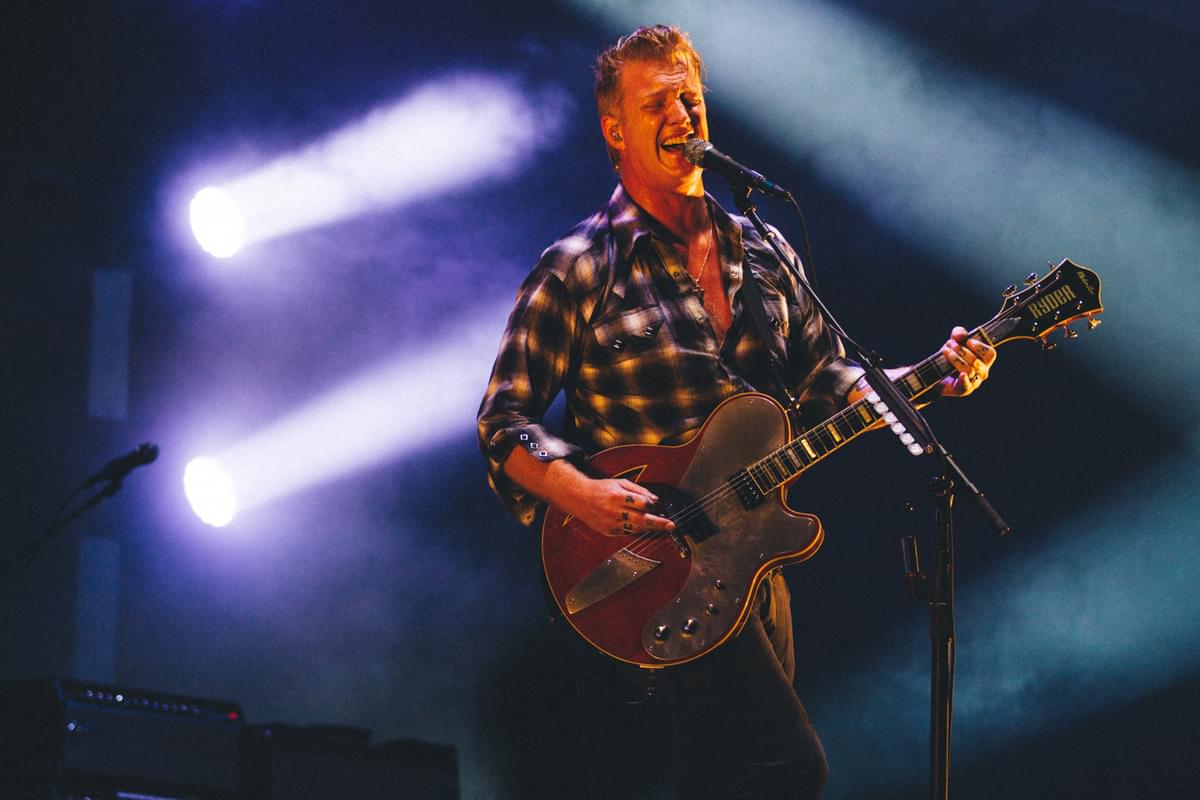 No Time To Waste: Queens of the Stone Age, Live in London
"I bring good news," announces Queens Of The Stone Age frontman Josh Homme, his arms spread wide, a wicked grin plastered across his face. "It's Saturday night. I'm bringing the feral and the alley cat right here."
You get the feeling that for Homme, the band's desert-dwelling gang leader who radiates a near mythical level of machismo, it's Saturday night every night. Certainly, Queens have always had a sensual, shimmying element to their monolithic stoner rock and their latest album, Villains, injected a further layer of sass, courtesy of producer Mark Ronson. Consequently, "Feet Don't Fail Me" and "The Way You Used To Do" ooze disco-infused, cock-swinging swagger that get bodies moving. "Cut loose," orders Homme. "Take your pants off."
QOTSA have been an arena-headlining prospect since 2013's ...Like Clockwork. They kicked their UK tour off at Wembley two days ago but tonight they've come across the city to step it up a level. The O2 is even more cavernous and impersonal. Party-starting here is an intimidating task. Then again, most bands haven't got 20-plus years of slithering grooves to fall back on. "Let's see what you've got," teases Homme knowing full well what the supple riffs on "No one Knows", "Little Sister" and even newbies "Domesticated Animals" and "The Evil Has Landed" are likely to do to a crowd who have clearly taken his Saturday night comment to heart.
The band give just as much energy as the punters though, wringing every last drop of sleaze from their instruments and slinking between the bendy lightsaber-esque poles jutting from the stage. "Smooth Sailing" ups the funk, and slow-burner "I Appear Missing" feels less tonight's only moment of respite, more an opportunity for Homme to brood rather than bruise. Not one second of the set feels phoned in. Homme hams it up pulling smutty shapes, rubbing his groin against the lights while firing out sandblasted solos amid throbbing basslines; the ultimate rock n roll badass, nonchalantly flaunting the smoking ban. By the time a thumping rendition of "A Song For The Dead" brings the set to a close, it's clear QOTSA have triumphed in UK's biggest indoor venue.
The following day, they announce their biggest gig yet, a huge date at London's Finsbury Park next year. After all, there's no time to waste when you're conquering the world.
Get the Best Fit take on the week in music direct to your inbox every Friday