Expect to see the phrase 'flame-haired' bandied about a lot in upcoming reviews of Neko Case's new album Middle Cyclone. Before she opens her mouth, that's the obvious initial impression. But once she does set forth: God, everything else is lost in wonderment as to the rich soaring voice projecting from her taut slender frame (a product of years of kick boxing so no messing!). 'Force of nature' looks set to be an accompanying phrase that also fits well with an album for which a third of the tracks feature notable events on the Beaufort Scale. See how I got away with falling back on those lazy phrases myself by using them in a knowing way (insert air quotes here).
Anyway, as 'This Tornado Loves You' indicates, Neko Case is a country-noir phenomenon governed by a beating heart not a barometer. It's remarkable that someone with such an acclaimed gift did not start out on her musical journey as a singer – she was a punky drummer. It's also slightly sad that she remains lurking in the shadows of mainstream success, especially in the UK. This was emphasised by the emptying of my crowded tube train in the direction of The Wombats at the Empire as I carried on down to Bush Hall. That, however, is all partly if not largely through her own choice and non-compromising attitude. She has a fierce determination to stay artistically independent and a true artists taste for the eclectic. Her style of songwriting usually siddles around verse-chorus conventions and often dips into surreal imagery. This contrasts with the spit and sawdust country pathos that she can also deliver with aching sentiment. For that she can draw upon a reservoir of suffering from her formative years – making the comparisons with Patsy Cline and others from the days of the classic dirt poor and/or alcoholic troopers of the past all the more appropriate.
If I'm honest it's that more 'regular' side of her work that mainlines most readily to my simple soul, and I welcome the fact that Middle Cyclone seems to be a more immediately accessible listen than the arty and Slavonic fable-full Fox Confessor Brings The Flood. As if to stick a finger up to such conformity though, the final track does last 32 minutes and is apparently more ambient. I can only guess at what it sounds like – it was not featured tonight. The imminent release of the album is, of course, responsible for this European micro tour. She'll be back with more stops in August, but meanwhile the pressure of such specific motivation, and presumably a requirement to impress the gathered London music media at a sold out venue, meant that Neko took the stage despite having to bail out the previous night in Amsterdam due to a cumulative combination of non-specific "fever" and jet-lag.
Eric Bachmann had stepped in as support with only four days notice. His earnest solo acoustic and electric guitar numbers held the already fullish audience in hushed appreciation. One song vocalised through a megaphone with no guitar over a percussion loop mixed things up a bit, if slightly incoherently. His reception was matched by his gushing thanks for the attentive crowd. It probably helped that for a large part of his set Neko Case was out front sitting at the side to watch, and mildy heckling at one point. That was a nice supportive gesture. I was already warming to her as a person as well as a singer – not to mention the few times she brushed by me between the edge of the stage and the speaker stack with a whispered "Sorry" and a tap on the arm. Touched up by Neko Case: another entry for my volume of 'star stories'. OK, more of a pamphlet really. OK, perhaps a couple of Post-It notes would cover it. But back on topic: with her fiery tresses appearing much darker disguised in a loose bun, wiry frame and slightly timid demeanour, and face now showing some signs of experience (or fever), pre-showtime she could have gone by unrecognised by many.
The band were as those playing on Middle Cyclone (minus its many guests of course). The excellent Jon Rauhouse trebled up on guitar, banjo and pedal steel, whilst main guitar duties were covered by the jaunty pork pie hat wearing Paul Rigby – who it should be noted shares some song writing credit on the album because of the input he has on chord sequences and song structure. Kelly Hogan was nominally a backing vocalist, but this was almost secondary to her self appointed role as "morale officer" sparring with Neko. She often took the lead in what turned out to be a near constant flow of playful between song banter, and possessed a magic handbag capable of providing solutions to everything from a collapsing mic stand to relief from the sweltering heat of the packed hall.
The chiming Rickenbacker opening of 'People Got A Lotta Nerve' was the first of the new songs unveiled after an initial slightly hesitant rendition of 'Maybe Sparrow' while we all got to know each other. It's driving pace filled the room and the show took off from there. On first listen other picks from the new album are the meandering melodies of the title track, and the Nilsson cover introduced as the "saddest song in the world" and "a divorce number": 'Don't Forget Me'. Thudding bass and drums substituted for the synchronised column of reclaimed decrepit pianos lined up in the rickety barn of Neko's new Vermont home. Often she expressed how "scary" it was to be playing the new songs, and welcomed the relief of slipping back to several tracks from each of Fox Confessor and Blacklisted. My only complaint was that my personal favourite, 'John Saw That Number', was missing. I think it was 'This Tornado Loves You' that was described as "a song about how, if you're a tomboy, you're basically fucked", with an self-mocking follow up of "Would it kill you to wear a skirt?". Whichever song, it was a fun moment.
Neko Case was planning to hang around for M Ward's show the following night and get up and join him on stage. That should be one to remember. The great T-Bone Burnett has described her as simply one of those artists who just have that elusive and indefinable "it". I could not agree more. Miss Case may still be convalescing, but in terms that Sir Francis Beaufort would understand (and courtesy of Wikipedia), I'd still put the performance at a 9: "Larger branches break off trees, and some small trees blow over. Construction/temporary signs and barricades blow over. Damage to circus tents and canopies." The fabric of the wonderful old Bush Hall survived, but I was bowled over. The Tube proved a good choice for transport home. I heard later that the Westway was all snarled up. A circus tent had gone AWOL apparently and was causing havoc.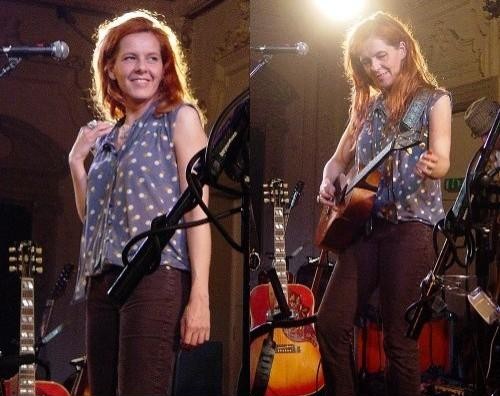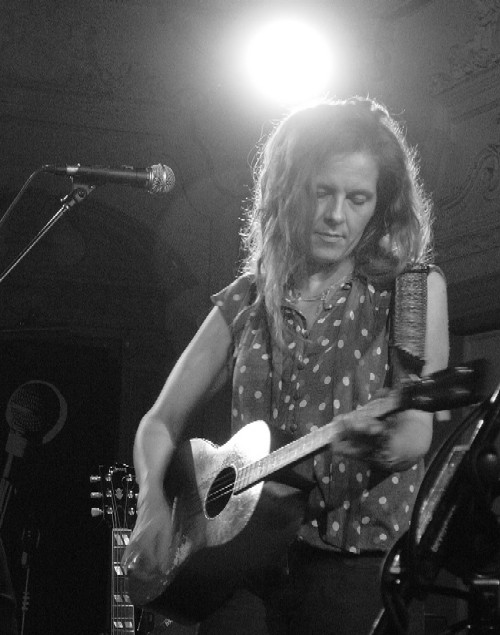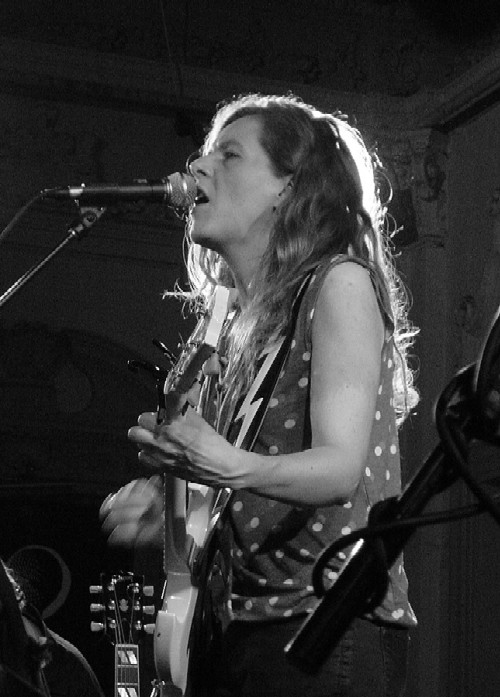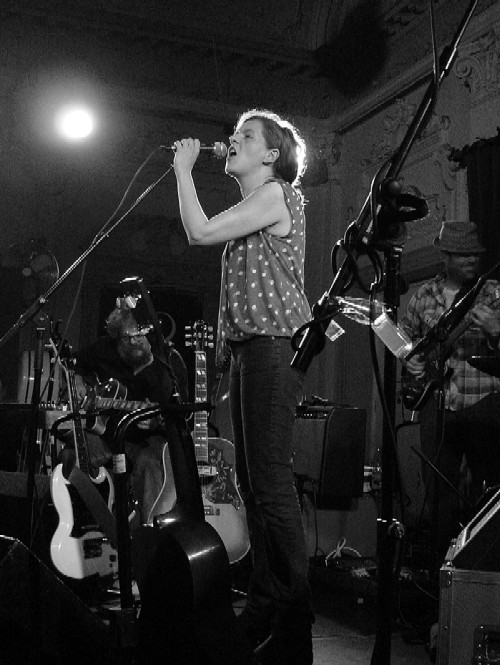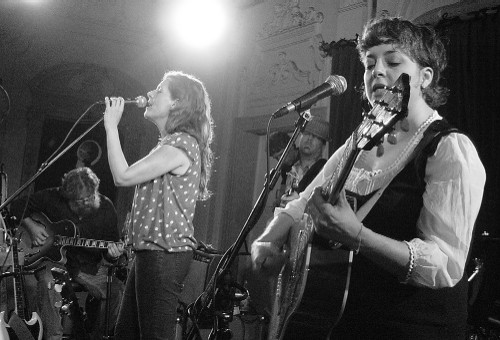 Eric Bachmann on MySpace
Neko Case on MySpace