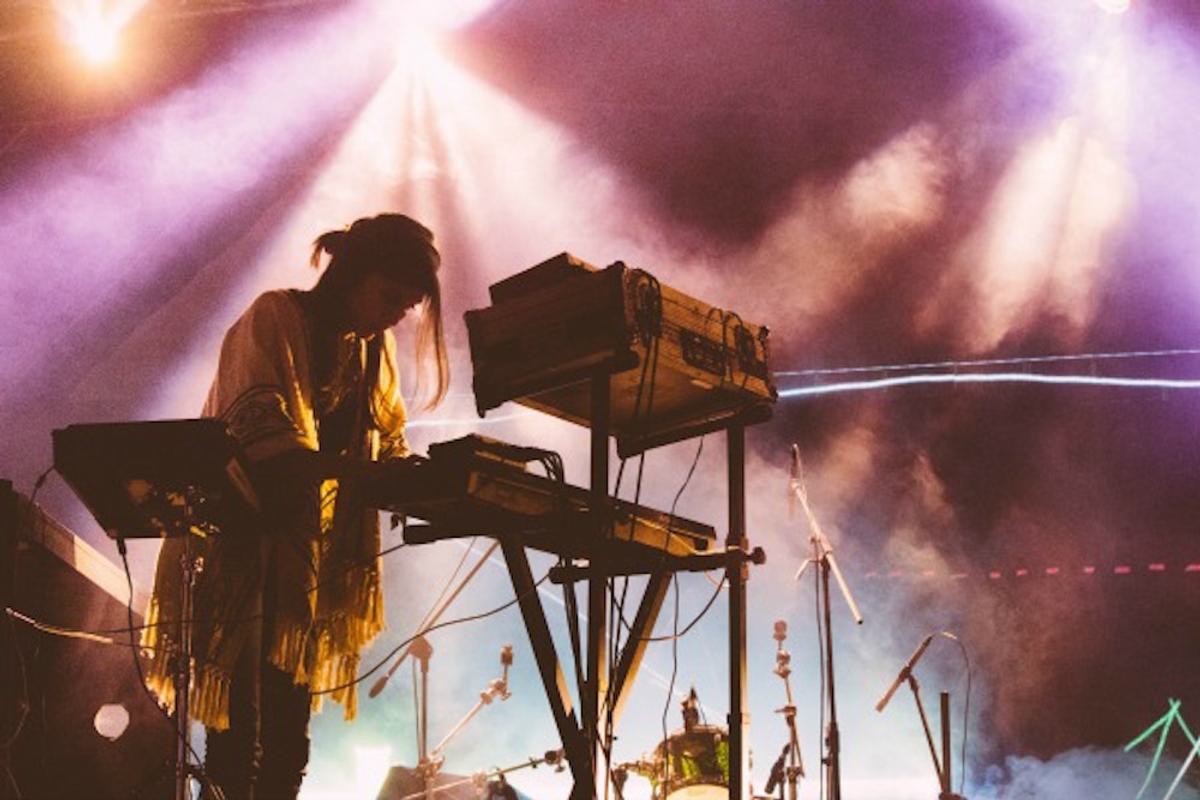 Stark Difference: Different Trains 1947 at the Barbican
"I think the worst thing I could do is come over here and very superficially take bits from all over the place. Indian classical music is perfect as it is, it doesn't need me to come in and reconstruct it."
Jack Barnett's self-effacing recognition in the introductory film for Different Trains 1947 highlights just one of the challenges presented by this musically interrogative, historically poignant and highly ambitious project.
Barnett, of shapeshifting band These New Puritans, along with enigmatic beatmaker Actress aka Darren Cunningham, and Mumbai-based composer and producer Sanaya Ardeshir, better known as Sandunes, were each tasked with creating an original composition commemorating the 70th anniversary of Indian independence and partition, using Steve Reich's seminal composition Different Trains as a musical reference point.
Reich's original piece reflected on the starkly different circumstances he faced as a wide-eyed Jewish child in the early 1940s travelling between his parents' houses in New York and Los Angeles, to those of the millions of Jews crammed aboard Nazi trains travelling across Europe. Its pioneering use of recorded speech as a basis for melody, and the integration of the sound of train wheels and whistles into the rhythmic and melodic identity of the piece were groundbreaking in the world of contemporary classical music.
Just a few years after the Holocaust, the bloody partition of India would also be characterised by the large-scale use of railways, with millions of civilians displaced along Hindu-Muslim lines. This led to unprecedented refugee crises and the onset of mass violence and death – a historical watershed that is, disquietingly, a rather foggy memory in the British collective conscience.
Clearly then, Different Trains 1947 is a significant project, bristling with a cross-fertilisation of ideas. For the artists, whether challenge or opportunity, there are numerous angles from which to approach their piece. The task, crucially, lies in approaching subject material, both musical and historical, with sensitivity and creativity.
After support from electronic duo Darkstar showcasing Trackbed, their touching audiovisual vignette documenting the everyday lives of migrant teens in Liverpool, Cunningham emerges on stage joined by Hindustani vocalist Priya Purushothaman. As Actress, Cunningham lingers on the peripheries of contemporary dance music. Frequently, he's deliberately arcane, cloaking his music in conceptual, often pseudo-intellectual context. Tonight, however, it feels as though this eccentricity comes at the cost of obscuring the objectives of the Different Trains project.
Cunningham manipulates samples built during his time in India, such as train horns pitched down until warped beyond recognition, creating gothic ambient noise alongside sitar drones and Purushothaman's vocals – conversely clear, bright and beautiful. Eventually, muffled kicks enter the palette, but don't do much to advance any sense of momentum. Rather than forming an integral part of Cunningham's piece, Purushothman's voice - heavenly as it is - sits next to it, sounding alarmingly superficial in exactly the sense that worried Barnett.
What's more, the large screens behind Cunningham are completely devoid of visuals for the duration of his act, though it's not made clear whether this is accidental or not. It may well be that Cunningham's intentions and ideas have been lost in translation, whether due to technical difficulties or not. Ultimately, for an evening bursting with vivid, meaningful potential, this first act is disappointingly impenetrable.
For Ardeshir, Different Trains 1947 is a much more personal undertaking, given that her own family was divided by partition. Her piece is built around samples of her grandmother's recollections of the period gathered through interviews, the phrases spliced into lurching stutters by percussionist Jivraj Singh with deft, brush-like strokes.
This second act immediately rescues the evening, glowing with all of the musical and visual possibilities afforded by the venture. Supplementing the music is the tasteful blend of archival footage and theatrical interpretation that one can only assume was meant to accompany the first act, courtesy of artist and filmmaker duo Iain Forsyth and Jane Pollard.
To brilliant effect, Ardeshir acutely subverts Reich's original piece; where he used speech as the basis for melody, she is using it to dictate rhythm – her grandmother's words forming ever-more complicated patterns which unfurl next to beautiful, interlocking melodies (another nod to Reich). The use of odd time signatures, shaky and increasingly disorientating, reflect the scenes playing out on screen, but Ardeshir's knack for melodic warmth and emotional depth prevent the piece from straying into total darkness.
For the last act, Barnett is joined by Singh, who once again takes to the drums for a bracing, percussive finale. The silent, waiting room is hit by the explosive heave of steam trains gaining speed, made all the more immediate by Singh's blistering accompaniment, mimicking the trains' sound. Harmonic elements, built using interviews with people who experienced the events of 1947, likewise build to a dizzying crescendo. These vocal snippets provide a reminder that for all the musical and technical wizardry on display, this is a human story of division, confusion and suffering. Barnett needn't have worried - his performance is anything but superficial, gathering together Reich's methological specificities and weaving them into the historical narrative.
Different Trains 1947 ultimately revolves around multiple senses of interpretation - historical, personal and musical. Reich, like Barnett, was wary of cherry-picking non-western musical styles, particularly the West African drumming and Balinese gamelan music he was so drawn to. "This method" he wrote in 1973, "is the simplest and most superficial way of dealing with non-Western music". By letting his encounters with new and unfamiliar experiences structure his creative process, Reich sought to produce and communicate something in an entirely new way. Shaky starts aside, Different Trains 1947 has done exactly that.