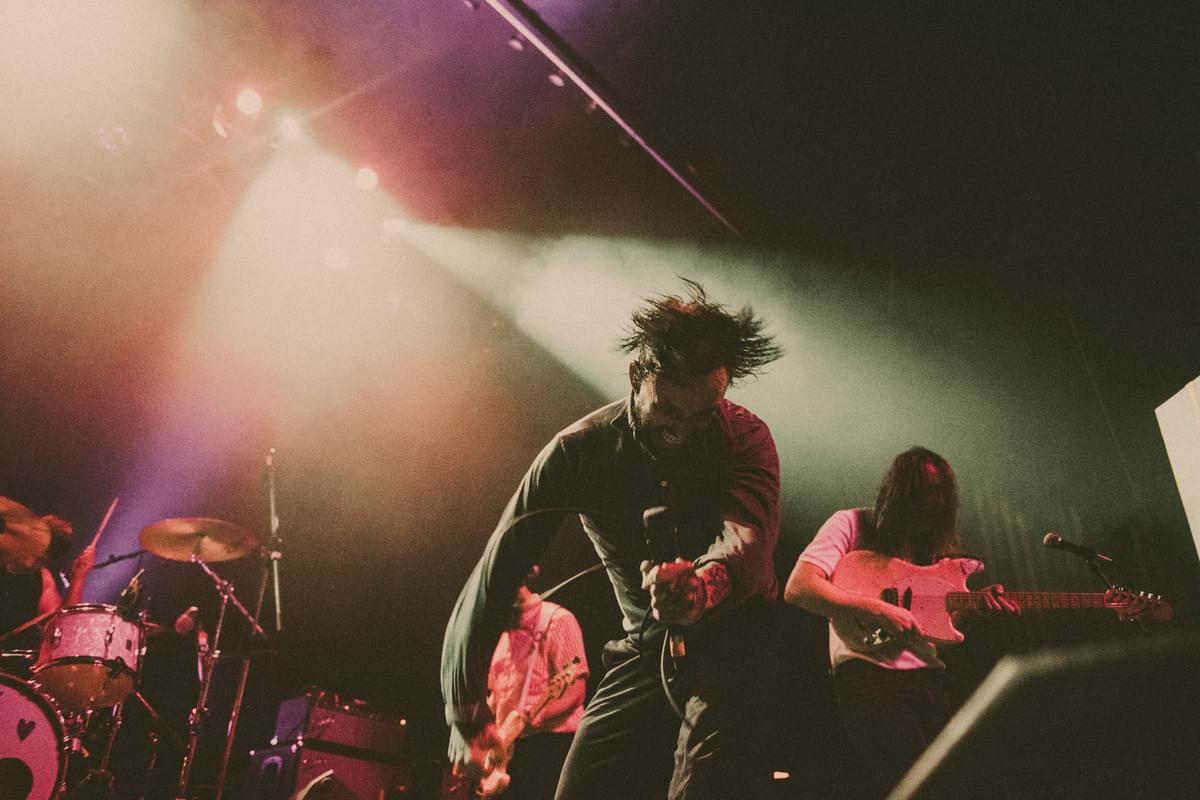 IDLES' homecoming is a celebration of diversity and hard work
IDLES' homecoming show at Bristol's SWX comes after a year(ish) without playing a proper date in the city - and it shows something fierce.
Their sold-out victory lap has the city on virtual tenterhooks, awaiting the return of prodigal sons following a blinding few months of critical and commercial acclaim. A lot's changed for IDLES since the release of LP2, Joy As An Act Of Resistance. (and since debut Brutalism, really). Even ahead of its release high-profile slots on the summer's festival circuit beckoned - these were summarily obliterated with their customary vigour (the group's End Of The Road set was particularly ferocious), but did the IDLES bulldozer show signs of letting up? It did not. Subsequent placements on Jools Holland and a chart position between Ariana Grande and Passenger cemented them as a mightier force than ever.
Tonight, as the hypnotic clack of drum signals the start of "Colossus", it feels like a finale for the band. It's really not (there's lots of touring left this year), but this is a celebration with family and friends, day one stans and fledgling fans and Big Jeff that certainly serves to immortalise IDLES' uncommon legacy.
"Colussus" bleeds into "Never Fight A Man With A Perm", "Mother", "Faith In The City", and "I'm Scum". It's sweaty and hot, and with typical fervour IDLES whip the masses into a frenzy - a collective release that rails against right-wing politics, the chronic dismantling of the NHS, anti-immigration media, toxic masculinity, and much more besides. For new favourite "Danny Nedelko", which is introduced by frontman Joe Talbot as about the love of immigrants ("I'm preaching to the choir in this city..."), the song's namesake emerges to boing around the stage following his (and his band Heavy Lungs') support slot.
IDLES fly through a setlist full of tracks from both albums, with just one from the second album (agonising slow-burner "June") not making tonight's cut. The whole thing is frenetic, and rammed with moments of laughter and controlled spontaneity (stage invasions/dives are hardly a rarity at IDLES shows, and the Mariah Carey cover comes out pretty regularly), and just, well, ridiculously fun. The night draws to a close with the double-tap of "Well Done" and "Rottweiler" - no encore "because this isn't fucking Butlins".
Given IDLES' frankly absurd upward trajectory, and Bristol's severe lack of big venues, especially with an arena semi-nixed and Colston Hall being renovated, it genuinely might be a while before the band returns to where it all started. But if this raucous comeback is the last the city sees of them, at least for the foreseeable, then so be it. This has been a just reward for all.
Get the Best Fit take on the week in music direct to your inbox every Friday