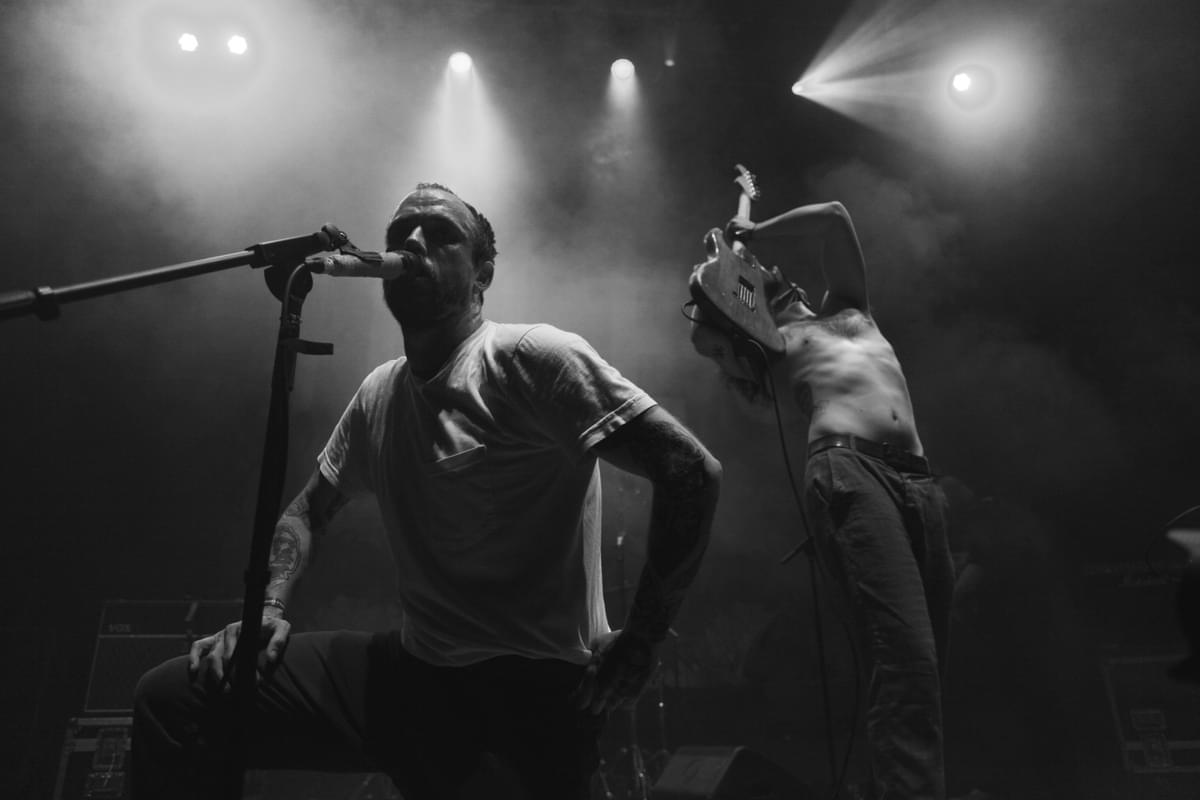 Pure and Simple
24 October 2017, 11:00
Simple Things Festival 2017 endures Storm Brian's slippery tendrils to provide a moment of solace in a turbulent city.
As anyone who's been in the city more than a couple of years will tell you: Bristol isn't the same as it was. Big chunks have morphed into safely seedy, focus-tested pastiches of their former selves, with old landmarks sold on for a new lease of life as NYC-style studios at £600k a pop. Graffiti are besieged by selfie sticks, and relics of the past are gawked at with patronising coos – ain't it quaint indeed. The grit is sanded down, most edges are babyproofed, and the blemishes are buffed out. No one wants to live in a shithole, but does anyone really want to live in a sanitised dormitory town?
When house prices are accelerating towards an untenable rate for most, the threat of gentrification isn't a demon in the distance but a tangible threat to the very people that have made the city the place it is. Vast numbers have been quietly (and not-so-quietly) swept aside to make way for those with beefier wallets; community havens, iconic venues, and art spaces have all been vacated to make way for new cookie-cutter developments. Hamilton House, one of the great bastions of Stokes Croft, is under immense threat.
But Simple Things isn't about the problems in Bristol - nor is it a cause, a symptom, or a plaster over the cracks. Simple Things is about celebrating the things that make Bristol a truly great place to be - and for all its problems, it is still that to a degree. This glorious one-dayer crams a lot of noise into almost 18 hours, but it's not just about championing music - Simple Things is also about paying tribute to those that make it what it is, from local DIY punks and world-famous DJs to vibrant collective showcases and fervent experimentalists that never really made music for others.
Not really a festival in the more traditional sense - there's usually less mud than Glasto, although the toilets are somehow worse - Simple Things acts as a citywide party. It's a Purge-like event (stretching from lunchtime until breakfast the next day) where disparate cultures creep into the streets to march in tandem, where house and punk and grime and dub and rock and indie and electronica, and all the various prefixed and suffixed subgenres, all congeal. For one night only, Bristol city centre teems with people filled with a genuine love of noise - in all its various shapes and sizes.
The festival, now in its seventh year, has long attracted hefty, internationally recognised names, with this year's crop featuring Metronomy, Leftfield, and Daphni among them, but it's lower down the bill where you'll find the proper gems.
Boisterous punks Pink Kink lug their infectious strain of feminist thrash-pop to The Sportsmans, a social club lined with dart boards, to kick-off the day's proceedings. It's Berocca for your ears, and although lunchtime is perhaps not the best environment to enjoy their wares, it'll wake you right up - and "Bubblebutt" is a peach of a tune.
Simple Things pops up in a variety of venues - as well as the aforementioned Sportsmans, there are re-purposed landmarks such as The Firestation, well-worn clubs like Lakota, and more traditional venues including the The O2 Academy. Simple Things is all centred around Colston Hall, which houses three stages, for the last time for a good few years (it's undergoing some massive renovations that'll keep it out of action until 2020). As well as important structural work and the addition of better heating, it'll have a new name - the ubiquity of slave trader Edward Colston in 21st century Bristol is being addressed by the city and is mentioned more than once by artists on stage at the festival.
"I have friends who didn't want to come down because of this building's toxic reputation," Nadine Shah tells the crowd during her set opening Colston Hall's main stage. "But I'm happy the owners have listened to the protests and look forward to coming back to play the Freedom Hall!"
The Freedom Hall is a nice suggestion - although Bristol'll probably end up with something more like the Airbus Symphony Hall after the venue confirmed it was considering commercial partners. Back on stage Shah marries swaggerlicious post-punk and blues with political polemic, and various comparisons to the likes of PJ Harvey and Nick Cave are not unfounded. It's superb and effortlessly poignant.
Over in The Lantern, while genre-bending bandits HMLTD impress on our stage in the Foyer, local stalwart Oliver Wilde serves up an antidote to the rampant decibels elsewhere at the festival. Sans band Wilde is accompanied by his Oro Swimming Hour bandmate, children's book illustrator and Lucky Shivers artist Nicholas Stevenson, and the two reel off a packed set of low-key, lower-fi folk and pop. It's sweet and intimate amidst so much chaos inside and out (storm Brian is still grumpy outside).
Back on our Foyer stage is Japanese Breakfast, who brings heavyweights from her albums Psychopomp and Soft Sounds From Another Planet to life amongst considerable attention. It's mostly lush, warm, and fuzzy - but eerily funky highlight and set closer "Machinist" is none of these, with spoken word passages and spaced-out synths turning the indie melee into a futuristic disco.
Back down on Earth in 2017 we have Scruffy pop punks Diet Cig conjuring an especially inclusive atmosphere for their set on the Foyer stage, shredding out power chords and peppy yelps while blasting out toothy grins. Diet Cig are raucous but not violent, and goofy without being inane - they feel like old friends, and their charisma addictively worms its way through their dozen-plus jams.
Boy kings Wild Beasts visit Bristol as part of their victory lap and farewell tour - one last hurrah in the South West ahead of an imminent split. It's a downbeat performance from the group and a downbeat response from the crowd - a strange finality looms over the whole shebang, and though it's far from sad or disappointing, there's not quite the party mood that much of Simple Things has. That said, few things come close to the sheer power of "Wanderlust" or "Simple Beautiful Truth", and we're lucky to have seen these pieces of music performed live one last time.
Of all the utterly fantastic sights and sounds around the festival, it's hometown heroes IDLES that steal the show. This is a rare show that feels career-defining: in a packed out Colston Hall main stage (they were in The Sportsmans just last year), surrounded by family, friends, long-time admirers, new fans, and cameras aplenty, it's a show that beggars belief that you will cherish to your grave. IDLES stutter into life for a set heavy on cuts from debut LP Brutalism (although there are four new ones too - "Samaritans" is particularly exciting), swigging Buckfast from a shared bottle, rubbing, writhing, flailing, kissing, and unleashing havoc. Sweat and spit splatter the stage between acerbic post-punk anthems like "1049 Gotho" and "White Privilege", with frontman Joe Talbot taking breaths to explain the heavy ideas behind each furious cannonball of noise. The pit churns from start to end - they tear the trousers of Mark "Bobo" Bowen at one point - and over half the band into their bloodlusty depths at various points. There's stage invasions (Talbot struggles to get back up at one point thanks to the over-zealous security man) and an unbelievable sense of connection between the band and the crowd - how they've managed to better their famous live show now that it's out of intimate, sweaty dives is a mystery. But they have, and it's riveting. All is love.
Squeeze into Sportsmans and you'll be greeted by the steely thousand-yard-stare of Heavy Lungs. The furiously Internet-averse troupe perch on the claustrophobic stage, gazing out like vultures observing carrion; it's a different vein of noise when compared to friends and fellow Bristolian punks IDLES, with a bold sense of melody and fewer out-and-out abrasions, but it's crammed to the hilt with incandescent rage anyhow. Perhaps taking advantage of the essentially non-existent security presence beyond the doors, it's a particularly venomous pit that sits before Heavy Lungs (in part due to the IDLES boys getting stuck into the fray), with flailing limbs galore and crowdsurfers hoisted to the rafters into a threateningly wobbly ceiling fan.
The Colston Hall's final act takes to our Foyer stage with a mammoth crowd waiting, lining the serpentine staircases that are the venue's dizzying trademark. It's a wild sight when Omar Souleyman arrives on stage, lashing everyone with his distinctive croon and keeping everyone wide-eyed even at almost 2am with his one-of-a-kind concoction that draws from traditional Middle Eastern folk and pop, dancehall, and modern electronica. A potent, heartening set from a consummate performer.
In other corners of the city, Simple Things keeps pumping until the wee-est of hours. People that aren't ready to slip back to reality embark on a brief quest to catch the likes of Shanti Celeste or Kahn & Neek and soak up the last vestiges of Simple Things 2017.
There is a strange gloom that comes with leaving Colston Hall for the last time as part of this festival - both in knowing the comfort of continuity will be shattered by a forced relocation next year, and because this fragment of hedonism is once again vanishing. A lot of things will change in Bristol and in the world between this year's and next year's festivals, and even more by the time it returns to its base in 2020. While the future doesn't exactly look uncertain, things will definitely be different. For now, we can make the trek home, where our respective hangovers and comedowns await, knowing that this was an important night for many people and the city it calls home.
Get the Best Fit take on the week in music direct to your inbox every Friday