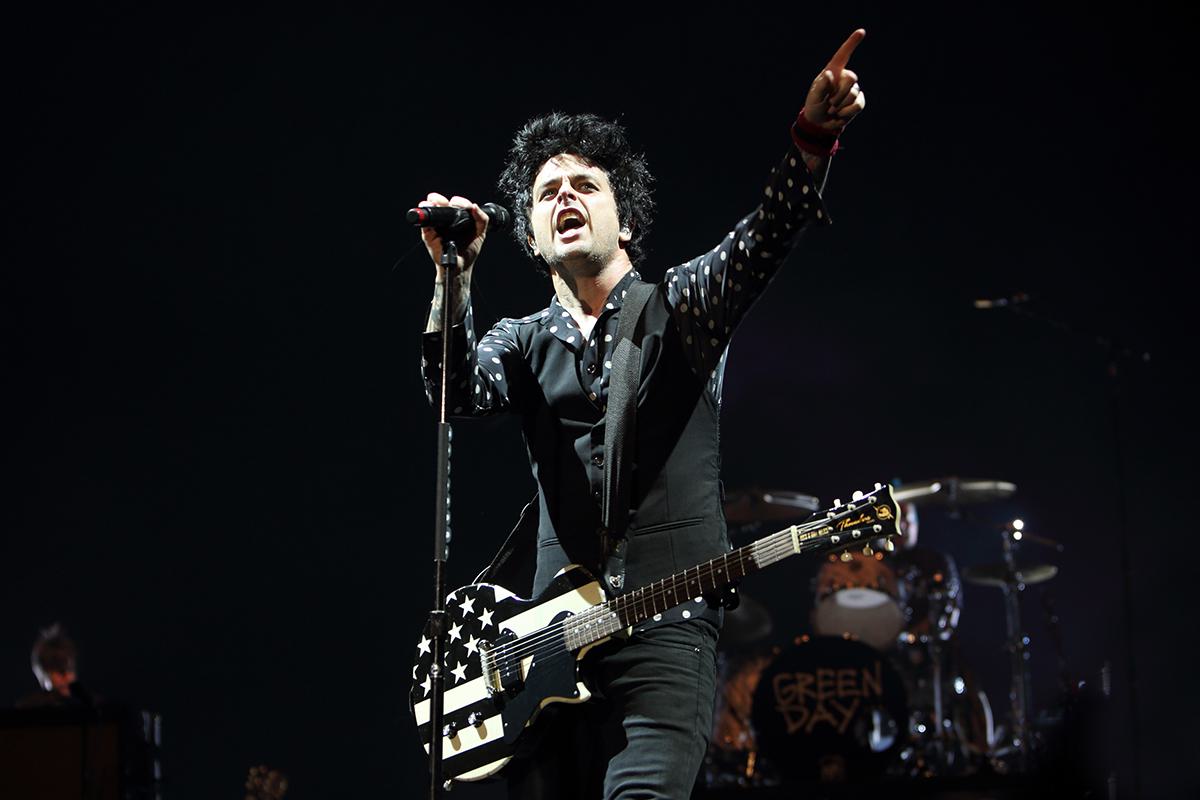 One way to turn 30: Green Day live in London
On the eve of my thirtieth birthday Green Day stepped onto the huge runway of London's O2 Arena, and in doing so caused me some kind of existential crisis.
Before tonight's show (8 Feb) started I decided to swim lengths in cocktails outside one of the chain pubs that loop the venue. Couples passed me with scars where earrings used to jut, and flabby bellies jogged under ill-fitting t-shirts. These were grown-ups now. When I saw Green Day as a younger man I'm so sure we were all young; we were all kids. Now we're old and desperately trying to remember something we had once. Not quite sure what to name it, but it's been chipped away at with every job, knockback and trip to the GP. Whittled and boiled down into the thick syrup of the adults that we now are.
One of my clearest memories is of sitting at a McDonalds, armed with a minidisc player and four immersive hours of Green Day music I'd downloaded on Limewire over the previous few days. I was catching up on a legacy having only recently discovered the band on their Warning album. I sat there all day throwing gherkins into the polystyrene tiled ceiling and waiting for them to plop back down. I think I'd tried my first cigarette that week also.
Back then the band still drew in young fans, despite being on their fifth or sixth album, depending how you classify 39/Smooth. My fandom years were their renaissance. They've certainly not made any huge waves with the youth of the last decade though, possibly as there hasn't been all that many contemporary bands picking up the sound. I've been working with The Kooks lately and it's surprised me how many fresh fans they have who discovered them via an indie playlist slipstream led by The 1975, Catfish & The Bottlemen, and Blossoms. There's no breakthrough bands right now doing Green Day though. There's nobody blowing on the fire, and the age range of the audience pre-gig felt weary however passionate.
Between the ages of 13 and 17 Green Day were the band that meant the most to me. They were the figureheads of the first scene I'd been able to understand. I had the black t-shirt, beige cargo shorts, died black hair with blue streaks, and chain that looped from my studded belt to surfer wallet. Green Day got me hooked on the short lived P:Rock channel that played Reel Big Fish, The Transplants, Rancid, The Distillers, Tsunami Bomb and a few more I'm missing from recollection. It could have been Blink 182 that broke the seal, but it was Green Day that had their name engraved on my pencil case in biro. They came with a bit of history and authority.
It was a scene that had already peaked, retreated, and become a series of MTV reality shows by time it was mine. Warning is not generally classed as Green Day's best album, and I was way late to the ska-punk movement (by about ten years) which buckled in a new century of indie pop led by The Strokes' Is This It and The Libertines' Up The Bracket. But let it be known, there was a once a time when Green Day meant the world to me and I felt a part of it all.
Now I can't remember where and when I fell in and out of love with most of the music that shaped my youth before or after, but I do remember when Green Day broke my precious, The OC-watching heart.
I'd seen them play a bunch of shows around American Idiot's release. I spent damn near every spare penny I had on following them. It was them who got me interested in festivals, and catalysed my Leeds attendance forevermore. I don't regret a second or Sterling of it. Then they announced a show at Milton Keynes Bowl in 2005, billed as a once in a lifetime experience that would shake my wages straight into their pockets. I'd seen them before but this I was told would be incomparable so I vomited my paycheck in foamy delight. I bussed myself to Milton Keynes and stood 50,000 people back watching on TV screens an identical setlist to the one I'd seen before. Same banter. Same shtick. I figured I'd been late to the Green Day party, but it was quite something to feel the adoration drip out of me song by song as I realised this wasn't actually a thing I wanted to be part of.
It wasn't punk – the little I knew of it at the time, or how I overvalued or misunderstood it anyway. My frustration settled into boredom and I was keen to get home. I didn't listen to them again for about ten years, until American Idiot felt enough in the past for me to hear it with a sense whacky charm. Over a few years the catalogue patiently became a guilty pleasure or drunken Uber request, only privately slipping back into my listening.
Some people age gracefully. I however approached my thirties with the anxiety and foreboding of having a cancer diagnosis. I felt like I was going blind and the final flares of light were causing the most recognisable flagpoles in my mind to blur. I think I was the youngest man in history to have a midlife crisis. Green Day then, playing live in the last few precious hours of my best decade was the funeral for my twenties it had earned. If I could watch Green Day live it was as though I was only 18-years-old, and there was a chance it could all be okay.
I threw so many beers into my face I can't be sure of how I conducted myself from "Holiday" onwards, but I do know that from the first song my cheeks tightened with smile fatigue. I can afford beers now, which is a step up from the last time I'd seen Green Day live. But there's also diarrhea, heartburn and hangovers to contend with. I forgot that, and about Milton Keynes and the last twelve years in a blackout rage of hysterical cheer.
I'd never seen the entire venue on their feet for the duration of a show at the O2 before. It's not easy to command that. My voice was obliterated from screeching every word to every song while my bicep burned from performing uppercuts in the air, timed perfectly to the thunder of Tré Cool's drum spanking. Or perhaps it was from playing darts for two hours in the office beforehand. An office dart board – more fallout from turning 30 I'm afraid.
I hadn't notice myself grow up, but then I've not noticed Green Day grow up either. And maybe that's okay. Musically they've not changed much over the years, just diluted the sound a little and somehow avoided any new big hooks. I gave the new album a cursory listen, as I had the ¡Uno!, ¡Dos!, ¡Tré! releases and 21st Century Breakdown, none of which had done as much as cause a twitch in my boxers. American Idiot was their huge and unexpected second wind, and there's been no noticeable third, least not on record.
I was expecting Green Day live in 2017 to be a slice of trivial fun, but surprisingly they were a band at the height of their game. It was exciting without being too juvenile, and I even allowed them to dip a toe in politics between songs without rolling my eyes. While Blink 182 have cheapened their brand in the last ten years or so by milking the wank jokes, Green Day have fine-tuned themselves into one of the most spectacular rock bands on the planet.
All those songs, those silly fucking songs, are now the pillar anthems of my entire childhood. They're all I can remember. To steal a line from a recent film, I was "a tourist in my own nostalgia". While "Memberries" are rife across popular culture this was one show I was happy to vanish into. I lost ten years of my life seeing "Hitchin A Ride" and "When I Come Around".
God I drank so much. I felt indestructible. Rock music can do that. If Green Day can be better at age 45 than they were at 30, then I can feel better at 30 than 15. There's a nice message in honing what you've achieved, and getting really, really good at something. Distilling the noise and confusion into something solid. Yes, indestructible.
The setlist fumed for three sick hours – every Green Day song an older fan would want to hear. Sure there were no kids there, just people like me. But people who remember the band at [insert time of your life] and those lucky enough to keep hold of a happy thought took off to punk's Never Never Land where little boys don't grow old.
The O2 is a tricky venue for a guitar band. I saw Smashing Punkins there a few years back and it was horrible. On the other hand I've seen some of the best pop spectacles conceived in bright, jaw-dropping vision. It's a big empty space that you need to imprint on which the likes of Take That can. It's easy with a circus production designed to satisfy kids while their mums flick pinot into their hair. Too many guitar bands struggle to pass into the arenas, but Green Day have worked on this version of themselves now for quite some time and have without question nailed it in every sticky detail.
So intense was the purity of my emotions that guilt crept upon me. I felt bad for badmouthing the band for so many years or denying ever even liking them. For too long they were an embarrassment from my childhood who didn't seem to have a place in the adult me. A relic of adolescence. I was a dick. Green Day are an exceptional live band, and will forevermore be spilling through my teeth when people ask me what music I like. And fuck you.