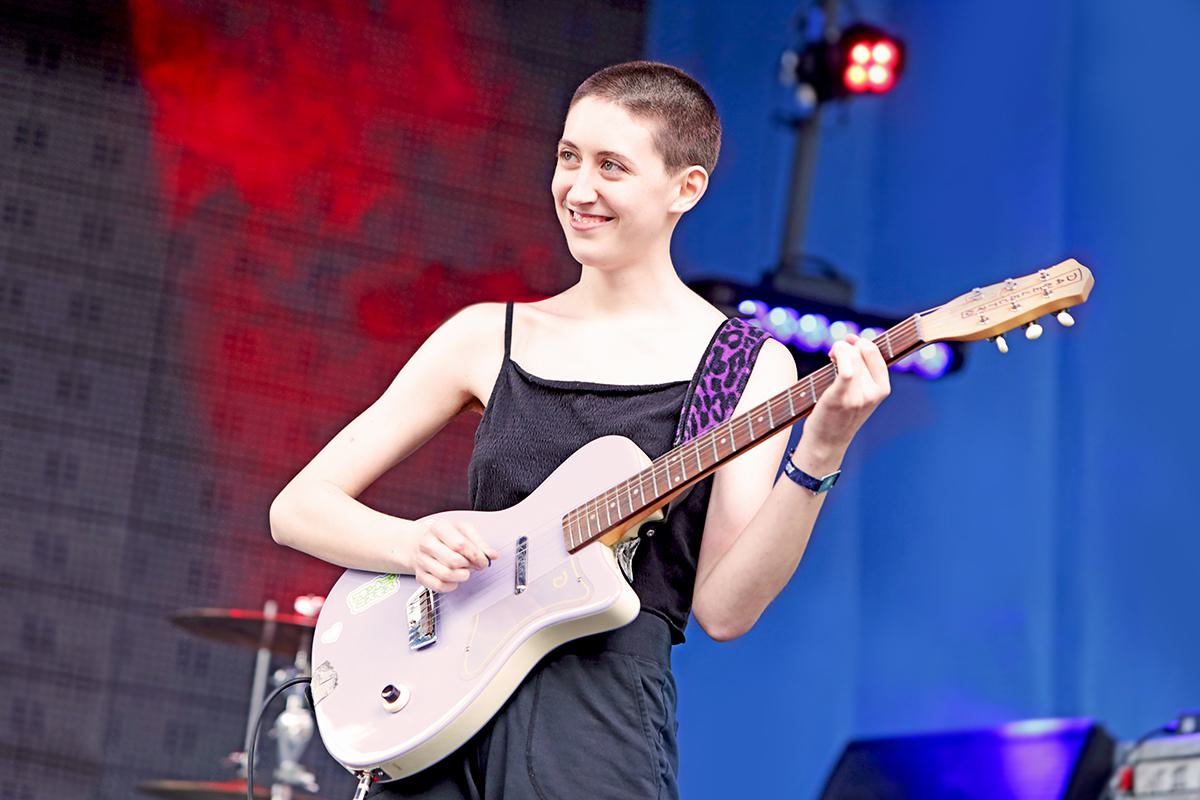 Frankie Cosmos stuns a sold out Scala, Live in London
"A lot of Vessel is about feeling like I'm not a natural performer and that performing is hurting me," Frankie Cosmos' prolific founder and leader, Greta Kline once said. These might not be Daniel Craig-style "rather slash my wrists" than return to work comments, but, if the extraordinary amount of touring Frankie Cosmos undertake (eight to nine months on the road, two weeks at home, then back on the road) are taking their toll - does this result in a lesser live show?
No, is the answer. Even if the group are exhausted, they never show it. Kline, often smiling, seems at ease, even if she says otherwise: "I'm scared...I'm scared of all of you," she revealed. "I'm just trying to be honest with you, my friends. You're my best friends." The band often joke onstage, and don't take themselves seriously: "Some bands have misleadingly exciting music videos. But ours...it's just us... standing there. That's what we do!" Kline said, before playing 'Apathy' from their latest album Vessel.
Playing to a sold out Scala for the final night of their UK tour, the band's live show featured well over twenty of their short tracks, taken from all three records - a greatest hits set, in a way. Set-up-wise things are kept simple with minimal lights with bitsnbobs surrounding the four-piece, including a packet of Monster Munch gifted to them midway through the set.
Frankie Cosmos could soundtrack a new coming of age film from Greta Gerwig or Richard Ayoade. On the one hand, they sound (at least melody-wise) like ebullience and unrelieved sunniness ('Cafeteria', 'Being Alive'). On the other, they are fed up and sad about life, feeling bloated, ready to prick everything with a pin, to deflate it all, and be free ('My Phone', 'Fool', 'O Dreaded C Town'). How the band sound when you're lying on your bed, headphones nestled onto your head, is exactly how they sound live. Which is a good thing.
Tonight's show had the same effect as Paddington 2. You go in feeling one way, and you leave feeling better. 'Feeling' being the optimum word here, because that's what these songs, and this band, are about right now: being young, making mistakes, having fun, and the universe revolving around your small gang of mates. If you're wondering around a boggy festival later this summer, and you see Frankie Cosmos are about to start, get in the tent.