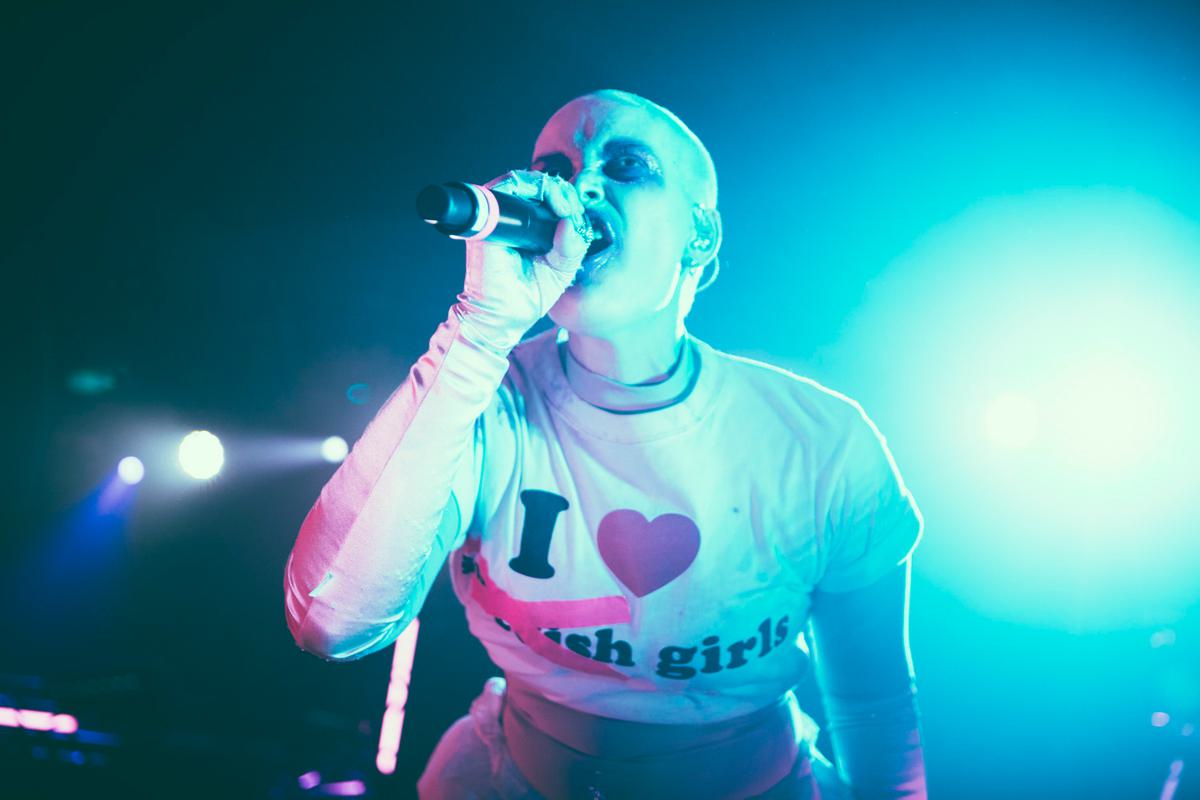 Take The Plunge: Fever Ray, Live in London
After an eight year wait, no one expected the release of Fever Ray's sophomore album Plunge. In fact, beyond its release, no one expected its narrative to be such a provocative yet politically precise take on queer culture. Unlike her self titled debut, Plunge reflects on and celebrates an intense period of self - and sexual - exploration. Garnering international success as one half of The Knife, Fever Ray's show tonight at Troxy is equally as thought provoking and a brilliant spectacle.
Upon arrival there's an immediate air of inclusivity and, summoning the spirit of the Riot Grrls before her, a polite message invites Girls To The Front: "Share this moment with us... Women to the front". Tonight's performance is a homage to Fever Ray's female identifying audience and, from the offset, a cohesive narrative is composed through a carefully crafted set list. Opening with the anxiety inducing An Itch, the crowd are introduced to an all female band - three musicians and three 'singing' counterparts to match.

Together the band is visually stunning; however, we are left to question the "liveness" of tonight's performance as Fever Ray ceases to sing and a back up performer, wearing an elaborate muscle suit, delivers a riotous rendition of "A Part Of Us". Akin to The Knife's final Shaking The Habitual shows, this level of trickery keeps the audience on its toes. Only when acoustic instruments are visually introduced, during songs such as "Red Trails", are we aware that perhaps the sharp synths and pulsating beats are performed live.

Unless totally necessary, songs from her former album are only included if they add something to the narrative of desire, tension and release; "I'm Not Done" makes the cut, whereas "Seven", a song about relationship expectation and domestication, is sorely missed. However, it's these clear cut decisions that elevate the performance and build to the more celebratory anthems. It's the intrinsic relationship between subverted performance norms, narrative and direct lyricism that sets this apart from any other show. "To The Moon And Back" is brilliant and we are given everything that Fever Ray has to offer; this show of sexuality is matched with neon lights, lasers, manic dance moves and the lyric "I want to run my fingers up your p***y" is greeted with faux shock gasps and victorious screams. "Keep The Streets Empty" is subtle in comparison. and almost instantaneously the stage is stripped of its performers leaving only one on stage. It's ominous and eerie but, if anything, it's a clear message that Fever Ray has a lot more left to say.

It's only if you embrace the weird and wonderful world of Karin Dreijer's Fever Ray that you can fully engage and enjoy this show. At its core, it's an invigorating performance that asks you to accept and indulge in sexual and social difference. We are invited to suspend our ideas of traditional performance and closer "Mamma's Hand" solidifies this message visually and lyrically: "come and play a game with us/we have no one to trust/imagine lost at sea/imagine you can see me".

Fever Ray is powerful, poetic and playful. Through synthetic structures she feigns a utopian world of acceptance and equality all while performing provocative pop songs. It's a rejection of traditional performance but nonetheless enigmatic. Ever the elusive artist, it's hard to know when Fever Ray will release more material and, if anything, I feel lucky to have had the chance to plunge into Karin Dreijer's immersive world.