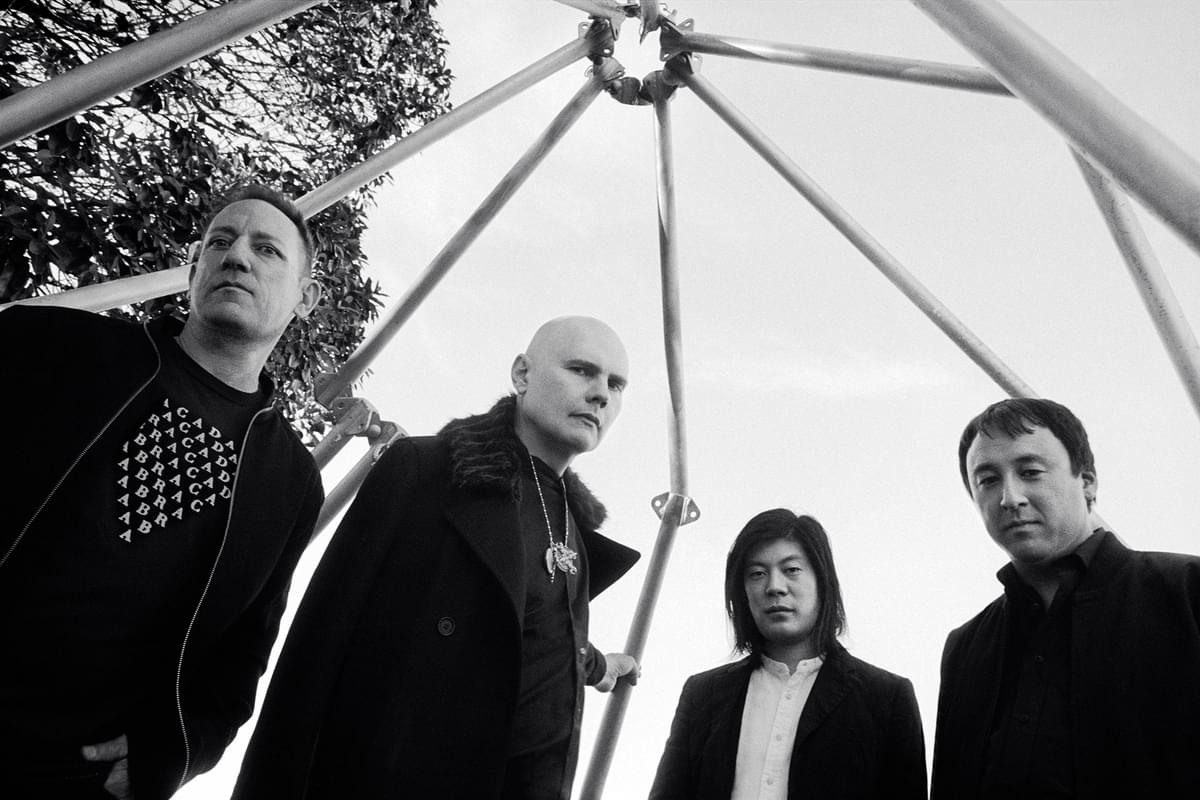 The Smashing Pumpkins are extremely shiny and incredibly bright, Live in London
It seems preposterous that this latest Smashing Pumpkins tour should end with only two European dates, but here we are.
Tonight, the almost-reformed outfit played Wembley Arena. In what you might consider classically incongruous style, they'll follow it up with a gig in Bologna, of all places. This is three-quarters of what most would peg as the classic lineup: original bassist D'Arcy Wretzky remains sidelined by a slew of factors, from shoulder injury to shyness to an out-and-out feud with Billy Corgan.
Corgan remains, of course, the beating heart of the Pumpkins. Jimmy Chamberlin brings his singular talents behind the kit and the perennially droll James Iha still shreds ("I hope you're all having a reasonable evening" is his opening gambit), but it's Corgan around which this carefully choreographed Shiny and Oh So Bright show revolves. He opens proceedings alone, with a stark version of "Disarm" that's backed by an avalanche of his childhood photos, graffitied with turns of phrase like 'broken boy'. It's a stinging reminder of the man behind the name.
Corgan was fiercely opposed to the idea of a nostalgia tour for many years, and he does his best to put his own spin on the concept tonight where the vast majority of the tracks pre-date the turn of the millenium. The opening salvo is characterised by deep cuts from the early days - the scorched earth of "Siva", the battering ram of "Rhinoceros", the quiet simmer of "Drown". The set is littered with strange covers, too; there's a theatrical take on David Bowie's "Space Oddity", a quick run through Fleetwood Mac's "Landslide" - complete with a hurriedly- introduced Stevie Nicks stand-in - and a note-for-note-faithful version of "Stairway to Heaven".
When the Pumpkins tackle their own material, though, they do so with giddy aplomb. The back half of the set, in particular, is laden with classics that demonstrate every Pumpkins mode, from pretty slow burn ("1979", "Mayonaise", a particularly panoramic "Porcelina of the Vast Oceans") to the scintillatingly confrontational ("Cherub Rock", "Bullet with Butterfly Wings", and a strut through "Ava Adore" that sees Corgan slide in the line 'you'll be perfect just like WPC', in reference to last year's solo moniker).
They might have tweaked the midsection a touch - the two tracks from Adore, "For Martha" and "To Sheila", feel like piano-led missed opportunities when we could have had the moodier likes of "Perfect" and "Daphne Descends"- but why split hairs when we're finally seeing Chamberlin smacking through a back catalogue that's all his own in rhythmic terms, and when there's a genuinely touching rapport restored between Corgan and Iha? Plus, the live debut of new single "Silvery Sometimes (Ghosts)" confirms that it plays like a handsome throwback to their breezier nineties peaks. This is a show that should be a victory lap, but instead, it's something else - it feels like the opening of a new chapter.
Get the Best Fit take on the week in music direct to your inbox every Friday