-
The Honey Moth
I woke up at 4:30am with no idea where I was. I sat on the edge of the bed, hands out in the pitch black trying to search for clues to my location. I racked my memory desperately trying to remember where and when I'd last shut my eyes. I genuinely became a little terrified. And then I realised, I was in my own bed.
After two weeks of sleeping on sofas, in hotels, hostels, apartments, in the beds of friends, and in the seats of planes and trains, I was finally home. The day after Reading I took a twenty-two hour flight to Australia. I was a guest speaker at BIGSOUND, an annual conference held in Fortitude Valley, Brisbane. It seemed a shame to fly a day each way and then only spend seventy-two hours in the country so I booked myself a little holiday on either side with my first stop being Melbourne. I won't bore you with the details. Instead I'll cut straight to the good stuff; the bands.
The conference itself was small. It wasn't like SXSW where every second is a race to be somewhere else. I mean I love SXSW, but it's hard to relax. There's always this feeling that you're missing something, because you usually are.
BIGSOUND was different. It was manageable but not claustrophobic, which made meeting people easy and hanging out even easier. I landed on Tuesday afternoon and found my hotel, registered, did the boring stuff. Technically, the live music didn't start until Wednesday night, but I did see one great band on Tuesday.
They're from Brisbane and they're quite young but despite that they seemed to draw on a thick wealth of musical influences. At times it was a bit Beirut, at others it was old Yeasayer meets Fleet Foxes. In fact, it was so good I went back to watch them the next night to take this video…
The first band I saw of the conference proper turned out to be my favourites. They're called Kyü. I love them so much I just spent twenty minutes googling how to get the dots above the u. In all honesty, I kind of cheated. I saw them before BIGSOUND in Melbourne where they were on tour supporting Xiu Xiu and High Places.
Kyü make experimental dream-pop moments of songs. I went to their gig in Melbourne with a friend of a friend who I'd known for all of two hours. In those two hours however I'd learnt that she was quite into punk and hardcore and excited about seeing the band Mindsnare the following night. So yes, I took her to see Kyü, who make experimental dream-pop moments of songs.
And she fell in love with them as hard as I did.
They're just so sweet and charismatic and charming on stage. Even their mistakes were so wholly endearing it felt like they should be added as a permanent fixture of the set. And that's not to undermine the noise they made, because for every swathe of dream there was a thunder of floor tom to shatter the haze. During the introduction to 'Pixiphony' I think I actually let out a whimper when the beat struck.
They're smart, interesting, progressive and at the heart, pop. The band should be coming to the UK in May and I really can't wait because I've already listened to their album far more than is healthy. In fact, I think I even offered to be their tour manager when I was drunk. So I'll see y'all on the road.
Back to BIGSOUND; I caught a bit of Young Revelry who were like a grungier Wolfmother and a bit of Hungry Kids of Hungary who I'd liked on the radio but left me a bit cold live.
Earlier that day I'd been on a panel that was sort of focused around social media and bands. The girl sat to my right was Megan Washington. It's really funny because there just seems to be this gap between the UK and Australia that I really hadn't realised. I just presumed that all the bands playing were small, unsigned, fringe artists. I didn't realise I was sat next to, well, by all rights a pop star.
In fact, it didn't really hit me until my friend and I went to watch her play to nine hundred people in Sydney. Twice.
The Australian music scene seems quite supportive of it's own artists, and I guess they have to be. It really is quite removed, geographically, and it's funny to think that in a world where we're all so closely linked online, that the physicality of a country can actually play such a large part in shaping its musical landscape.
We get a lot of crossover between the UK and US and that really affects the ease with which an artist can break. I just presumed that of the artists playing, the ones I read and heard of on blogs were the ones who would be the big players, the ones to watch if you will. But it totally wasn't like that. And I guess it shows that sometimes you really do just have to go somewhere to truly understand it.
But anyway, back to the bands. I'd listened to Megan's music before the conference and dismissed it as not really being my thing. I only really went to watch her out of interest having sat next to her for an hour. I ended up missing most of her set, but managed to catch her doing a Divinyls cover, which was quite entertaining.
It wasn't until I stood through her whole show in Sydney that I finally got it. I was trying to be critical but it just didn't work. I was won over. She just has this stage presence that feels honest. Wandering stories, compulsive swearing and a real connection with the audience. It was her personality that made the songs echo. She'll be over in the UK for a couple of dates in November and then back again at the start of next year. And probably on daytime radio not long after that.
Later that evening I managed to catch a bit of Love Connection who make really interesting, ambient, driving electro shaded indie. Then I ran across the road to The Troubadour to see The Jezabels.
The best thing about BIGSOUND was that all the venues were so close together it was nearly impossible to miss a band's set. The Troubadour venue was a carpeted upstairs room off the main strip of bars and restaurants. The choice of flooring did nothing to help the closeness in the air as one hundred or so kids pounded their feet up and down on it's dusty threads to the determined and piercing choruses of The Jezabels. It did even less to protect the floorboards that seemed to be buckling beneath it.
The night ended at 4am on my balcony drinking Gin and Tonic, which I later discovered was actually Whiskey and Coke.
I started Thursday evening at the New Zealand showcase watching Ruby Frost. I really liked her stuff online but felt her live act was a little lost in the hollow tent. I guess that's what happens when you put the free bar too far from the stage.
The Naked and Famous played after her to just a few attentive faces. Again, this was a band I thought would pull a good size crowd having had a single on Neon Gold and solid amount of press and airplay. Nonetheless I enjoyed their set. I'd love to see them in a late night dance club with big lights and a massive soundsystem. The musicianship and the strength of their songs was really impressive, they had power and attitude, but I feel a little bit like what they do could be dismissed as last year's golden pop. Which is a shame because I really enjoyed their set.
Pikelet's set in Ric's Bar was really interesting. Her stage presence was almost formal, at times I felt like I was going to be told off for whooping too loud. But when she started playing it all made sense. There's an immense intelligence to her music and a stark originality. I'm having a little trouble warming to the record, but enjoying the challenge, which is half the fun really.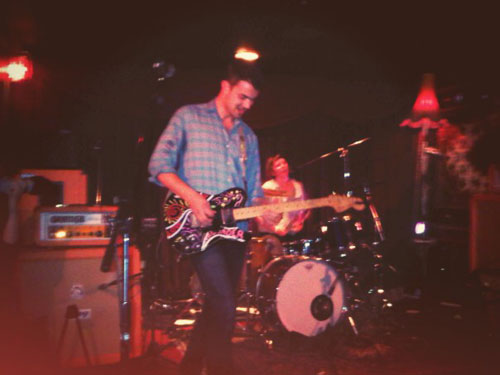 Big Scary
Big Scary are my other favourite band from BIGSOUND. They're a duo from Melbourne who switch between piano led emotive sighs and blues guitar fuelled indie rock. I liked the guitar songs the best, although the times when Tom played keyboard did have these great Matt and Kim yourbeamingsoi'mgonnabeamtoo moments.
It was just the guttural power of the guitar numbers. The feedback and distortion of Tom's playing coupled with the sweat soaked grin of Jo's drumming. I just stood there in awe, ear to ear like a total dork. After their set I think I ran up to about seventeen people screaming something about how "IT'S LIKE THE WHITE STRIPES IF MEG COULD DRUM". I fucking loved them. Live, live, live. You have to go and see them live. I think they're planning a UK trip in May so, erm, you know what to do.
I caught a bit of Last Dinosaurs who weren't as exciting as I'd hoped, and Guineafowl who had that great eruption of instruments kind of Annuals thing going on.
Then I headed back to The Troubadour for Children Collide. I'd been warned this was going to be the sell out of the festival, but despite the snaking queue outside the venue, it was relatively quiet inside. That was what I thought. What I came to realise was that the venue's capacity just seemed to have shrunk and wrapped itself around the small stage, all slick limbs and dripping brows, as the three boys of Children Collide smashed through their Foo Fighters meets Sonic Youth set list.
If I was afraid at The Jezabels I was fucking terrified in that moment. I could feel the floor bow beneath my feet as the crowd around me leapt in the air, avoiding its seemingly inevitable disintegration. Or maybe I was just being too British. Either way, I hadn't felt like that watching a show in a long time. And their new album is outstanding too.
I saw the end of Parades who built these epic synthetic soundscapes and were really captivating to watch. Apparently one of the girls from Kyü used to sing in them which means they automatically get fifty cool points.
My night ended watching The Holidays while my friends relentlessly wound me up for trying to film one of their honey coated, percussive indie-pop numbers. I spent most of the time trying to figure out whom the lead singer looked like. My friend thought Bernard Sumner… I thought Matt from FFAF. Either way, I thought he was a really engaging front man and I enjoyed the band's set, although by the end I was fading.
The next day it was time to leave Brisbane. I don't think I've ever been this sad coming home. There was just something about the conference and the people I met there. They were all so friendly and fun. I heard that if you go to the University Hospital here in Cardiff they give you five grand to cut your toe off so they can try and stitch it back on again. And if they fail, they'll give you ten. I'm seriously considering it so I can make BIGSOUND 2011. I hate flip-flops anyway.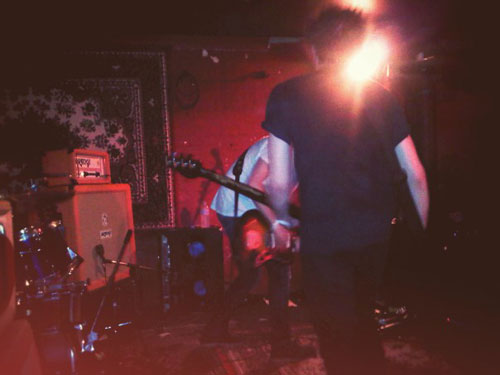 Children Collide