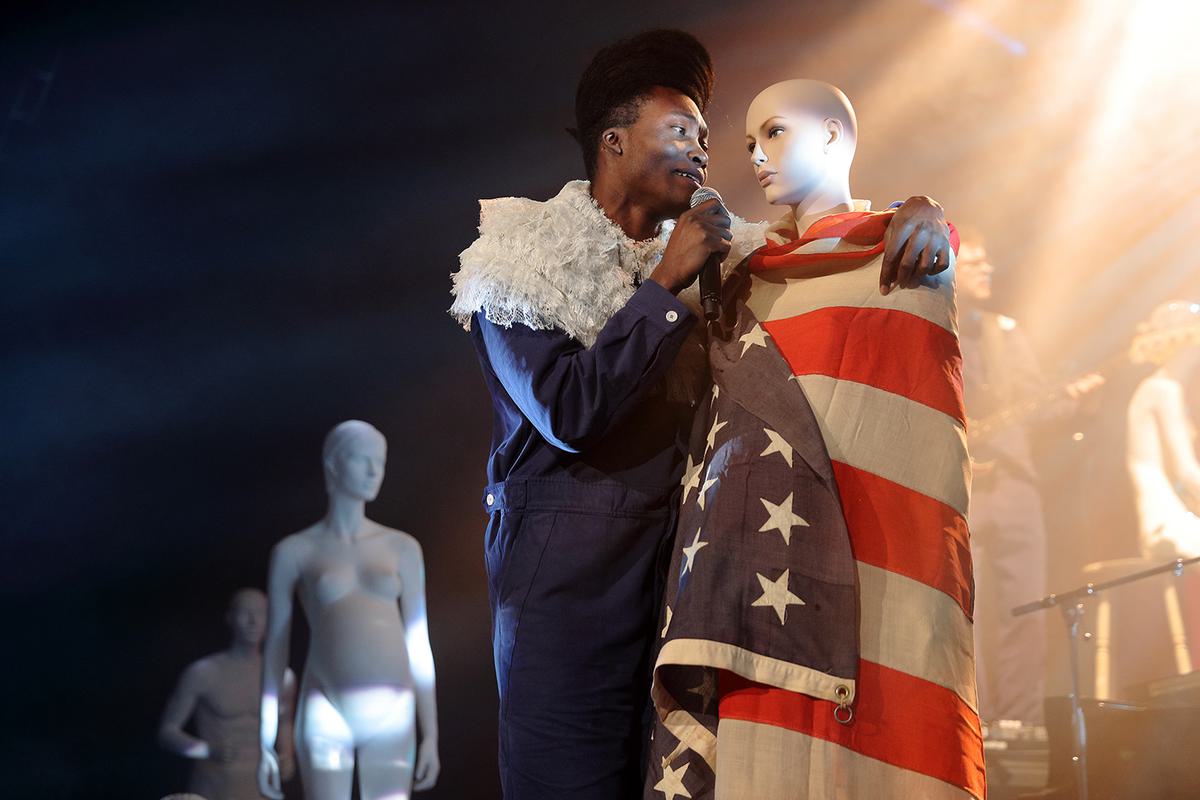 Often Bonkers, Seldom Dull: Benjamin Clementine, Live in London
It would have been so easy for Benjamin Clementine to take the obvious path forward. With a Mercury prize-winning debut under his belt and critical acclaim across Europe, he could have been but a few creative tweaks away from capturing the market for heartfelt ivory-tinkling, guaranteeing a future of lucrative ad deals, Radio 2 airplay and approving nods from your da.
But Mr Clementine isn't an obvious kind of guy. As a Debussy-loving teenage runaway with a love of obscure vocabulary, he mastered his craft busking on the streets of Paris, slowly amassing cult appeal until he piqued industry attention in 2012. His shows promoting his first album At Least For Now showcased a sparklingly intelligent, mercurial character, with a lively wit but also a tendency to introversion. In hindsight, that album's name may well have been a hint that he had no intention retreading old ground as he progressed through his career; as such, it shouldn't have been a surprise that I Tell A Fly - and its accompanying tour - would offer a very different experience.
This change of trajectory is most strikingly reflected in the man himself. In the past, he's taken a very minimalist, stripped-down approach to performance, on occasion barely acknowledging the audience in front of him. His new incarnation, in contrast, embraces theatricality - dancing with mannequins wrapped with the American flag, sliding around the stage on a trolley, reciting a page of Oscar Wilde's "The Selfish Giant" (which aptly concerns a disagreeable wall-building ogre). During "By The Ports of Europe", one of the album's jauntier and accessible numbers, he even descends the stage with his band and wanders the audience chanting "Porto Bello", to the delight and perhaps bewilderment of those present.
The songs too, whilst retaining his trademark eloquence and drama, are more outre this time round, as one might expect from a concept album about two flies falling in love to the background of the refugee crisis. Clementine has stated in interviews that the new material was inspired by a line in his American visa paperwork: "an alien of extraordinary abilities", and there's definitely a sense he's pushing the boundaries to weirder and more wonderful places. His music always had somewhat of a baroque sensibility, but it's multiplied a hundredfold here as songs constantly mutate or head off on unexpected tangents. His clipped enunciation sometimes gives way to mockney accents or falsetto squawking, pleasant ballads are suddenly interrupted by weird bursts of distorted synths - whether these creative choices always work is debatable, but there's no denying the ambition and unusual talent behind them.
He's not entirely jettisoned what came before. Whilst the main set consists almost entirely of new material, the choral sing-along to "Condolences" might well have been the most sublime moment of the set, and the encore (including a lively "Nemesis") was commendably crowd-pleasing. But like that other flamboyant outsider Bowie, what makes Benjamin Clementine so interesting is that he doesn't feel the need to repeat himself, or live up to the expectations of others. Tonight's show was mostly brilliant, often bonkers and seldom dull - and one can't help but wonder what fascinating path he'll wander down next.