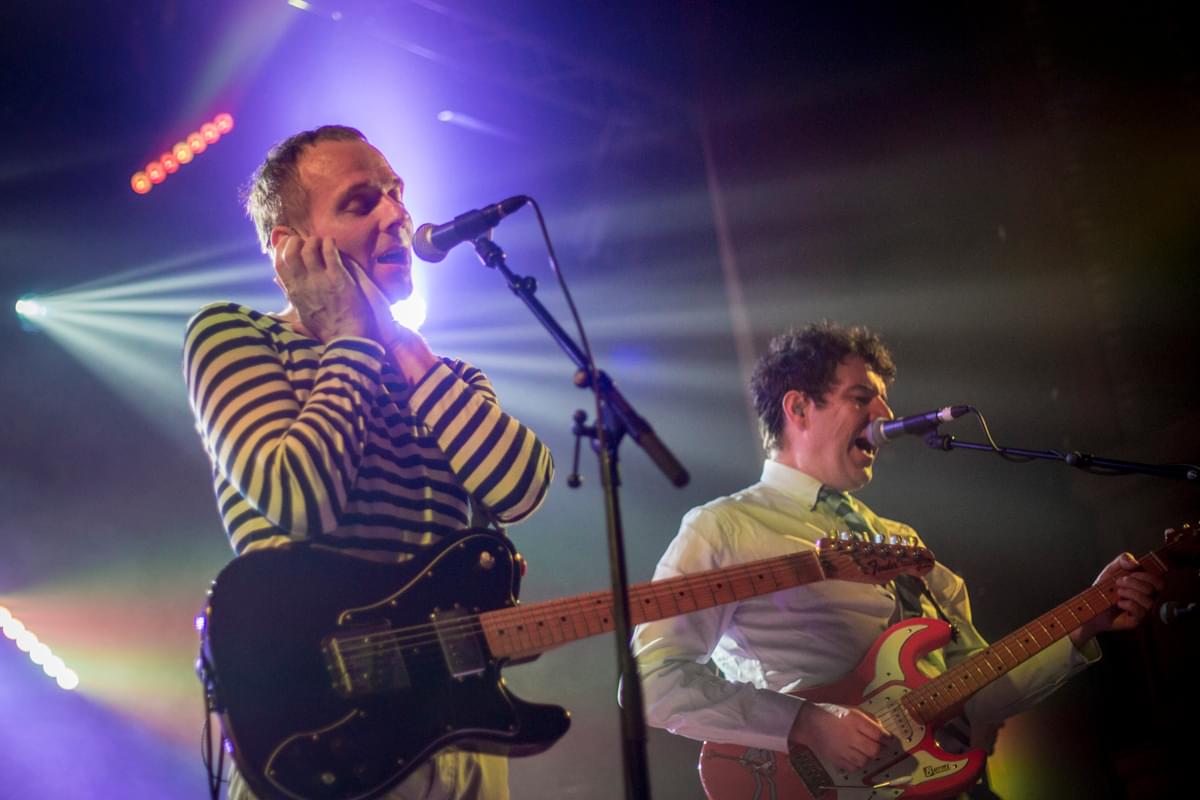 Belle and Sebastian's latest London turn is a deep dive into their back catalogue
The last time Belle & Sebastian took an extended break, they disappeared from the live scene entirely for the best part of three years.
After wrapping touring in support of Write About Love in 2011, they effectively went on hiatus to allow frontman Stuart Murdoch to work on his directorial feature film debut, God Help the Girl. Since returning with Girls in Peacetime Want to Dance in January 2015, they've seemed hell-bent on making up for lost time. That's certainly the case as far as London is concerned; tonight's show in the opulent surroundings of Chelsea's Royal Hospital is their seventh in the capital since May 2015. Two nights at Westminster Central Hall that month were followed by a similar gig to tonight's at Somerset House in July, then last June they played their classic early LPs Tigermilk and If You're Feeling Sinister in their entirety at the Royal Albert Hall on successive summer evenings to celebrate their twentieth anniversary. They returned once more the following September to headline OnBlackheath Festival; such frequency of appearance might help to explain why tonight's concert in the hospital's courtyard doesn't appear close to capacity. Still, this is the first time that they've returned with unreleased music in tow in a good while: they take the opportunity to debut 'Sweet Dewelee', a track from their forthcoming EP that's led by guitarist Stevie Jackson and thus leans reliably on his usual sixties touchpoints. So close are we to the Edith Grove flat in which his heroes The Rolling Stones lived in their early days that he hints at a potential cover as a tribute to the lately-departed Anita Pallenberg, although it never materialises. After such intense focus on their formative records last time out, the Glaswegians switch gears for tonight's show, with more airtime lent to the latter-day output. After a charming introduction by resident Chelsea pensioners John and Ron, the group kick off with a live rarity in the form of a woozy 'Act of the Apostle'. There's room too for a boisterous 'Allie', a track from their last album with a rather more serious lyrical tone than usual - "when there's bombs in the Middle East, you want to hurt yourself." Elsewhere, we get the seldom-played, Sarah Martin-fronted 'I Can See Your Future', as well as an overdue live return for the dance epic 'Stay Loose'. There's little sign of rust despite this being only Belle and Sebastian's second show this year, although you wouldn't expect any of the vintage likes of 'Seeing Other People', 'Dog on Wheels' and 'She's Losing It', with Murdoch noting that the latter was a shoe-in on account of its nod to Chelsea. The real old-school gems, though, are ones that are included rarely enough that they probably needed rehearsing - if ever there was an occasion for 'I Know Where the Summer Goes', a cut from the days in which their EPs rivalled their long-players for excellence, to return to the fold, tonight's balmy June evening was it, even if the lyrics are in places almost comically dated ("I've got my mobile phone / its full of silicon chips). The encore, meanwhile, sees Stina Tweeddale of surprise show openers Honeyblood join her fellow Scots on a storming rendition of what might be their greatest ever track, 'Lazy Line Painter Jane'. The funny thing about Belle and Sebastian is that they can get away with playing this many shows in the same place in such quick succession, because, aside from 'The Boy with the Arab Strap', they don't really have any setlist staples - they can play what they want. Still, it'll be nice to have them back once the EP, promised for later this year, is with us; if they've channelled the boisterous energy of their live shows into it, it should be more than worth the wait.
Get the Best Fit take on the week in music direct to your inbox every Friday