-
"I am so f***ing drunk right now"
It's a long way from the warm climes and white teeth of the West Coast, but both The Submarines and Aimee Mann had come to bring their (superficially at least) sunny sounds to a chilly evening under east London's very own concrete umbrella at the Indigo O2. It's the first time I've been to any part of the Dome (I'm fairly sure I'll never go to the Arena), and it seems to have ditched its white elephant tag: its restaurant-lined malls were bustling if garishly transatlantic. The Indigo itself is a plush venue, but a bit too clinical and lacking in rock'n'roll atmosphere, especially when no more than two thirds full as was the case tonight. Shepherds Bush Empire would have been a comfier fit. More of the strange vibe later, but at least there's no queuing outside in the cold, and not having to contend with the mass exodus of an Arena show there was two thumbs up for the handy tube transport link home too.
The husband and wife duo of John Dragonetti and Blake Hazard that is The Submarines were up first and they drew almost exclusively from new album Honeysuckle Weeks. With a live drummer, some energetic guitar, and a bouncy stage presence from Hazard they were punchier live and much more entertaining then I expected from a band dependent on recorded backing synths and effects to bring their chirpy indie-electro-psychedelic-poppy sound to life – certainly no couple of Ting Tings ranting adrift on an empty stage. All elements were woven seamlessly into a set featuring a string of infectious songs that had the audience smiling and bubbling on their departure. A large factor in this reaction was the ditzy gushing banter of Blake Hazard: obviously intelligent with an ironic sense of humour, but apparently also auditioning for a role in Legally Blonde III. For all the cheerleader looks I'm not sure I'd want to live with her. The tipping point for the audience was actually her agreement with the decision not to pick up on an attempted participatory handclap at the end of single 'You, Me, and the Bourgeoisie', thus feeling "among my people". Endearing modesty that drew spontaneous cheering. Her voice was more forceful than the often breathier sound effected on record – especially on the Halloween dub vibe of '1940'. My pick of their selection would be the throbbing 'Wake Up Song' – perhaps overlooked as a single since in this case Dragonetti takes lead. They finished with a feedback laden ending to 'Xavier' as if to remind us of their indie credentials, but it's also worth stating that their lyrics are way above bubblegum pop. Expect an album review at TLOBF soon, and this performance had certainly done them no harm at all when it comes to the crunch moment of allocating the percentage score.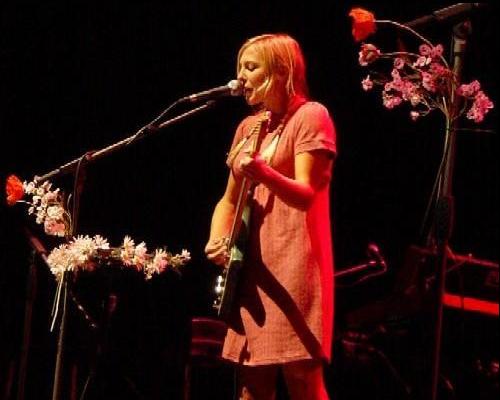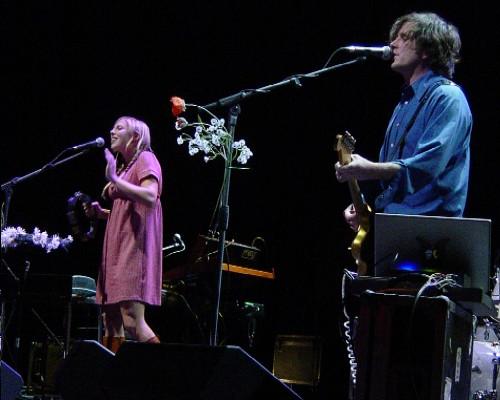 I cannot watch The O.C. without stifling reflex retching, so I had some misgivings about how I would take to this golden girl from the Hollywood set. Despite the fact that Aimee Mann is old enough (late forties) and intelligent enough to know better than to pedal images of an idealized West Coast lifestyle, and that most of her songs indeed document a failure to cope with life and relationships even in that land of milk and honey, that sort of nagging preconception did not sit easily with me – even if it's the kind of prejudice that might owe a lot to pure jealousy.
She occupies that strange position of having star quality and achievements and yet generally slips under the radar of the British public. Of those that do register the name, she is perhaps dismissed by many as a purveyor of anodyne soft rock. I have no claim to being a major fan, but the best really should be treasured. Scratch at those most wonderful harmonies and you see they conceal torment, sung with a unique voice that is fleeting, sweet and haunting. Let's just say she's no Dido. But would I warm to the actual person now standing just a few yards away? Well, Aimee Mann was to provide an open window into her personality and sensibilities that was truly refreshing. No pretensions, just an incredible self deprecating honesty. To witness that for the first time was almost as interesting as the performance of the songs itself. Her banter and wit were up there with Jeff Tweedy, and without the often brooding undertow. But it was to be a strange ride.
Some tracks from recent album Smilers led the way, with Mann wondering aloud if anybody minded new songs before declaring that it had got 4 stars from Mojo and was, in their words, an "instant pop classic". This was with tongue firmly in cheek – as followed up by a giggling "I'm such an asshole – right out of the gate, but I think it's funny", and "I am so f***ing drunk right now". The Smilers efforts admittedly are not her strongest (rhyming Phoenix with kleenex anyone?), but there was a bizarre deathly silence after the mild reception for each song had died down and during a couple of equipment issues (not even any clinking from the bar). I was starting to wonder what was going on. Were her fans (a more mixed bunch than I was expecting – maybe all the boomers were upstairs) so reverential as to be in stunned awe; was the Indigo effect really one of anaesthesia? Mann had the balls to front up and comment on the pregnant pauses, and eventually the technical issues (with her earphones) forced her to leave the stage for a couple of minutes, instructing band leader and bass player Paul Bryan to cover with a 'jazz interlude'. They were just about concocting some jokey sci-fi electronica when Mann returned, demanding a continuation. This hiccup had changed the atmosphere completely. Each Christmas Mann does what has become a traditional vaudeville review style tour in the US featuring a changing rota of comedians and guest musicians. I'm guessing that has helped develop the wit and swift reflexes to wing it successfully when necessary. Everyone on both sides of the barrier seemed to have lightened up. Perhaps the band didn't care anymore that the venue wasn't full; perhaps the audience had made the connection with the performers at last via that unplanned disruption. But any uncomfortable feeling of mild embarrassment had now gone. The sound also improved noticeably – whether a result of the technical fix or just the desk adjusting for the acoustics of a populated space.
The tracks from Bachelor No. 2 and the Magnolia soundtrack sprinkled through the rest of the set were always going to stand out. It was wonderful to hear the likes of 'Save Me', 'Calling It Quits', and 'How Am I Different' live for the first time. 'Red Vines', written for Magnolia film director Paul Thomas Anderson, was given a completely solo delivery, with Mann meandering around the tempo and phrasing. Not better than the original, but nice to see some variety all the same and hear her delicate understated voice exposed. Everywhere else, support to Mann's constant capo-clamped acoustic guitar came from drums, two keyboard players, and bass. Another Magnolia track, 'Wise Up', was introduced with the throwaway comment that it always makes her think of Tom Cruise.
Maybe as an antidote to the expectation of having to roll out those 'classics' each night, I was surprised to see Mann take the initiative and open up to requests at several points, and this is apparently quite usual. The two Smilers songs that dropped later in the set were the most successful – 'Borrowing Time' and 'Thirty One Today'. The former had what must be the longest rambling, but still funny, intro I've ever witnessed – being a complete story on how this song came into being after starting as a failed project for the Shrek III soundtrack. Again tongue firmly in cheek. With a brief to convey the "You can do it!" optimism of Shrek as King at the start of the film – "Not really my speciality", several cycles of versions sent off to the studios were finally aborted by the request: "Can you make it sound more like Fallout Boy?".
The most intriguing part of the show however, was fielding a request for 'Mr. Harris' – a song from her first solo album that Mann declared she had not sung for around ten years: "When I wrote that song, I thought a big age gap did not matter… I don't f**king believe that now". At first she wanted to do it but doubted the band knew it. However keyboard player Jamie Edwards struck up the tune and off they went with Mann, for some reason, giving a humorous running commentary debunking of the lyrics between lines. "So he's retired, lives with his sister in a furnished flat" – "Yeah he's like 80." The first effort fell apart when one or other of them stumbled with tune/words/laughter, but they composed themselves for a second more serious attempt that did reach its conclusion. It was a nice moment to witness – Mann just putting herself up for a fall, but not caring, and cheerfully making it through.
After a nicely brief minute off stage (why do most bands extend the charade? Fag break?), the three song encore started with '4th of July' – dedicated to Sarah Palin ("We hate her so much"), though the fact that Mann had to ask if the Brits knew who she was is of itself some indication of the insularity that dogs even 'enlightened' Americans. Last of all came the majestic 'Deathly', with this particular combo meaning that a Moog replaced, very effectively, the climactic whining electric guitar solo. A final jokey stage run and mini-leap from Ms. Mann, and that was it. With a more cosy setting, this could be a show to look out for again next time around – though Mr. Promoter: you were trying it on with the prices for this one, credit crunch and all.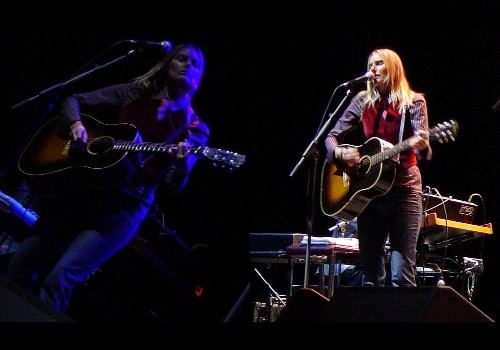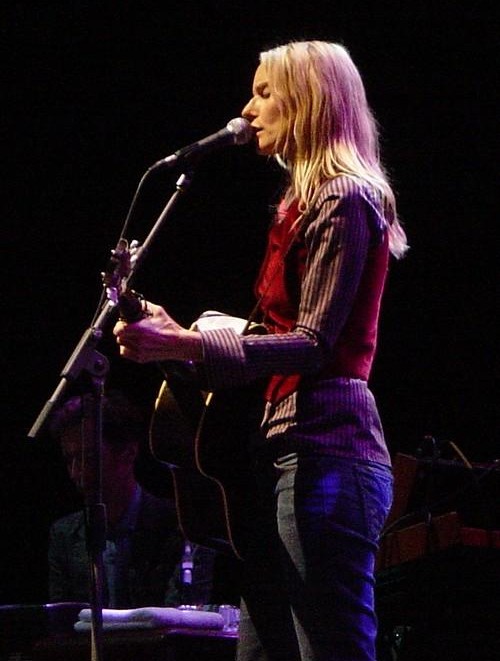 Aimee Mann Setlist
Stranger Into Starman
Looking For Nothing
Freeway
Phoenix
Save Me
Wise Up
Great Beyond
Calling It Quits
Red Vines
Columbus Avenue
Little Tornadoes
Little Bombs
Mr Harris
31 Today
Borrowing Time
Today's The Day
How Am I Different
Encore
4th of July
One
Deathly
There are better studio videos out there, but these two capture the feel of Aimee Mann's live performance.
http://uk.youtube.com/watch?v=kag3bF6LeLA http://uk.youtube.com/watch?v=izR4UH2o42Q
Aimee Mann on MySpace
The Submarines on MySpace