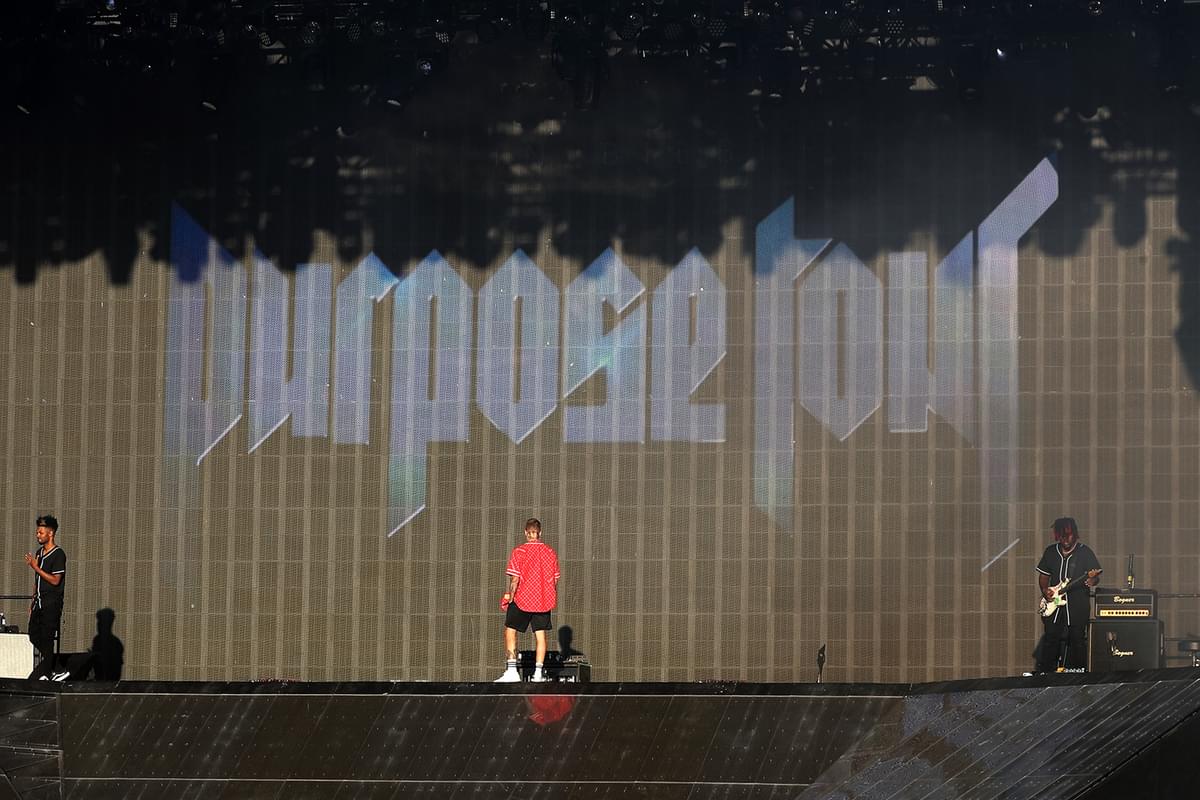 A Megawatt Disconnect: Justin Bieber, Live at Barclaycard Presents BST Hyde Park
Blistering sun and blue skies aren't usually associated with British summer time. Yet that's what we're being treated to on the second day of BST's yearly week-long residency in Hyde Park. Green Day, Rancid and Gogol Bordello played yesterday, but today there's a very different, very sunburnt crowd sprawled across the grass in anticipation of headliner Justin Bieber.
Early arrivals to the main stage are treated to young Parisian Jain, who puts in an early highlight with her vibrant, whip-smart and multicultural pop. Using loop pedals, the pint-sized singer brings the throbbing, funky and multifaceted bangers, "Mr Johnson", "Come" and "Makeba", from her brilliant debut Zanaka to life.
As the day continues, there's charming, anecdotal pop from Scot Nina Nesbitt, sultry Swedish electro from Tove Lo and mouthy, infectious bangers from Anne Marie, who visibly works up a sweat during ubiquitous Clean Bandit hit, "Rockabye". "If I get a sweat patch, crop it out of your photos," the Essex singer implores with a grin.
As we approach Bieber's appearance, the crowd swells, emphasising more than ever the gaping void between those hanging wistfully off the golden circle barrier that encloses the stage, and those who are privileged enough to be inside it. Without a doubt, this is the most distasteful aspect of BST festival, in which fans' proximity to their idols is determined not by their devotion and determination to camp out by front of stage for seven hours, but by their ability to cough up £150 for a VIP ticket. For a day attended by mostly young teens, it just feels wrong.
Bieber's not known for his punctuality - remember the social media backlash back in 2013 when he turned up to the O2 two hours late - but tonight he hits the stage a full 20 minutes ahead of schedule. Perhaps he wanted an early night - according to the Canadian pop star, he's having a rough time. Stood at the end of a runway stretching out into the crowd, he reveals he has a cold before launching into a bizarre monologue about Vicks VapoRub and Olbas Oil decongestant products. Lovingly, a fan throws him her jacket. "Don't judge me," he pleads before blowing his nose on it and handing it back. Nice.
While the production for his set is never short of stunning - huge visuals, more pyro than a Rammstein gig and a troupe of slick dancers - Bieber himself looks distracted. He goes through the motions to the smooth RnB of "What Do You Mean?" and half-heartedly keeps pace with the moves during the wonky, clipped beats of "Where Are U Now" and huge hooks of "Let Me Love You". It's exactly the same set as his O2 residency a year ago and while it's clear the fans don't particularly care, Bieber looks like he could do with mixing things up. While he relies heavily on backing tracks for the more upbeat numbers, he comes to life when he can brandish an acoustic guitar for "Cold Water" and "Love Yourself". "I kind of want to play another one on the guitar..." he suggests tentatively, crestfallen by the resounding knock-back from the crowd who just want to hear the hits. He seems to have a strange relationship with his fans and his fame; he loves them, but they frustrate him, while he's trapped between being the artist he longs to be, and the megawatt popstar he's expected to be.
Get the Best Fit take on the week in music direct to your inbox every Friday