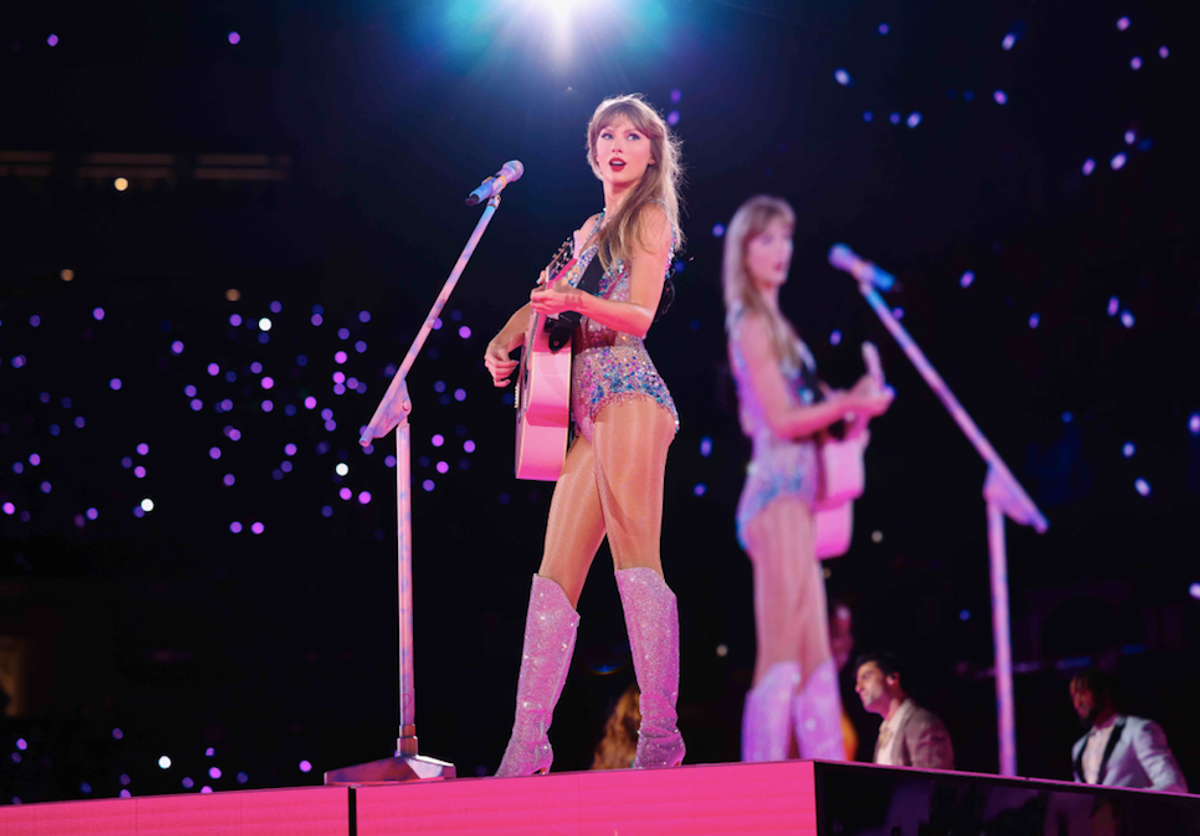 Two fans have died following Taylor Swift's trio of shows in Rio de Janeiro
Taylor Swift is currently on the South American leg of The Eras Tour. Three consecutive dates at Estádio Nilton Santos in Rio de Janeiro, Brazil have been marred by intense heat and pickpocketing.
Taylor Swift was set to perform at the stadium from 17-19 November. She postponed the show on Saturday, after a fan died before the start of her performance on Friday. Extreme temperatures have been recorded across Rio, with record-breaking numbers up to 39.1°C.

Swift briefly paused the show so that water could be given out to fans, and could later be seen throwing a bottle of water to the crowd while she was singing. Footage can be seen of the crowds chanting for water, as they were unable to bring any into the venue, and there appeared to not have been access points for people to get any.
Announcing to fans on her Instagram story, Swift postponed the show due to the unsafe heat conditions: "I'm writing this from my dressing room in the stadium. The decision has been made to postpone tonight's show due to the extreme temperatures in Rio. The safety and wellbeing of my fans, fellow performers and crew always has to come first." A fan video also shows Swift seemingly struggling to breathe after performing her hit "Bejeweled".

Taylor Swift helps fans chant "Water" in order to get security & staff to bring water to fans who were suffering of dehydration.

The stadium where the Brazilian show was held banned fans from bringing water bottles.

pic.twitter.com/M7k7E9ZoS0

— Pop Crave (@PopCrave) November 18, 2023
The show's organisers, Time4Fun (T4F), said in a statement that paramedics had attended to 23-year-old Ana Clara Benevides Machado at the stadium on Friday evening. According to a friend, she passed out during Swift's second song, "Cruel Summer" and experienced cardiorespiratory arrest. They took her to a hospital, but unfortunately, she died an hour later.
"I can't believe I'm writing these words but it is with a shattered heart that I say we lost a fan earlier tonight before my show," Taylor wrote on social media. "I can't even tell you how devastated I am by this."
Brazil's justice minister, Flávio Dino, said on X that the ministry would implement "emergency rules" regarding access to water at shows and other public events. While authorities are investigating the circumstances of the death, Rio de Janeiro's mayor, Eduardo Paes said that the municipality will demand that the show's production company provide new water distribution points and more ambulances, and that entry be advanced by one hour.
Após o comunicado do adiamento do show de Taylor Swift, ocorreram arrastões entre os fãs no Rio de Janeiro, nas proximidades do estádio do Engenhão. Isso gerou tumulto, levando os fãs a procurarem abrigo tanto em uma lanchonete do Burger King dentro do próprio estádio. pic.twitter.com/hvrTpEHG8u

— Stevenson Soares da Silva (@StevensonSoare4) November 19, 2023
The postponement of Saturday's show was followed by chaos outside the stadium. As a mass of concertgoers left the area, which is close to the favelas of Rio, videos show groups of pickpockets targeting them. Many concertgoers ran into a Burger King for safety. Other video footage shows armed police trying to take control of the situation.
On Sunday evening, Swift played "Bigger Than The Whole Sky" as one of her surprise songs in the acoustic segment of the show. Fans believe that this was in tribute to Machado.
It has also been reported by Rio's police forced that 25-year-old concertgoer Gabriel Mongenot Santana Milhomem Santos was stabbed to death on a Copacabana Beach at around 3am on Monday morning. Santos was the son of the deputy secretary of SAS (Secretariat of Social Assistance) of Campo Grande, Inês Mongenot.

Swift is set to perform three shows in São Paulo, as her final shows of the year.