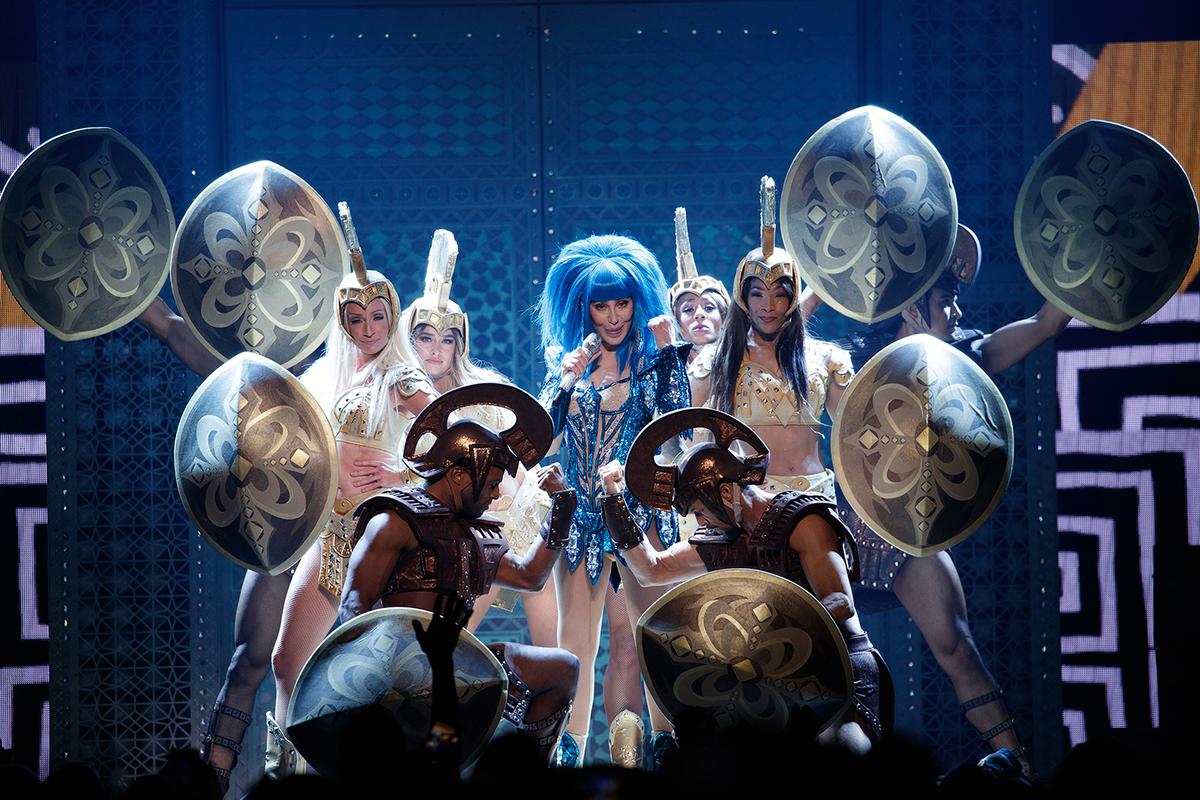 "People applaud when I say I'm 73… What's your granny doing tonight?" Cher, Live in London
As the lights dimmed in The O2 Arena, an electric atmosphere overcame the crowd. It's been fifteen years since Cher last appeared in the UK and british fans have bared witness to their icon release albums and appear in films, all at an arm's length. Inspired by her recent appearance in Mamma Mia! Here We Go Again, Cher's loyal fans flocked in their thousands to catch a glimpse of her 'Here We Go Again Tour'. Carved into four clear cut sections, Cher's entire career was carefully condensed into a 90 minute extravaganza.
Opening the show with "Woman's World", we were submerged into a serious spectacle. Immediately sending the crowd into a frenzy, "Strong Enough" got an early outing while "Gayatri Mantra/ All Or Nothing" - performed atop a mechanical elephant - paid homage to her Living Proof tour. Citing the UK as the first place to truly "get her", this performance proved to be an emotional one for the icon and, through the help of technology, Cher performed breakthrough duet "I Got You Babe" with a split screen Sonny Bono.
Having been a star of the silver screen for almost as long as a singer, Cher acknowledged her recent performance in Mamma Mia! Here We Go Again with a three song ABBA interlude. "Waterloo", "SOS" and "Fernando" were sing-a-long sensations while the cinematic "Burlesque" was suitably seedy. No matter though, as we were quickly snapped out of it with a touching movie montage that showed us the highlights from her award-winning acting career.
Cher has been a cornerstone of pop culture for the past 60 years and, despite years of performing, she effortlessly recreated looks from her most iconic eras: "I can still fit into all my old costumes". Walking out in a leather jacket, Cher began her final segment as she performed covers that shaped her such as Marc Cohen's "Walking In Memphis" before finishing with "If I Could Turn Back Time" and leaving the crowd begging for more. Returning to the stage in ripped jeans and a red wig, the anthemic "Believe" was reworked into a 90s style club mix that sent us into the night starstruck and satisfied.
As an actress, singer and icon, Cher bid a 'final' farewell to her fans fifteen years ago. However this weekend, at London's O2 Arena, Cher was 'Living Proof' that this show must go on.
Cher continues her Here We Go Again Tour with a string of dates around the UK and Ireland.
-- Set List --
Woman's World
Strong Enough
Gayatri Mantra (Interlude)
All Or Nothing
All I Need Is You/ Little Man (Interlude)
The Beat Goes On
I Got You Babe
You Haven't Seen The Last Of Me (Interlude)
Burlesque
Lie To Me (Interlude)
Waterloo (ABBA cover)
SOS (ABBA cover)
Fernando (ABBA cover)
After All
Walking In Memphis
The Shoop Shoop Song (It's In His Kiss)
I Found Someone
If I Could Turn Back Time
Believe