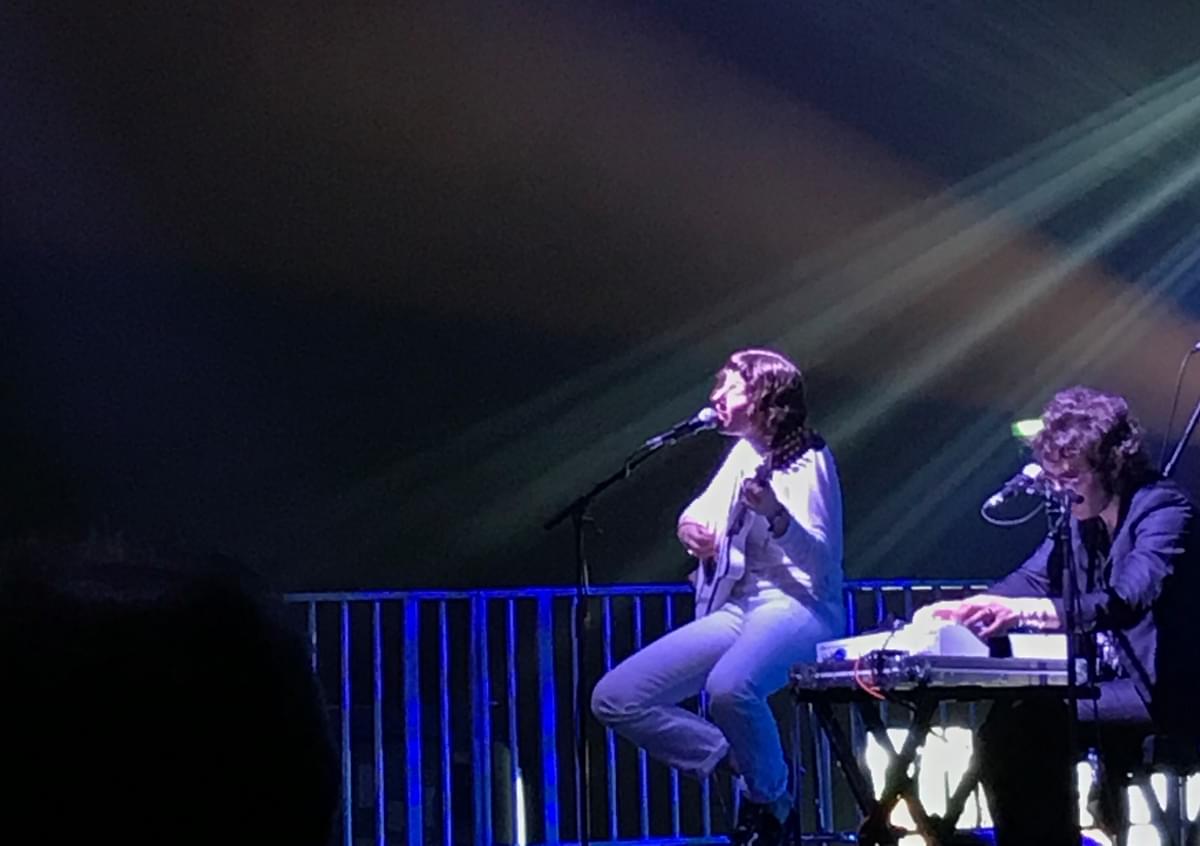 Aldous Harding lived in the present and hinted at the future in Manchester
Aldous Harding closed her first Manchester show in two years with a new track, 'Old Peel', which represents a dramatic stylistic departure.
This was the sixth night of an eight-show stint in the New Zealander's adopted homeland. She made the not-insignificant leap from Lyttelton to Cardiff to be with her Welsh boyfriend last year, and anybody who listened hard enough tonight might have picked up snatches of her new hometown's vocal inflections during a set that borrowed almost entirely from her remarkable new album, Designer.
She's playing to a sell-out crowd that, like Harding herself, is defined by its contradictions. It's rapt whilst she and her minimalist backing band - soft drummer, quiet bass player, tentative keyboardist - run through a heftier live representation of Designer than we've gotten to grapple with on record.
Between songs, though, the audience is considerably less reserved. Her explanations as to why she's not known for her stage banter becomes a running joke in and of itself. Her excuses run the gamut from her psychiatrist's advice ("he's told me to be careful about expressing myself") to a suggestion that "success comes in many forms"; clearly, to Harding, that involves the cultivation and maintenance of a genuine air of enigma.
Eventually, she suggests fans pen their song of choice on their forehead, and then engage in a fistfight to decide who gets their wish. She's kidding, of course, although it's worth pointing out that whoever called out for a Gerry Rafferty cover went home happy after a quietly dramatic 'Right Down the Line' opened the encore. It was the track that followed, though, that suggested where Harding is headed next: she adds her own unique twist to 'Old Peel' by banging a drumstick against her mug of tea. She's nothing if not original.
Setlist:
Designer
Zoo Eyes
Treasure
The Barrel
Damn
Weight of the Planets
Heaven Is Empty
Pilot
Elation
Blend
Encore:
Right Down the Line [Gerry Rafferty cover]
Old Peel
Get the Best Fit take on the week in music direct to your inbox every Friday