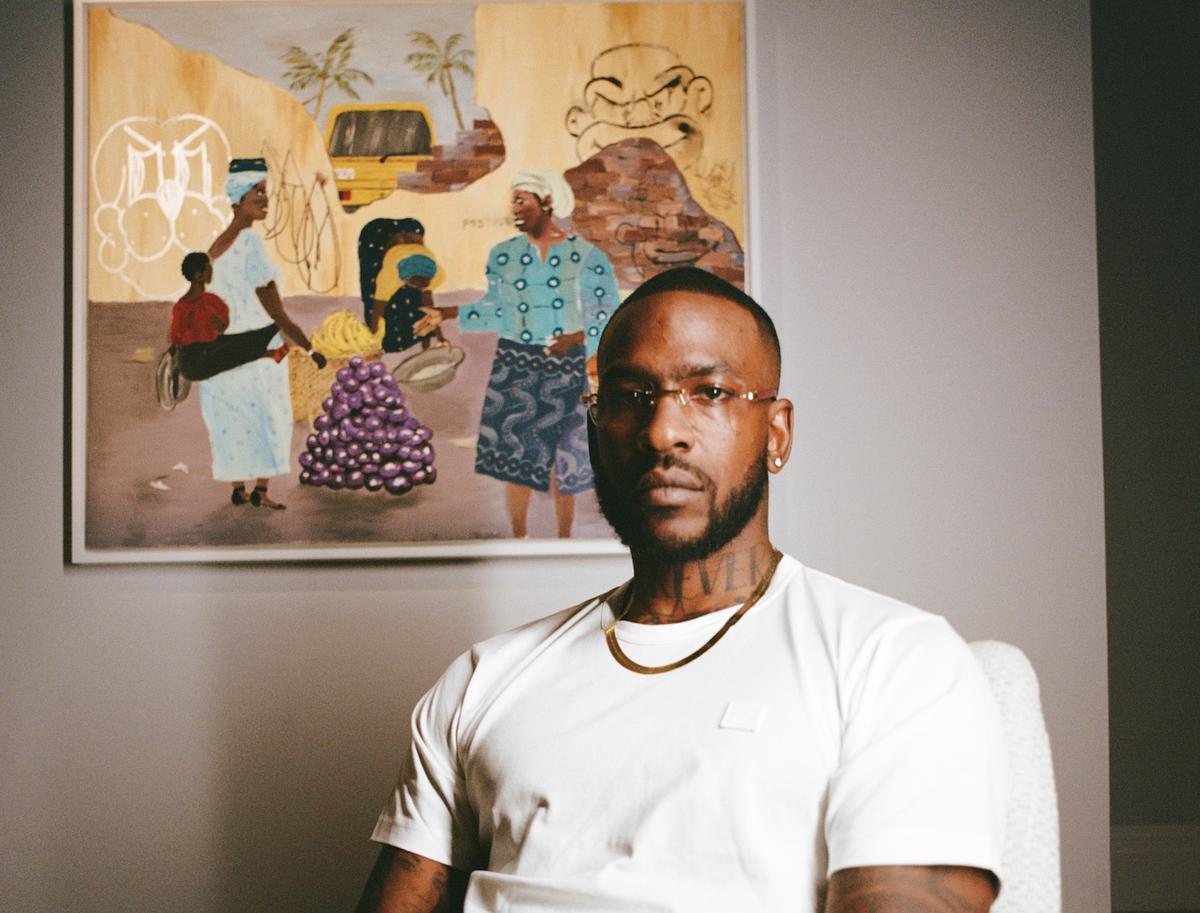 Skepta to auction off debut painting at Sotheby's sale he's co-curating
Skepta has contributed his first ever painting Mama Goes To Market to an upcoming Sotheby's sale that he's co-curated.
Skepta started working on his Mama Goes To Market painting in 2020 during lockdown, and he describes it as a "brought-together memory" of Nigeria.
His first painting will appear at a public exhibition in Sotheby's New Bond Street galleries before heading to auction in a sale of Contemporary Art that Skepta co-curated later this month.
Mama Goes To Market will feature in the sale alongside work by Chito, Slawn, Lynette Yiadom-Boakye, Frank Bowling, Ouattara Watts, Omar Ba, Aplerh-Doku Borlabi and Theaster Gates. Speaking about being a co-curator, Skepta said, "I chose these pieces because, to me, they all had an African feeling about them. Whether they were created by African artists or not, they all share in this essence - be it the work's texture, colour or subject matter. And, in one way or another, they triggered powerful dialogues with my painting too."
"This painting came from a real frustration. It was the only way I could really express myself at that time," he explains. "Will River get to go to an African market, or see her mum go to one? I thought 'she will always have to buy everything online, she's never going to experience this' – so I tried to portray it in paint."
He continues, "My mum used to carry me just as the woman in my painting carries her child. I always planned to include these four figures: a young boy, two women engrossed in conversation, and another lady rationing rice into a bowl besides baskets brimming with fruit and veg. I designed their clothes too - 'Nigerian Couture'."
"Through this process, I have gained an even bigger appreciation of the emotion, energy and creativity of artists, many of whom sit for hours at a time," Skepta adds. "I want artists to speak to me, I want to lift them up and have others appreciate them as I do. I want, hopefully, to be able to get them the support I have had."
The exhibition featuring Skepta's first painting will be open from 8-15 September. Visit sothebys.com for more information.