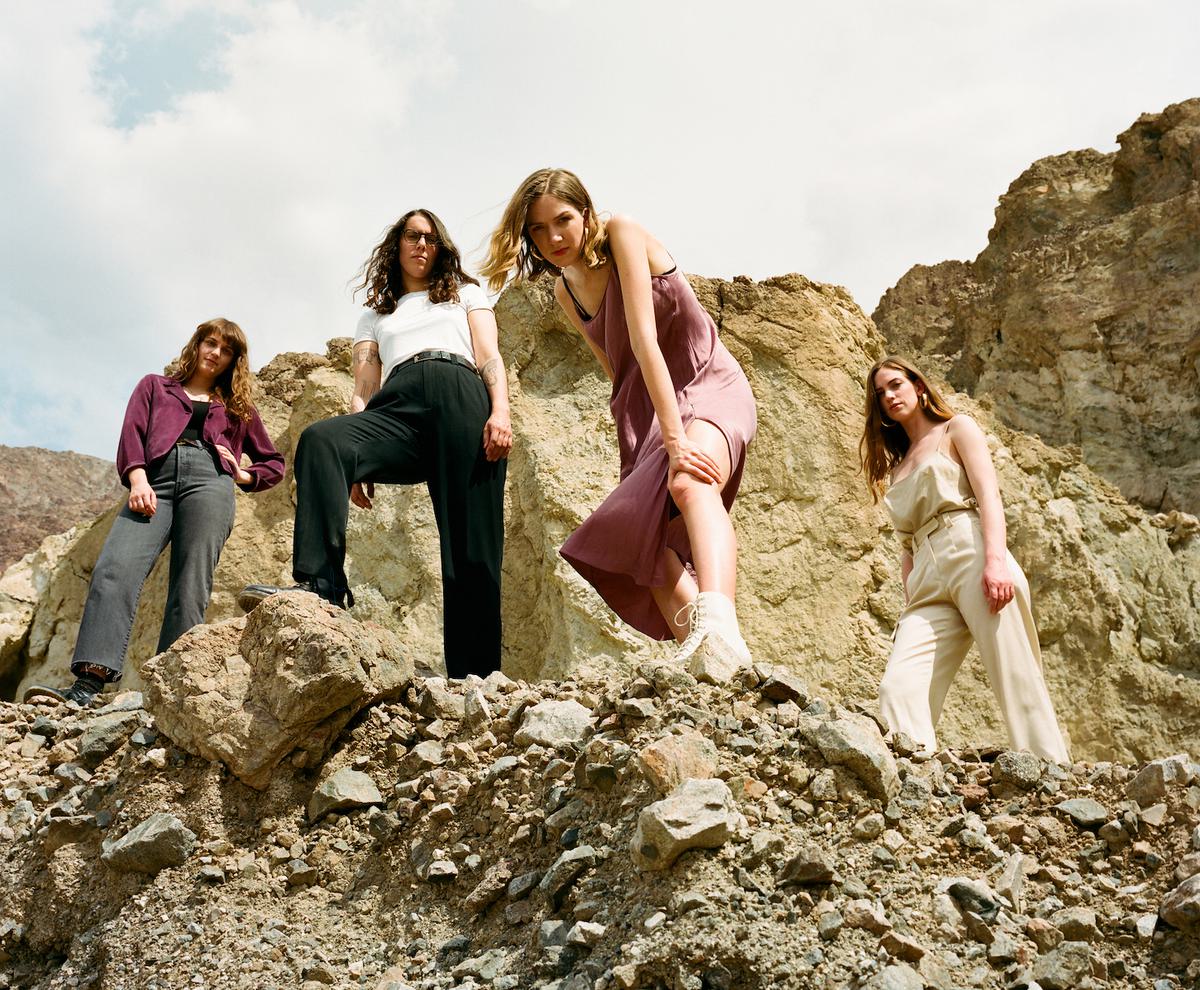 The Big Moon travel back to the '90s in video for new single "Take A Piece"
The Big Moon are back with new single "Take A Piece", which arrives with a visual that pays homage to the '90s with choreographed dance routines and matching outfits.
"Take A Piece" is the third single to be lifted from The Big Moon's forthcoming second album Walking Like We Do, after September's "Your Light" and August's "It's Easy Then".
Vocalist Juliette Jackson says of the new single, "I initially wrote this song for someone else, speculatively, but for a pop star. I'd already written an album's worth of songs but a lot of them felt similar to our first album and I wanted to try something different. I'd just watched a documentary about this pop star and seen how insane their life was and their intense relationship with their fans, and was blown away by how much of themselves they'd had to give up to have the life they had. So that's where the lyrics came from really. It was a bit of a turning point in the writing process… like sometimes you have to pretend to be someone else to change things up and say things in ways you didn't know you could. This mega pop star's life was literally nothing like mine but I could really identify with the vulnerability of being a performer and standing on stage every night and feeling the eyes of an audience, which can feel either grounding and unifying or - occasionally - scary and isolating, and something any performer can identify with, whether they're playing arenas or the windmill."
Jackson adds, "It also has a lot to do with how it felt to write this second album. Trying to get out of your head, figuring out which voices to listen to and which to ignore, and ultimately wanting to pour yourself into the thing you're creating and make something honest and meaningful that might connect with someone else and mean something to them as well. At first, we weren't really sure if this could be a big moon song, we were on unfamiliar ground… but the idea just stuck around. And we kept going back to it, and the more we played with it the more we fell in love with it, and now it couldn't be more ours. And you know what, it's exciting that as musicians we can do whatever the hell we want! And when we finally recorded it we were like gahhh what have we made? Is this a big moon song? Can we be this self-indulgent? BUT WHY THE HELL NOT?"
Walking Like We Do will follow on from The Big Moon's 2017 Mercury Prize nominated debut album, Love In The 4th Dimension.
Expanding on their forthcoming record, Jackson says, "Walking Like We Do is about being strong in the face of uncertainty, about standing tall even though you're completely lost and not being afraid of the future because it just keeps on coming."