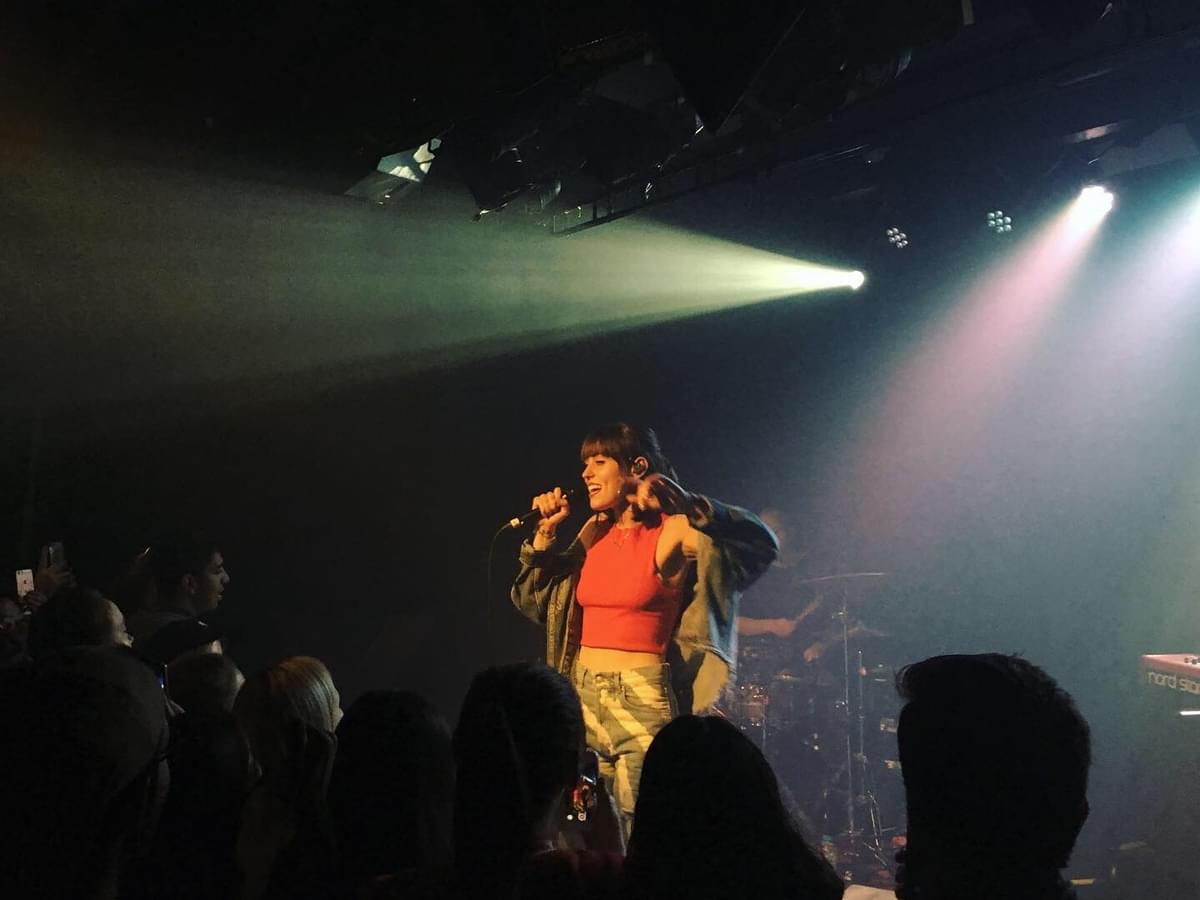 Stan culture reigned at Sasha Sloan's European live debut
Off the back of a sold-out North American tour earlier this year, singer/songwriter Sasha Sloan made an emotional live debut at Dingwalls, Camden last night.
With a setlist spanning her two critically-acclaimed EPs, a subtle nod to her collaborative back catalogue and hints at what's to come from her next project, she opened the show asking, "Are you guys ready to get sad tonight?". Despite Sloan's discography comprising mainly of ballads, stan culture was alive and well with fans pumped for impending sorrow and Sloan's raw and deeply personal songwriting reaches its peak with set highlight "Here" which brought her and the audience to tears. New song "Thoughts" showcased a more '90s-influenced, almost grunge-inspired sound with Sloan lamenting, "I don't know how to be / how to be a good friend to me."
Talking to Best Fit ahead of the show, Sloane revealed the inspiration she got from seeing Pink play live: "I just had a song come out with Pink and I got to see her in concert which was amazing. Literally the best show I've ever seen in my life. It's insane. I was standing in the pit, so she was soaring across my head and hitting every note. I can barely hit every note and I'm just standing there."
She also promised more self-reflection from her new material: "'Loser' and 'Sad Girl' were very relationship-based. I'm at a point where I'm in a healthy relationship and I'm happy, so this next batch of songs… well none of them are love songs...they're about what's going on in my head, so they're still sad.

"I can't stop writing songs lately that are about the big picture. I wrote this song called 'Smiling When I Die' which is about wanting to be smiling when I die, literally. I wanna do everything and see everything.
"A lot of it is about my own personal issues with my body and how I see myself and there's a song coming out called "Good Enough" which is probably the saddest song I've ever written in my life. It's a lot of self-reflection. I recently went through a break-up with a friend of mine and I wrote a song about that, which sounds like a break-up song, but it's actually about one of my best friends."
Sloan continues to write with the likes of producer King Henry as well as LANY frontman Paul Klein ("I love him a lot, he's amazing!") alongside her work for other artists. "When I write for other artists I'm usually in the room with them, so I know that song is going to be theirs," she tells us. "I just ask them what they're going through and what it's like to be them and we write a song about their life. I really don't get attached to songs I write for other people, because it's not personal and that's why I really enjoy being an artist because it's all real for me.
"You have to open up and talk about shit that's uncomfortable and that's when you get the best stuff."
Up next for Sloan is the rest of her European tour with dates hitting Amsterdam, Stockholm and Berlin, followed by a summer run supporting LANY on their latest North American tour.
Setlist
The Only
Fall
Ready Yet
Faking It
This Town
Again
Older
Version of Me
Here
Chasing Parties
Thoughts
Normal
Runaway
Get the Best Fit take on the week in music direct to your inbox every Friday