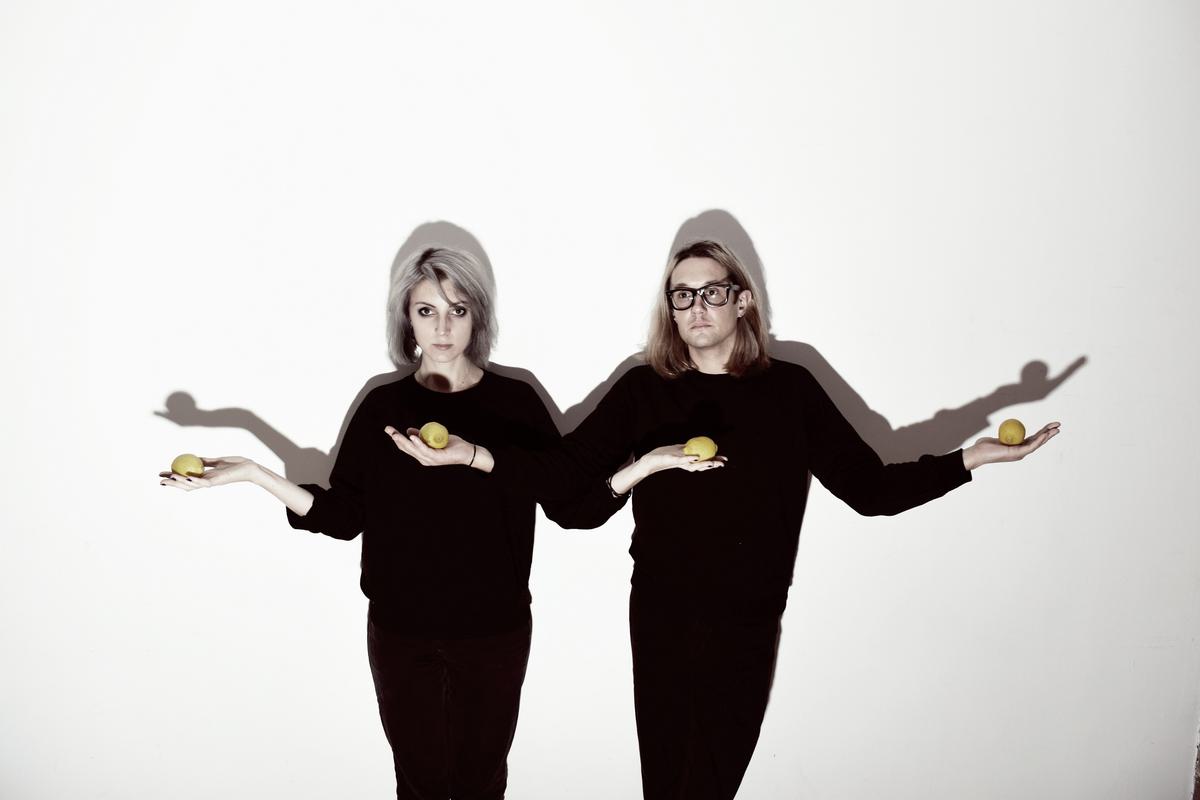 Menace Beach: "I don't really want to become a wizard just yet..."
Fresh from the release of their second album Lemon Memory, Menace Beach are ready to cast their spell on venues across the UK and beyond.
It's been two years since Menace Beach released their debut album Ratworld. Since then the outfit have sang about pocket-sized, worry-absorbing aliens on a new EP and performed raucous shows all across the country. Busy though they've been, it's been a while since we last heard from the Leeds noiseniks.
Celebrating the success of a series of instore performances while readying to hit the road for a headline tour (beginning at The Picture House in Sheffield tonight, 31 January), the band's Ryan Needham and Liza Violet took the time to talk to us about pop choruses and curses.
There's an interesting concept behind Lemon Memory - can you tell us a little about that?
Ryan Needham: We're always going into junk shops and stuff like that. It's pretty good when you're on tour, you can kind of get the run on the country's best charity shops. I found this book called Mysterious Cults, and I was like 'I can't not buy that - it sounds great.' There's a bit in there about curses and doing stuff to your enemies. One of them was this thing where you could bury a bag of lemons on your enemy's land and give them bad luck. When we used to live in Derby someone basically chucked a bag of lemons into the front garden, a full bag of them. I'm sure it wasn't a real curse, but it kind of just sparked something in my brain. I was like 'what if that was a curse? what would we do to rectify it?' It was a jumping off point.
Liza Violet: For the lyrics and for the whole sort of feel of the album I guess.
R: I just got way too carried away with all that magic stuff and occult stuff. It's good. I learned some stuff. I haven't really used any of the spells...
Do you believe in any of the occult?
R: I don't know. Having read up on it...
L: Tempted?
R: Yeah. There's a lot going on. Even in the local area there's a lot of meet ups and all that kind of stuff. Maybe I should go and check one out. Just reading up on all the Aleister Crowley stuff... Some of it's good. It's not all evil. It's about positive energy and that kind of thing - which is good, I'm big into that. I don't really want to become a wizard just yet - although I am looking more and more like one.
This album's been quite a long time in the making - when did you start working on it?
L: We recorded it last April, so we started working on it about a year before that?
R: We went on a bit of a band holiday. We took some guitars and stuff and we wrote about half of it out in Ibiza, and did the rest when we got back. Because of the release schedule for the label and stuff we've kind of waited. We've just been sat on our hands for a year doing nothing. It's been alright.
Lemon Memory has quite a different sound to your debut - what made you want to push your sound in this way?
L: I think I had a lot more ideas for this album. I got some new synths and things, and started messing around with those. They kind of dominated a lot of the album. I got a Roland Juno, which sounds really warbling and old anyway.
R: You just disappeared into the loft with it for three months.
L: That kind of took over really. It just brought out a lot of ideas.
R: Basically, a different person's written it. I kind of wrote most of the first one, and Liza's wrote most of this. It's as simple as that really. The genesis of the songs came from a totally different person. Liza's making it creepier and weirder, and I just like pop choruses.
L: There was a lot of stuff that I realised after the last album, like 'oh, I wish I'd put this on that song' or something like that. I guess I saved it all up for this record. Ryan's probably thinking the same now, all 'oh, I wish I'd done it more like this...'
R: No! I'm happy with it.
L: Or 'I wish I'd done more pop choruses...'
R: No, I'm going to do a solo project.
L: We'll both do solo projects.
R: I'll do a pop-punk band, and you can do your thing.
As well as having a different sound, the songs on the record are quite varied - what made you write the album in such a way?
L: It wasn't really a conscious decision. We had quite a long time to write it, so it probably varies because of that. The way we recorded it in the studio as well - we did it track by track, rather than recording all the drums for all the tracks at the same time, then recording all the guitars... It was very much focused song by song. We changed the drum sound each time. We completely started from scratch with each song. They probably sound quite different because of that as well. It made us get really into each track.
R: Going in, one of the ideas was to make it a record that's more coherent. We kind of did the opposite of that, really. I think you get a group of a few songs that all sound kind of the same way, you want to chuck something else in there. The one with the stupid riff on there, that's just because that's going to be really fun to play live.
Having finished the album so long ago, has the way you interact with these songs changed at all?
R: I guess a little bit. We kind of both have different approaches to it. I kind of like the end product, so I've been listening to it loads. I've kind of got to know the songs inside out. Liza's quite systematic in the way she creates stuff. She probably hasn't listened to it at all - have you?
L: No. I always feel really detached from stuff after we've finished it, almost like it's not really mine. Just start thinking about the next thing.
R: We didn't do that many shows last year, so we haven't really played any of these songs. So even though we did do it a while ago it all feels brand new still. We haven't been out and played the songs to death so it's still really exciting.
L: It's quite nice to sort of re-learn them all.
What's the response to the record seemed like so far?
R: it's been kind of mixed, I guess. It's not a million miles away from the first one, but we definitely changed stuff up a bit and pushed things in a slightly different direction – not crazily, but still. Reviews have been kind of mixed, but largely good. We're pretty happy with it. I'd like to pretend to be cool and say I don't read the reviews but I totally read the reviews. Chatting to people at our instores everyone seems to be into it.
L: They were really good. We did Jumbo Records in Leeds, Rough Trade East, Rise in Bristol, then Rough Trade in Nottingham. They were ace.
R: I was quite – not quite overwhelmed, but whelmed – by the amount of people who came out. Especially the Bristol one – we did a stripped back thing. Yeah, it was good.
You're about to start a UK tour - what are you most excited for about being back on the road?
L: I can't wait. I think we only did about four shows last year? It's kind of weird when you're writing, you're shut away a lot of the time and don't really see anyone. You kind of get a bit of an urge to get out and see some people. Then when you're on tour you're around people 24 hours a day and constantly trying to hide, it's kind of the opposite. The two kind of balance each other out quite well. Definitely, for me, I'm really excited to go out and do stuff and not be locked away so much.
R: And to go to places that we've not been before. It's weird. I feel like being on tour gives me better coping mechanisms for day to day stuff. We've just been away for four days, and then today we had to wait in Liverpool for four hours while we waited for Liza's stupid passport to be made. From there we just wandered into a cafe, and normally I'd just feel instantly anxious. But yeah, I'm dead excited. We've got a sound man on this tour as well. We're almost professional.
What can people expect if they head to see you play?
R: It's normally very loud. There's three of us playing guitar. Our sound guy is already on our backs about turning all the guitars down. We're playing seven of the 10 new record songs. Nick [Chantler, guitar] has been doing some really weird moves. I don't even know where they came from. I hope they stay though. They looked quite funny.
What does the rest of the year hold for Menace Beach?
L: We're just going to play as many shows as we can, I think, and try and do festivals. SXSW.
R: I'm trying not to get excited about it, 'cause I still feel like it might not happen. I mean, it should do. It's a really privileged thing to do. It sounds like it's going to be super stressful, but I think when you're in the blazing hot desert, I think it'll be just fine. I feel like Nick will cope with it well. He did a lot of farming as a young boy. I feel like the cowboy element might come out. We're going to fly to New York, do a couple of shows, then fly to SXSW. There's a guy who wants to put us on for a couple of nights. I don't even know if he's a legit promoter or just some guy, but we're going to do that and see what happens. It'll be great.
L: We're always writing. We've already got some ideas that we're working on.
R: Yeah, I've got some ideas.
L: We'll probably make a start on that.
R: We've never really made a long-term plan. Loads can change. We haven't had anything out for a year. As soon as you get a record out, you get a couple of radio plays and somebody goes 'do you want to come and do this in Germany?' and from there you get written about in an Australian magazine and they're like 'do you want to come and do this festival?' Things kind of just pop up every now and then. We just follow where that leads us really.
L: I think if you're looking too far ahead all the time you stop enjoying what you're doing at the moment. Just enjoy it as it happens.