Can you tell us about the song Greeney Blue?

It's the only 'love' song I've ever written... it's essentially about falling for someone, getting addicted and whiling away days and nights in their presence, but it's also about the conflicts this brings up, namely dragging yourself out of bed to go to work... but also opening up to somebody, being vulnerable, letting go and letting somebody in whilst still loving yourself. I've always found love songs a little sickly sweet, whereas in my experience love's a pitch black minefield of emotions and insecurities... maybe that's just me. It's also about the conflict between the childlike freedom love creates and the responsibilities the adult world imposes. I reference The Catcher In The Rye in the second verse which I think encapsulates that conflict perfectly.
Like I said, I've never written a love song so I think I tried to cram everything into one song.
How does it fit into the EP as a whole?

I wanted the EP to cover as much ground as possible, so I included the songs that carried the biggest messages for me at the time. The other four songs respectively are about war, greed, death, and depression... all pretty hefty subjects, so naturally I thought love should get a mention.
What does the visual element add to the song? Does it change anything for you?
I don't think it's changed anything for me. The song's pretty manic so I wanted the video to reflect that. I don't know how other people experience love but in my experience, I never have any idea what's around the corner or even what's going on in the present. There are so many powerful emotions flying around because you're so close to each other's desires and fears. I wanted the video to pick up and run with that theme; I had no real objective for it apart from that. I think it suitably adds to the feeling of chaos.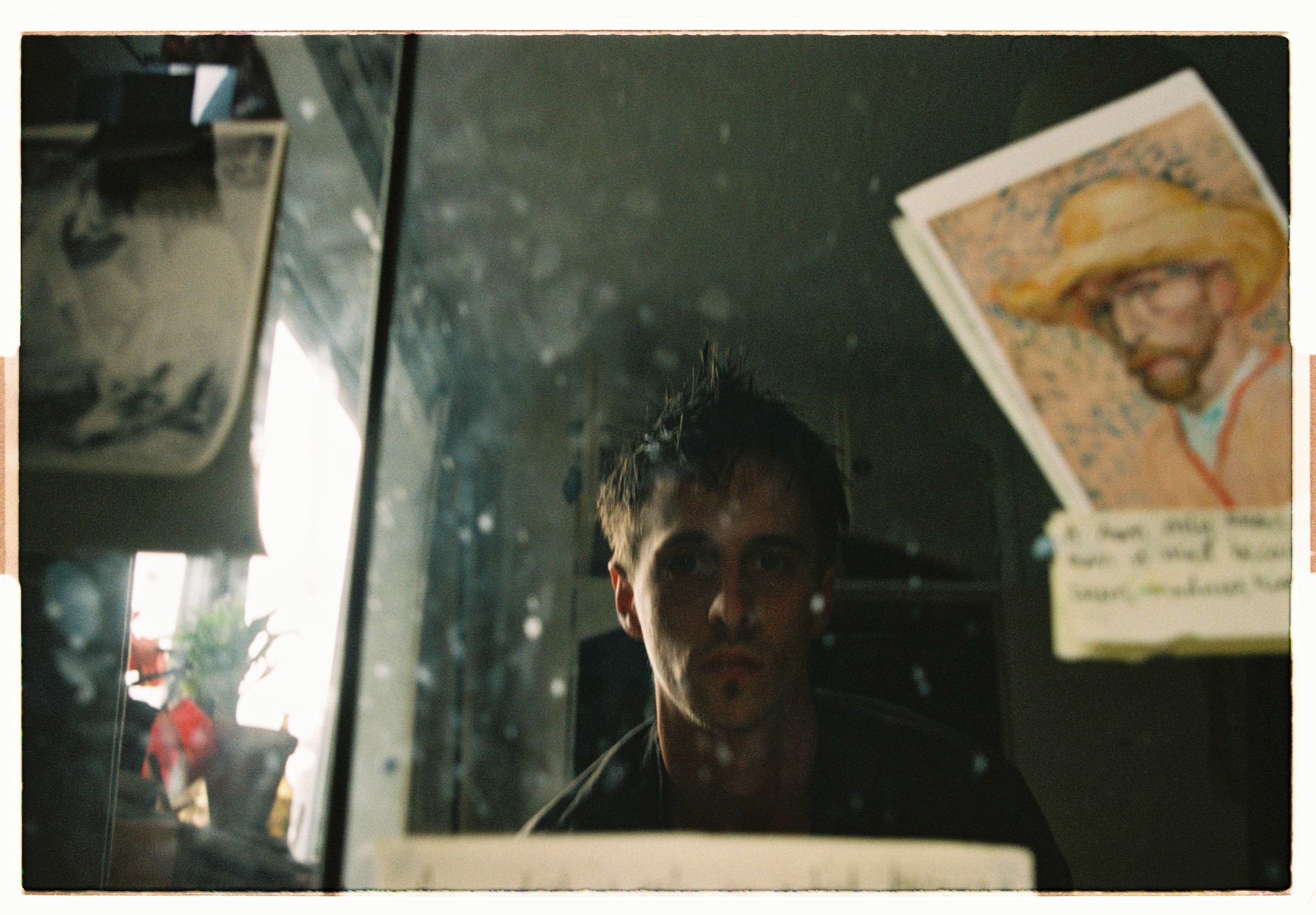 How did the video come together?

I developed it with a friend and film director called Katia Ganfield, she lived in a large warehouse space that a lot of my friends inhabit in Hackney Wick. A longtime friend and artist Conrad Armstrong also lives there and holds an event every first Sunday of the month called 'Sunday Service'. It's essentially an open mic night for weirdos. Anyone can rock up and perform anything they desire - it's a pretty special thing; I've seen some things there I would never have dreamed of... Katia and I decided to hold a performance one Sunday and set up a sort of living room scene in the centre of the space with sofas and plants and then pointed a couple of cameras at it. One of the cameras was hooked up to a live feed that was projected on the wall in front of the sofas. As everyone filed in they naturally converged on the central space. When everyone had settled we announced the first performance and turned on the projector running the live feed and sat back. So essentially the audience were all watching themselves sit there... be your own entertainment if you like. The subsequent footage is what ensued.
The footage of the singing hand was another evening of Katia and I messing around. We again made a live feed from one of her cameras through my projector at my home but then filmed the projection, creating a sort of feedback loop. The face hand is us projecting the live feed of my face onto my hand and then filming that.. all good fun.
The running theme of the hand was its own creation. Katia had nicked the giant red hand in the video the night before Sunday Service from a bar - quite a feat to walk out of a bar unnoticed with a huge red hand (it was later returned I'll add...). Naturally, we thought it would make a good prop for our social experiment. Then filming at my house we came up with the idea to project my hand on my face, not really realising the red hand would be such a prominent feature of the other footage. What's really surreal though is that completely separately, Emily Morey - who painted the artwork for the EP - decided to paint a large spread hand in the centre of the cover, not knowing anything about the video... concepts often make themselves, I find.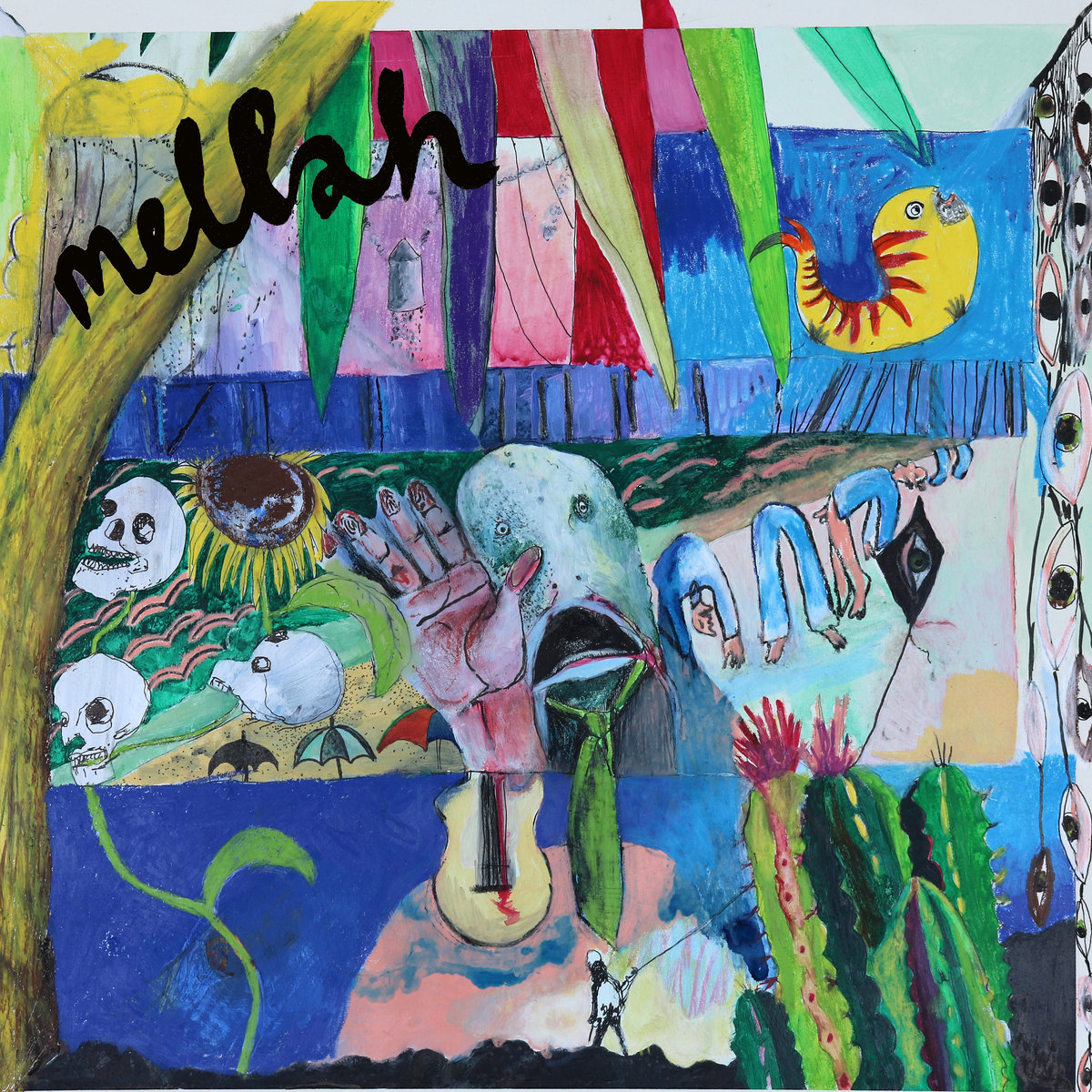 How do you feel about the EP now it's out?
Good. I feel like I'm saying what I want to say... which feels good.
How was it written/recorded?
It wasn't written as an entity. I chose the songs from a stack that I have written over the last few years. It was recorded alongside friend and producer Oli Barton-Wood in a little studio I built in Peckham.
What was the easiest song to make? Which was the hardest?
Depends whether you mean writing or recording... Writing "Old Friend" was pretty hard because it's about depression, but on the flipside, the song came really effortlessly and I had it recorded within the same day that I wrote it so in that sense it was pretty easy. "Nada" took the longest to get right on the recording side so I guess you could say that was the hardest.
What's next for Mellah?
We have a few festivals coming up this summer and I'm back in the studio recording again, so there will be some new music out towards the end of this year.