"No Son of Mine" lands after November's lead single "Shame Shame", and arrives with an encouraging letter from Dave Grohl about 2021.
Grohl writes, "It was almost exactly a year ago that we finished recording our "new" record Medicine At Midnight, with a massive world tour planned that would have taken us around the globe celebrating our 25th anniversary as a band. But, well...you know... So, we waited. And waited. And waited. Until we finally realised that our music is made to be heard, whether it's in a festival field with 50,000 of our closest friends, or alone in your living room on a Saturday night with a stiff cocktail."
His letter continues, "So, the wait is over. As we say goodbye (fuck you) to 2020, and flip the calendar face to 2021, let's ring in the new year with a new rocker "No Son of Mine". Pour a drink, turn it up, close your eyes and imagine that festival field blowing up to this. Because it fucking will. Happy new year."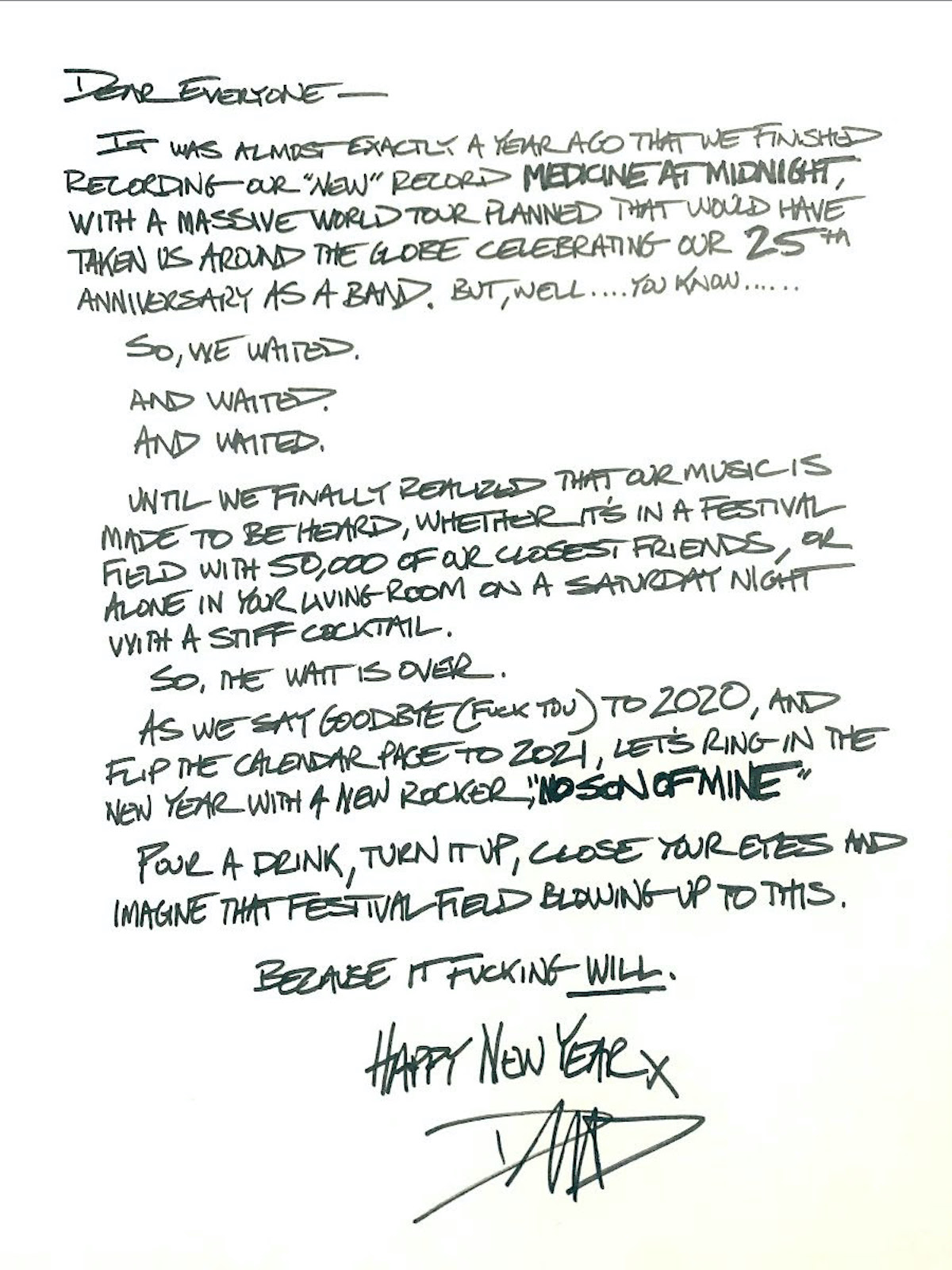 Medicine At Midnight, Foo Fighters' 10th studio album, will follow their 2017 LP Concrete and Gold. The nine-track album is produced by Greg Kurstin and Foo Fighters, engineered by Darrell Thorp and mixed by Mark "Spike" Stent.
Back in May Dave Grohl described the album as their "David Bowie's Let's Dance record".
Earlier this week Grohl thanked supporters of the Save Our Stages Act in the US that passed into law over the weekend.
"No Son of Mine" is out now. Foo Fighters' Medicine At Midnight album will arrive via Roswell Records/Columbia Records on 5 February 2021, and is available to pre-order now.