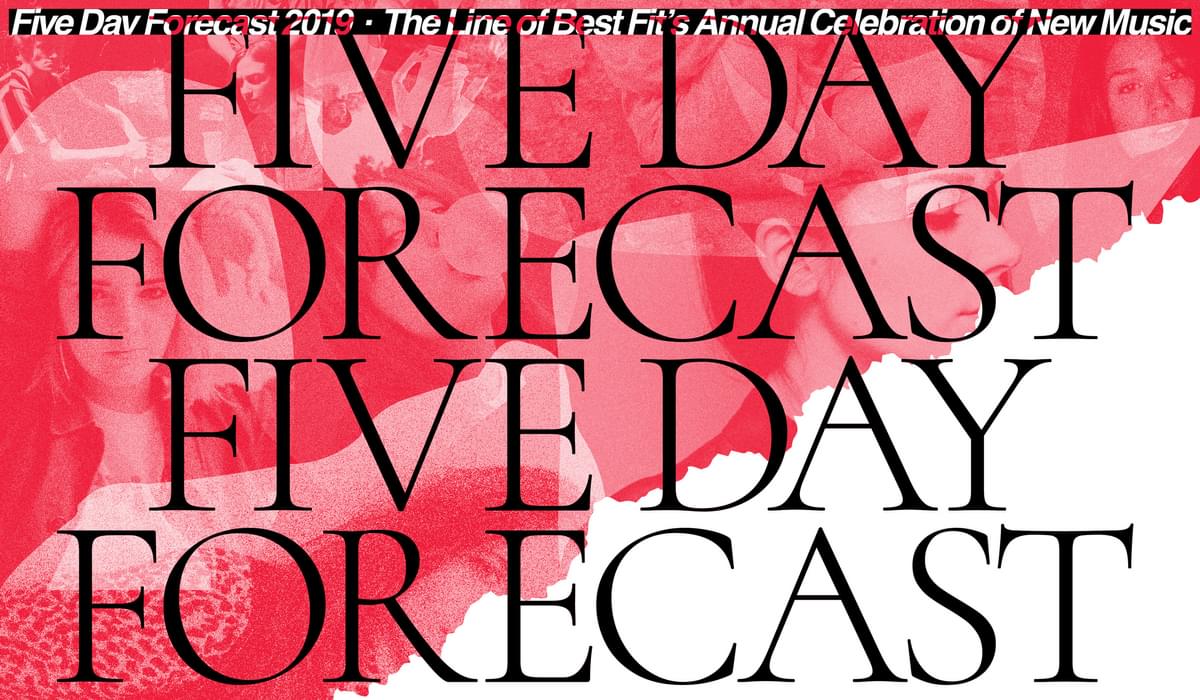 Our Girl, Faye Webster, Emily Burns, Makeness and Gia Margaret head up our Five Day Forecast 2019
The Line of Best Fit returns with the fifth edition of its annual festival showcasing the very best in new music.
The Five Day Forecast takes place at The Lexington in London, a stone's throw from King's Cross, and runs across five nights from 14-18 January. Curated by the biggest independent music website in the UK, the events have sold out for four consecutive years - previously featuring the likes of Pale Waves, Snail Mail, Soccer Mommy, Pumarosa, IDER, Grace Carter and more.
Five Day Forecast 2019 includes some of the most innovative and exciting talents around, including hotly-tipped alt-pop newcomer Emily Burns, Gently Tender - the exciting new project from Palma Violets and the Big Moon, Atlanta native and star-in-waiting Faye Webster, PC Music's felicita, much-hyped Chicago newcomer Gia Margaret, producer extraordinaire Makeness and one of the finest guitar groups on the planet right now - Our Girl.
Individual tickets £9 / Five-day wristband £36.
Emily Burns
The future of pop is in safe hands with the likes of Emily Burns at the helm. Seven Scenes From The Same Summer, the British artist's debut mini-album, provides proof in spades with honest accounts of loss and love filtered through the prism of British youth in the 21st century. The XXL-sized doses of intimacy and personal reflection are tempered with unbridled pop hooks, with Burns making even the saddest sentiments sound sugary sweet. At 23 the Scotland-born, Warwickshire-raised force has already gained a wealth of experience, from performing at a "rowdy boozer" with her pa to working after-hours on her music at Abbey Road when she clocked off from her reception job at the studio, and it shows through in every single song she puts out into the world.
Plays Monday 14 January / Buy Tickets
Call Me Loop
Georgia Buchanan's immensely fun strain of pop is a tantalising mesh of candied hooks, boisterous dance-flecked beats, and powerhouse vocal displays to be filed alongside the likes of Rita Ora. As Call Me Loop she's found a fan in Elton John, worked alongside Little Mix producer Toby Scott, and toured with Jonas Blue - the London-based popstar has a CV to rival the finest, and the potent pop chops to back it all up. "Love The Lie", "Give 'n' Take", and "As If" are all especially fine examples of her craft - it's early in her career, but Buchanan's already giving masterclasses in her field each time she drops a track.
Plays Monday 14 January / Buy Tickets
Millie Turner
Prodigal talent Millie Turner has been steadily making jaws drop with each new offering this year: "The Shadow" is strobe-lit dance filtered through '80s pop, fluid electro number "She Was A Dancer" melts hearts in an instant, and "Night Running" makes a play for the big leagues. Inspired by '70s soul and the likes of Florence + The Machine, the 18-year-old artist, who only has a couple of years' songwriting experience under her belt, has already drawn comparisons to Björk and Maggie Rogers for her ambitious and leftfield approach to folk and pop. Thanks to chameleonic lurches with each release, Turner is chronically refreshing and requires every ounce of your attention.
Plays Monday 14 January / Buy Tickets
Deyyess
Kent's own Deyyess could've had a very different career - a skilled footballer from a young age, she was scouted by Arsenal Girls but decided to turn the opportunity down and focus on her music. "As much as I love it," she explains, "football just wasn't a career I wanted to pursue… with music you can give something that comes directly from you, a part of your own story to give to others." And that 'giving' is a key point - Deyyess funnels raw heartache ("Most of my songs are about her…") into her songs, melting emotive earworms and first-hand feelings into one great, glorious concoction.
Plays Monday 14 January / Buy Tickets
Brooke Bentham
London's Brooke Bentham - who's had a rapturously received stint supporting Best Fit fave Soccer Mommy recently - has set hearts alight and toes a-tappin' with folk-inflected ballads and scorching guitar-led jams alike. Bill Ryder-Jones has produced latest belter "Out Of My Mind", which joins a brace of accomplished EPs in her bandolier and recalls anthemic '90s alt. rock in its scuzzy warmth. Although plastered with rage on the surface, it's actually a pretty light affair now, as Bentham explains: "The lyrics are pretty tongue in cheek and I wanted it to sound as though it comes from a place of anger. I'm still in the relationship I wrote it about, so it's just really funny to me now."
Plays Tuesday 15 January / Buy Tickets
Malena Zavala
Malena Zavela's otherworldly extravagance is an enchanting part of April-released debut Aliso, produced, written, and performed entirely by the Argentina-born, UK-raised artist. The 10 effortlessly effervescent tracks apparently indebted to Beach House, Devendra Banhart, Brian Eno, Tame Impala, Cuban folk star Silvio Rodriguez, and Yerba Mate (a kind of South American tea), but none of this really matters when the likes of "Could You Stay" or "Broken By Two" are strummed into life - the results are a magical world away from reality, and blissfully so, with gossamer guitars and twinkling cobwebs of voice entwined with perfection. Aliso is a collection of globetrotting gems, buffed to a shimmer by west-coast psych, jazz, dreamy pop, and her Latin roots - dive in headfirst.
Plays Tuesday 15 January / Buy Tickets
Squirrel Flower
21-year-old Ella William's fate as Squirrel Flower has been almost inescapable. Born into a restlessly musical clan - her father's still an actively touring jazz/blues bassist, her grandmother was a classical violinist, and her grandfather co-founded medieval ensemble New York Pro Musica - Williams cut her sonic teeth early jamming with her family and then singing with the famous Boston Children's Chorus. Dips into the local DIY scene and college in Iowa followed, and now as Squirrel Flower (her childhood moniker) she sets songs about the complexity of relationships against "the unique backdrop of the American Midwest". The music is sparse, strong, and stretched across the dynamic gamut with the weight of a thousand hearts behind each word - it's restlessly deep and demands your undivided attention.
Plays Tuesday 15 January / Buy Tickets
Konradsen
"Never Say A" is an emphatic first step from Norwegian duo Konradsen. The rousing jazz-infused jewel has been released via Su Tissue (Jenny Hval, Farao), mixed by Tom Carmichael (Courtney Barnett, Chance The Rapper), and mastered by Matt Colton (James Blake, Flume) - there's a definite pedigree here - and it rushes into your ears with aplomb, abandoning any sign of its bedroom-pop beginnings with lush grace. Duelling harmonies flutter through the airwaves; brass spars with piano and synth-pop charm. Konradsen are readymade and "Never Say A" sounds like an overture of their oeuvre, teasing what the future so tantalisingly holds for the rest of us.
Plays Tuesday 15 January / Buy Tickets
Faye Webster
Faye Webster's already made quite a name for herself with two well-received records and acclaimed photography venture under her belt - and there's the small matter of being an alt. folk singer/songwriter signed to Atlanta's renowned hip-hop collective Awful Records (ABRA, Father, Tommy Genesis). The 19-year-old's eponymous second long-player is stuffed with country-western hallmarks - think slide guitar and fiddle - and veers far closer to Natalie Prass than Father. Sure, there's a familiarity in Webster's dust-swaddled licks and yearning vox, but a startling clarity and upfrontedness sets her apart from the pack - few people cut through the bullshit as beautifully as she does.
Plays Wednesday 16 January / Buy Tickets
Gia Margaret
Gia Margaret is a singer-songwriter from Chicago threshing the folk rulebook. Debut record There's Always Glimmer, which was released earlier this year, is a dozen-strong collection of self-described "sleep rock" odes that blends raw Americana with gothic folk overtones - "In Normal Ways" is a striking example of what she does so well, injecting the staid with nuance and shadows, and "For Flora" is a heart-stopping waltz the likes of which hasn't been written in decades. Margaret, a classically trained pianist, traverses time on her first album - the past, present, and future, and the apprehensions about the links between the phases, are chronicled through faded vignettes.
Plays Wednesday 16 January / Buy Tickets
Ohtis
Ohtis aren't a totally new prospect, with some semblance of a sonic relationship between Sam Swinson, Adam Pressley, and Nate Hahn floating about since school, but they're finally making a proper push into the spotlight. Derailed by heroin addiction and personal fallouts (Swinson is exceptionally candid about his and the band's journey), the creative core has now born fruit ready to be shared with the world: and debuts "Runnin" and "Settling" are emotionally wrought Americana odes that strike a rare chord. Slide guitars, country-western twangs and dashes of bright, acoustic pop cavort in these bewitchingly sincere tracks - the first tastes of a full-length due in 2019 via Full Time Hobby.
Plays Wednesday 16 January / Buy Tickets
Makeness
Secretly Canadian-signed Kyle Molleson might be the closest thing to Caribou the UK will ever get – with emotive waves of electronica crashing amongst Detroit-y beats and house wobs, the tracks on debut LP Loud Patterns are simultaneously affecting and propulsive. The whole thing is a spine-tingling mesh of inspirations, influences, and half-heard ideas that tracks Makeness' path from his Outer Hebrides roots (surrounded by Highlands folk) to the English south west to Leeds' fizzing experimental/DIY scenes and to the bustle of London. The noise of Makeness is where pop leaves its worldly shackles behind and becomes something far more feral - get ready to feel alive in the darkness.
Plays Thursday 17 January / Buy Tickets
felicita
PC Music producer felicita - real name Dominik Dvorak - draws upon his Polish heritage and the physicality of dance for his uniquely off-kilter style of electronica. Jerky, erratic shards of discordant glitch stab from the speakers on 2018 album hej!, which bears as many similarities to frequent collaborator SOPHIE as it does to avant-garde classicists such as Hauschka. felicita may be releasing his noises through PC Music, but this is a far cry from the bubblegum hyper-pop of Hannah Diamond or A.G. Cook. The noise is brutal and primal, intimate and so innately human, and it flips the perception of the pioneering label for the umpteenth time.
Plays Thursday 17 January / Buy Tickets
Jockstrap
Jockstrap, aka 20-year-old Guildhall School of Music and Drama alumni Georgia Ellery and Taylor Skye, paint a vivid set of pictures in "Hayley". Frothy bossanova breezes across warped electro-psych and far-out pop distortions, with Ellery crooning lyrics centred around an imagined sequel to 2003 Louis Theroux doc Louis and The Brothel while 8-bit blips boing in the background - this isn't any ordinary art school pop project. Jockstrap find inspirations in unlikely places, but don't expect that stand in the way of them making utterly addictive sounds - the bewildering is made bewitching by this twosome, who seemingly leap gung-ho into every tangent they stumble across.
Plays Thursday 17 January / Buy Tickets
Our Girl
Brighton/London trio Our Girl (no relation to the Michelle Keegan show) are the latest Cannibal Hymns (Dream Wife, Tigercub) outfit aiming at the stratosphere, with The Big Moon's Soph Nathan fronting the project and adding fuzzed-out glitz to the wild, wiry indie-rock melee. Already touted as one of the most exciting guitar groups going, Our Girl have made good on considerable promises and smashed tours with Pale Waves and The Magic Gang - there's no doubting their upward trajectory. Debut LP Stranger Today is yet more concrete evidence of Our Girl's brilliance, and sets them up for a fascinating future.
Play Friday 18 January / Buy Tickets
Gently Tender
Gently Tender are just two songs deep into their career, officially at least, but they're already clearly a group to have at least one eye trained on. Sam Fryer, Pete Mayhew, and Will Doyle (all formerly of Palma Violets), plus guitarist Adam Brown and The Big Moon's Celia Archer, have aired grand, sprawling statements "Avez-vous déjà" and "2 Chords Good" - the former a swelling slab of inclusive pop-rock that Arcade Fire might've made if they were playing Woodstock in '69, the latter a Pulp-esque escapade encrusted with warped nods to classic psych. Despite the obvious throwbacks, Gently Tender's offerings are remarkably refreshing - with frontier-pushing ideas sidled up alongside the vintage threads.
Plays Friday 18 January / Buy Tickets
Squid
Brighton-born bunch Squid grind psyched-out math-pop, '70s post-punk, and a dash of David Byrne into a cosmic paste on tracks such as "The Dial" (released through Dan Carey's Speedy Wunderground) and "Terrestrial Changeover Blues (2007-2012)". The quintet, who've drawn lofty praise from the likes of Stereogum, DIY, and Clash already, are a formidable live force preaching their existentialist sermon to baying masses through a filter of rage and sweat and wonky guitars, with caramel-gloss hooks dashed against agitated, abrasive anguish. Squid are a captivating presence and quite unlike anything else emerging from the UK right now: miss them at your peril.
Plays Friday 18 January / Buy Tickets
Black Country, New Road
Google 'Black Country New Road' and most of the results are about a road. Search them on Spotify and you'll get nowt in return. Little exists online about the collective, born from the remnants of Nervous Conditions (albeit augmented with strings and woodwind), except a Facebook page run by someone with a Shutterstock subscription - this is a band that flies so low under the radar they may as well be taxiing. They've played with Goat Girl, Bo Ningen, and Damo Suzuki, and make extended, ear-splitting rackets - but you'll have to witness the carnage for yourself to start making sense of the enigmatic outfit.
Plays Friday 18 January / Buy Tickets
Get the Best Fit take on the week in music direct to your inbox every Friday