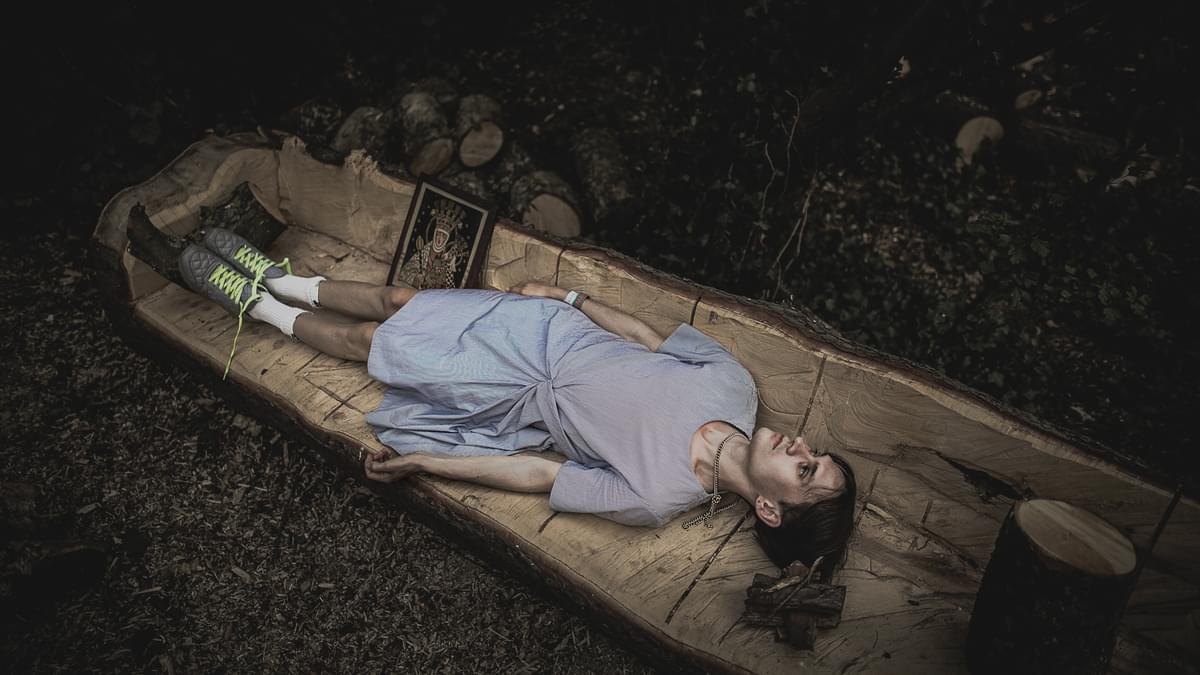 On The Rise: felicita
23 August 2018, 07:30
Drawing on Polish heritage and the physicality of dance, hej! is a boldly nonconformist addition to the spectacular releases from PC Music. Kezia Cochrane meets its maker Dominik Dvorak, aka felicita.
Just a little further up Hammersmith high street stands a Brutalist grey stone building bearing the acronym POSK across the front. Founded in the late 60s the Polish Social and Cultural Centre continues to an active hub for Polish culture and community.
Meeting felicita (aka Dominik Dvorak) in the café nestled at the side of the building he mentions, alongside more obvious connections of this space to his Anglo-Polish roots, this is also a neighbourhood he spent a lot of time in growing up. "I did Polish folk dance as a kid, actually quite close to here", felicita says. As a form of expression dance has an undeniable influence on the PC Music artist's creative output, both through collaborative performances he's done as well as in a certain tangible physicality that permeates his music.
Working with Śląsk Song and Dance Ensemble to perform "soft power" at the Barbican last year as part of Unsound Dislocation, this contrast between a very structured, traditional dance form and felicita's often jarring, sonic idiosyncrasies is immediate. "I guess I'm drawn to dance; number one its physicality, its connection to nightlife, its connection to clubbing," he articulates. "I think dance is a very democratic form, you could say in a similar way to music, but it's almost more available because you don't get everyone turning up on a Friday with an instrument and having a go. But you have people turning up somewhere, none of them can dance, none of them have been taught but they can all dance. So on one level dance, I guess, I'm just naturally drawn to it because of that". Describing how the "soft power" project has taken on a life of its own, he mentions that Polish fashion brand MISBHV opened their first runway show with a performance of it, and expresses how "it's come to define this record in quite a strong way".
Innate to both dance - and also felicita's music - is a certain rhythmic physicality, which manifests within the tracks in this distinctly hypnotic, all-pervading atmosphere. Talking about this interconnection, he explains "in the way that certain kinds of dance essentially plays with rhythm and plays with form simultaneously, I sometimes like to think of not music itself but a musical event as like a dance."
Correlating the different patterns a particular sequence of drumbeats could follow with the different possibilities of movements a dancer might follow, felicita adds "it also relates to sport in a funny way." An interesting link, and one not often highlighted, he details, "I often think about music in relation to sport, like tennis and football in particular. They're both sports I'm really into, mostly because I really like watching them. As with dance I really like the form. I kind of see the two as interrelated. I once made a drum pattern where I exported recordings of Serena Williams playing tennis and I isolated the hit and the hit and the hit and the hit and turned them into a kick and snare pattern."
This penchant for combining seemingly opposed and divergent elements pervades felicita's sonic repertoire. On hej!, as well as previous releases, the balance between extremes of eerie, spectral delicacy, provided by piano melodies on tracks such as "soft power I" or "Track 6", from 2016's a new family EP, and extremes of abrasive urgency and unsettling outbursts, such as "coughing up amber" or "shook", proffers the listener with a heady, sensory onslaught. Navigating this with the utmost nuance and dexterity, he pertains an inimitable power to both unsettle and enchant.
"I'm drawn to dance; number one its physicality, its connection to nightlife, its connection to clubbing."
Musing on these oscillating soundscapes felicita affirms "I've always been very drawn to juxtapositions in some way, almost multiple juxtapositions, so in a way that's kind of intuitive compositionally. But in other ways it is sort of defined by the instrument I'm writing on." Naturally composing on the piano and on computers leads down different avenues of possibility. "One track on my album 'shook', which is maybe the hardest most aggressive thing on the record, I made that really fast and it was really intuitive", he explains. "In the case of piano I really like the extremes of tone, the real delicacy you can get out of the piano." Yet there's still something distinctly mechanical about the piano as an instrument, "it's still quite computer-y to me", he states, further explaining, "you can't bend notes on the piano. It's not like a guitar where you can bend chords and stuff. It still relates to computers in some way. But in terms of the difference it's the different extremes of tone and exploring those. And in another way it's what the instrument itself suggests to you at any given moment."
Having been immersed in the world of experimental and noise music since teenage years, felicita expresses how much he values this now. "I kind of learnt a lot of things quite early that have served me quite well in terms of technical processes and just learning how to make walls of sound essentially; quite dense atmospheres and environments." Naturally the Internet has played a significant part within the rise of various electronic styles and scenes, "I think electronic music is one of those areas maybe like bands were in the previous generation," felicita reflects, "where it was not really tied to an institution or way of learning necessarily, it's very gear based. So essentially I got really competent, able to do things through being part of a network of people online, not only irl, of learning how to use these things."
Prevalent within much of the PC music family's output is a certain fascination with artificiality in the modern age and for felicita this interest manifests, partially, in linguistic artificiality. On "Marzipan" Caroline Polachek sings a Polish children's song, in a tongue foreign to her. Explaining the significance of and decision behind this, felicita tells me "one thing that interested and excited me was the fact that the song had a very personal connection to me and there was the possibility of transforming that into something completely different. In order for that to happen some level of artificiality needed to be involved in the process I think."
Mentioning that they both bonded over a love of languages, he emphasises the importance of working with Polachek on the track. "It's more interesting that Caroline sings that song as someone who doesn't speak Polish, someone who's North American with her own musical world," explains felicita. "I'm more excited by the challenge or the result of her signing it than if I was to go to Poland and find a singer who loves that song. I think that strange hybrid space is something I'm really drawn to. Something not quite one thing, not quite the other, some sort of mutation of several things forming something completely new."
felicita continues on the theme of language, telling me: "It's kind of funny as well I think the fact that Polish is quite a hard language to pronounce and on one level it just felt like this kind of an amusing and weird project to do with someone like Caroline. Also, Caroline can do so much herself as a writer, as a vocalist, performer that when it came to the idea of her and I working on something together, I was searching for something that would excite us both equally. Something only we can do."
On the topic of authenticity versus artificiality, an obvious correlation is the equilibrium between nature and technology undeniably inherent within much electronic music. "I think it's fairly clear in a way one of the main things of, artistically speaking, one of the main pursuits within modernity is taking these technologies that are developing and somehow humanizing them" says felicita.
Talking about how this is channelled within his own music he explains "it's more me wanting in some way to communicate a sense of personality or some sense of strong character I guess. I think there's always a part of me that's very slightly nervous about the fact that my records are always super...how would you say it...filled with adornment. I think some electronic and pop music has a kind of very uniform generic appeal in that it presents itself in a certain way that feels kind of neutral and can appeal to many people. Whereas I feel like my records intentionally go in the opposite direction and they create really specific worlds that are sometimes confrontational and it's kind of a take it or leave it situation sometimes with the listener." Mulling this over further he adds "and there's always been a part of me that wants to strip that away and just be really neutral but then despite that I'm always compelled to just fill it with detail, fill it with character. I mean humour is definitely part of that and lyrics, images, sometimes a meta-narrative in some way."
As we discuss the significance of lyrics and the perpetual, and somewhat contentious, debate of how much they matter felicita stresses "part of me will always be quite neurotic about language and very very conscious of it." Yet on the other side of this, particularly in relation to popular songs we might often hear on the radio or in clubs with really knowing what they're saying, he adds "you can grab onto a song without knowing what it means or maybe forming your own idea of what it means or in some way wanting to exist in that communal atmosphere".
"I wouldn't like to think of myself as someone who is just defined in one way and that's it for the rest of my life."
Another aspect to this encompasses the effect and expectation that sonic intonation can convey without the listener necessarily understanding the language. "An early idea I had was to invent a language for my album," felicita reveals. "I was going to essentially invent a language and use that to create this fictional world. But that felt quite time consuming for everyone." Referring specifically to "Marzipan", felitica reveals "I like the tension of the fact she's [Polachek] singing in a language that exists and is somewhat reminiscent. You don't have to be Polish to in some way know that it sounds a bit Polish or Russian or from that part of the world. So it draws you to a certain ready-made, a certain environment or landscape that is in someway in people's heads already. That to me is exciting and also in some way relates to reality."
Tinged with a hallucinatory, fever dream edge the visual world of felicita exudes a kind of eerie, unsettling beauty, eliciting that simultaneous sense of excitement and trepidation. A sublimely uncanny and atmospheric acid trip of imagery, the video for "Marzipan" evidences this perfectly. Shooting this in the Arizona desert, felicita tells me "I was really drawn to the idea of taking that song and taking it into the desert which felt very jarring. A very juxtaposed context or setting for it."
Working with long-term collaborator Matt Copson and enlisting the help of Dorian Electra and crew, he explains "we were really lucky to be given permission by the local Native American community who basically own all the land around Phoenix." Emphasising the importance of the setting, he states "sometimes a location is enough, sometimes nothing more is needed. A lot of the time was spent driving around and finding the most alien and vast landscape we could."
Further elucidating on the experience he details how fortuitously everything came together with the traditional Polish costume featured lent by Lajkonik, a Polish folk ensemble who happened to be based nearby. In terms of video, imagery and creative licence he adds "Making videos are a kind of adventure in a way that have their own thrill to it and I don't think I could ever really cede artistic licence to someone else fully. I think it's really important that the two things come together and that there's a purity of message."
Leading on to felicita's aesthetic more generally, he again highlights the importance of creative cohesion. "One artist I really admire is[Inga Copeland's project] Lolina", he says, "she's a really great artist. She's someone whose visual output seems really concise and it doesn't necessarily take any inspiration from anywhere but it's really more about what she's trying to put across as an artist. I think maybe since Bowie and Madonna, then now you have Bjork, Kanye and Beyoncé it's about what you're putting across and suggesting. Symbolism, in a way."
Imbued with a visceral tangibility, the worlds that felicita crafts offer a wealth of enigmatic, opulent environments to submerge yourself in. "I wouldn't like to think of myself as someone who is just defined in one way and that's it for the rest of my life", he expresses. Given the repertoire his creative output encompasses thus far, being categorised as just one thing is definitely not something felicita can be accused of. "With this record for example I think there's similarities to the previous EPs of mine but there is a kind of marked difference in what you could call the sound world, the image world, the ideas being put across," felicita explains. "So it's a combination of tendencies in the music that will always be there, or things I like doing like playing with reverb, or whispering - I've always been drawn to whispering and screaming - so those things in some way will always pop up in my music.
"But in terms of the world," he continues, "I sometimes think of it in terms of the way a writer writes novels. If you take Virginia Woolf for example and you look at the series of novels and how each one, they're all interconnected in some way, but they all deal with different worlds, different characters, different people. And I think part of it is convincing myself first, and then other people that this world I've created is worth coming into. Some worlds are easier than others. This particular record I feel needs quite a lot of work, a lot of introduction, a lot of context".
There is however, with or without context, an undeniable immediacy that pervades your senses and entices you in from the first wavering and warped piano chords that open the record. And with hej! out now you should delve into these elegantly distorted sonic terrains of felicita's making.
hej! is out now.
Get the Best Fit take on the week in music direct to your inbox every Friday