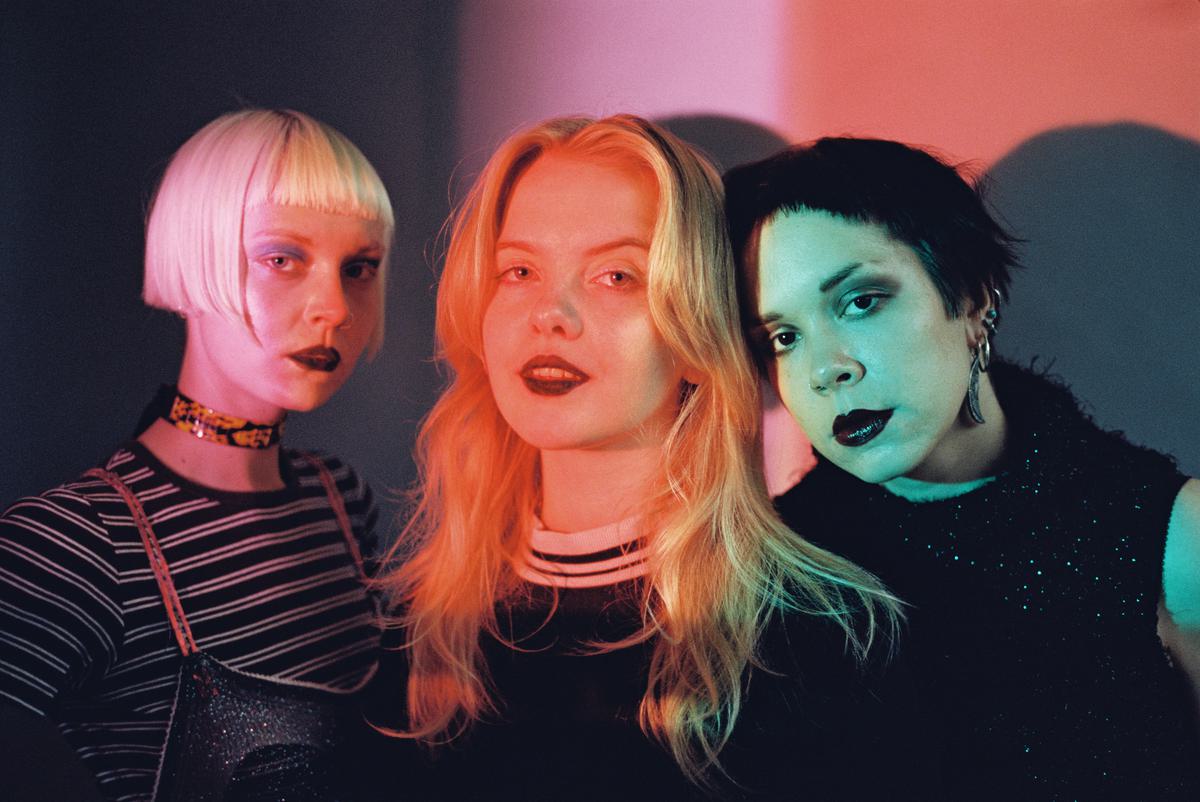 Dream Wife say they've finished "90%" of their debut album
Joining the likes of Wild Beasts, Let's Eat Grandma, The Big Moon, and Superfood at 2017's Live At Leeds, Dream Wife give us an update on the year ahead.
Announcing the likes of Honeyblood, IDER, Get Inuit, Eat Fast, and more, Live At Leeds is fast shaping up to be one of the best ways to kickstart the festival season. Hotly tipped since the release of their debut EP01 early last year, Dream Wife are a band you don't want to miss.
Recovering from a two-week headline tour of the UK, they're only just getting started. As they gear up for a year of incredible live sensations and work on their much-anticipated debut record, frontwoman Rakel Mjöll spoke to us about collaborations, their celebrated first EP, and gives us the lowdown on the all-important album #1.
You've just been announced for Live At Leeds - are you looking forwards to festival season?
We played Leeds a few days ago and it was insane. I love the Leeds crowd. They are so awesome. They were just screaming the whole time. Leeds is one of our favourite cities. Definitely excited for the whole festival season this summer. It'll be fun. I just want to play shows. We really enjoy playing shows all the time. We hope that we can play as much as we can. We're definitely a live band. Festival season: bring it on.
What can people expect from a Dream Wife show?
I hope people come to our shows with no expectations, and then hopefully get blown away. I think people should go with no expectations to any show, and then see if you like it or not. Maybe you will.
This band started out, fairly unconventionally, as an art project - how did those origins shape the band you are today?
We started performing when we were at art school in Brighton. It wasn't until months later that we started to do it outside of the realms of university. We all use our art school insight towards creation. We basically perform this as a performance piece. With Dream Wife it's a lot about visuals. From art to photo shoots and stylists and videos, I think music is very visual. I think it sort of becomes more accessible then to people, it's a more tangible experience. We work with different collaborations, both musically and visually.
How integral are these visuals, and these collaborations, to the whole project?
It's half the project. We've collaborated quite a lot with Polyester Zine, which is run by our friend Ione Gamble. She's introduced us to a lot of people that we've ended up working with. For example, Aidan Zamiri who did a music video with us and will be working on our next ones. She's great at bringing together really likeminded people. She is the curator of that, I'd say. Meg Lavender - who has collaborated a lot with us in the past - she's been on tour with us for the past two weeks. She's been documenting the whole trip in her own way. Everyone we collaborate with, we trust their instincts, and trust their creative art form. It usually comes out really nice. Meg's been on the road with us, and it's been beautiful having someone document it in their own kind of style. She's a photographer, but more of a visual art photographer. She's making a little documentary. That'll be exciting to see.
You've just finished a headline tour of the UK - how does where you are now compare to where you were twelve months ago?
A lot has happened in the past year. Being honest, exactly a year ago we weren't sure how we were going to release an EP. We'd just recorded it off the back of doing a DIY tour around Europe. We recorded it at Alice's parents' house - her dad drums on it. We had this material and we hadn't properly released anything. A label called Cannibal Hymns from Brighton released our EP. They're really wonderful. It's funny how things happen. Exactly a year ago we were like 'so, how shall we release this thing?' As soon as it was released, everything just snowballed from there.
What was it like putting out your first EP as a band?
We had gotten a reputation for having good live shows, but we didn't have any proof musically that the live show is as good as the recording. That doesn't really make sense. As soon as we released an EP and it sounded as good as the live stuff then people really picked it up. Lucky Number came to our first London show, they had been lurking around in the back. They had been chasing us for a year. When we released the physical EP that was evidence for them that we could produce a great live show and have a record sounding like the live show. As soon as that came out we got loads of attention and offers. It was very interesting how fast that happened.
What was the response to the EP like?
I'm really happy. We're working with great people now. I'm really happy brought together people people that were generally excited about the music, rather than excited about the concept of three girls being a music act, like a lot of people who saw us when we started out. It was nice to find people genuinely thrilled with the music, and to find people that we wanted to work with.
You've started work on your debut album - what's the process been like so far?
After we signed with Lucky Number, we went to work on writing. We spent all summer in a stuffy, windowless rehearsal room writing our debut. It went really well. This fall we've continued on writing and developing and trying songs out on tour. Over Christmas we chose a really nice producer team and got working on it. I'm really excited. We've finished about 90% of it.
What was the recording process like?
We recorded in a really beautiful studio in Notting Hill. It was like a '70s wooden spaceship. Our thing was that we need it to keep the same energy as it does live else it doesn't really hold hands with whatever we're doing. We all had our own booths, and we had windows between so we could see everyone, and we all recorded together, everything - the vocals, the drums, every'thing - as if it was live. That was a really fun way to work, but also really intense.
How's the new music sounding?
It definitely holds true to the EP. I'd say it's much grittier. We started working with a drummer as well. It was really beautiful writing with a drummer because he just thought of the song very differently. It was a really great experience. We had a whole lot of fun. I'm really just excited for everyone to hear it. We just finished a tour around the UK. We were playing the structures of those songs having been recording consistently, and then going on the road and playing those arrangements, and actually hearing how the crowd takes to songs they've never heard before. It was so good. We're really excited to release it.
When can we expect to start hearing the new material?
Nobody tells me anything, for real. I don't know. This month we are mixing it and then hopefully mastering it. That'll be a fun process. We'll say this year. It's all strategic, these labels. Whenever it comes out. We're going to release a few singles before hand, so a taste of it will definitely be here in the next months.
What else does the year hold for Dream Wife?
Well, the year just started. We don't know. That's the funny thing about being a new band - you don't necessarily know what is happening around you. We're going to finish this record. We're really excited to tour the record. We want to gather our creative team of friends and do the whole visuals all around this record. Now we've almost finished recording it, a whole different phase takes over: playing it, creating the visuals around it, getting your friends on board to help create that visual world with you, and understanding what it is you have written. It's fun how it's all in different steps. We're just going to enjoy it all.
...and play a lot of shows; we really want to go to Japan! We've been asked a few times but it has to be strategic. I've asked the label 'once we've released this album, can we please go to Japan?' And they're like 'don't worry, it's in the works.' So hopefully we'll make it to Japan.
Dream Wife play Live At Leeds on 29 April. The full line up and ticket details can be found
here
.