Dylan's 19-song set opened with a set of crowd-pleasers before twisting around heavy selections from his later work (2012's Tempest and 1997's Time out of Mind). Throught it all, the 78-year-old icon wore a cheeky smile, sprinting centre stage between songs to lap up the applause.
Playing before Dylan, Neil Young was joined by his band, Promise Of The Real (including Lukas Nelson, the son of Willie Nelson and of A Star Is Born fame) for a similar career-highlight set which opened with "Mansion On The Hill" and closed with "Piece of Crap". An attempt to play "Roll Another Number (For the Road)" from 1975 record Tonight's the Night was scrapped after the first line for being "not dark enough", according to Young.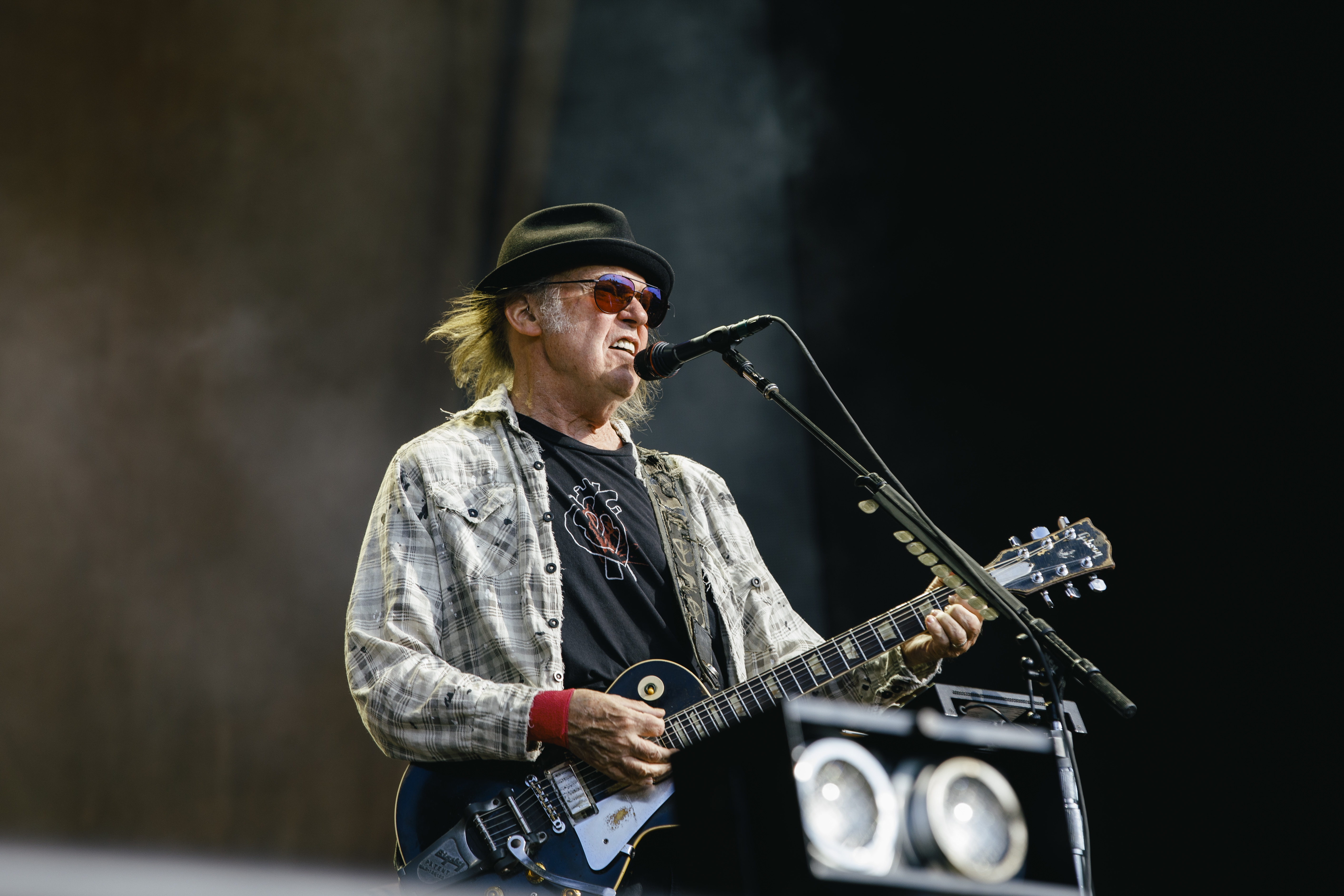 The event was notably free of the Mastercard advertising which other Hyde Park shows this week have carried, following Young's criticism of the "fossil fuel funding entity" (his words). Organisers had to remove all traces of branding, giving the entire event a refreshingly corporate-free aspect. "Sponsored by nobody," wrote Young on his website.
Bob Dylan's Setlist: Ballad of a Thin Man / It Ain't Me, Babe / Highway 61 Revisited / Simple Twist of Fate / Can't Wait / When I Paint My Masterpiece / Honest With Me / Tryin' to Get to Heaven / Make You Feel My Love / Pay in Blood / Like a Rolling Stone / Early Roman Kings / Girl From the North Country / Love Sick / Thunder on the Mountain / Soon After Midnight / Gotta Serve Somebody / Blowin' in the Wind (Encore) /It Takes a Lot to Laugh, It Takes a Train to Cry
Neil Young's Setlist: Mansion on the Hill / Over and Over / Country Home / Everybody Knows This Is Nowhere / Alabama / Walk On / Winterlong / Words (Between the Lines of Age) / Heart of Gold / From Hank to Hendrix / Old Man / Throw Your Hatred Down / Love and Only Love / Rockin' in the Free World / Like a Hurricane (encore) / I've Been Waiting for You / Piece of Crap