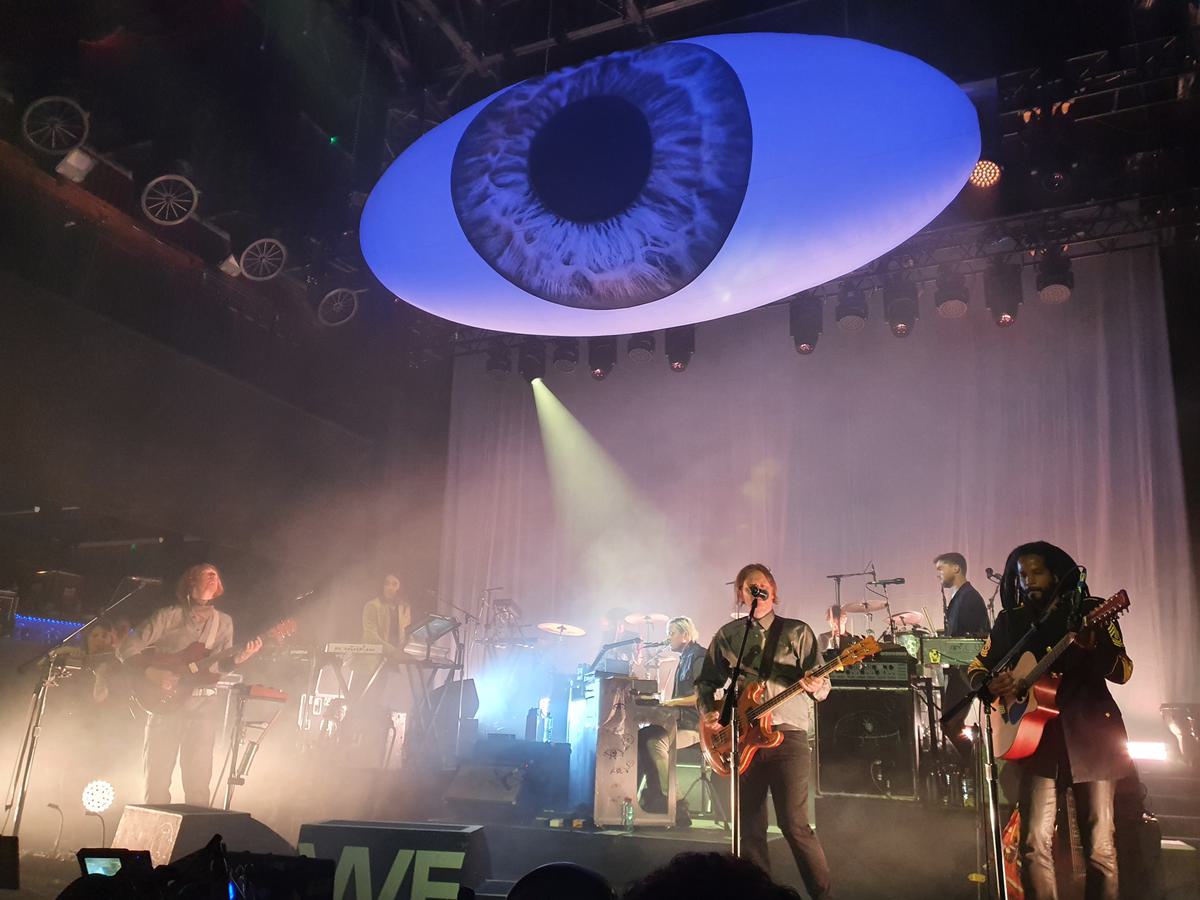 Arcade Fire showcase new record WE at the re-opening of KOKO
After a three-year closure which saw half the building burn down, Camden's legendary KOKO reopened against the odds last night with a scintillating performance from Arcade Fire.
Many fans were left disappointed after the intimate show sold out in seconds, but those willing to wait until the last possible moment were visited by an unexpected Ticket Fairy in the form of frontman Win Butler, who granted a number of lucky punters free entry into the venue.
Showcasing all but two songs from their upcoming album WE, the gig – also livestreamed on Twitch – saw the band on energised form, with Regine Chassigne rocking laser fingers on "The Age of Anxiety", whilst her husband Win descended into the crowd to join in the chaos. The Clash-inspired "Generation A" and folky "Lookout Kid" were both well-received, but the obvious fan-favourite was "The Lightning", with the refrain sung back every bit as passionately as more established hits.
The set-list also had much to offer fans of their five previous albums. "Tunnels" from their debut was as ever a highlight, but an electrifying "Everything Now" was evidently relished by band and audience alike and long-term followers of the band would have welcomed the return of Neon Bible's moody "My Body Is A Cage"- back in rotation after a decade out of favour.
As tradition demanded, the evening ended with the peerlessly anthemic "Wake Up"- or so it seemed. After demanding the live-feed be cut off, they unexpectedly premiered "End of Empire", the centerpiece of WE - and despite Win's admitted nervousness (his wife had to pep him up with a "you can do this!") and an unfortunate mid-set guitar hiccup, the lushly orchestrated epic proved a moving finale to this tremendous return for both band and venue.
Setlist
Age of Anxiety
Ready To Start
The Suburbs
Tunnels
Generation A
My Body Is A Cage
Afterlife
Reflektor
Rabbit Hole
Creature Comfort
Sprawl II
Everything Now
The Lightning (Parts I & II)
Rebellion
Lookout Kid
Wake Up
End of The Empire (Parts I-IV)