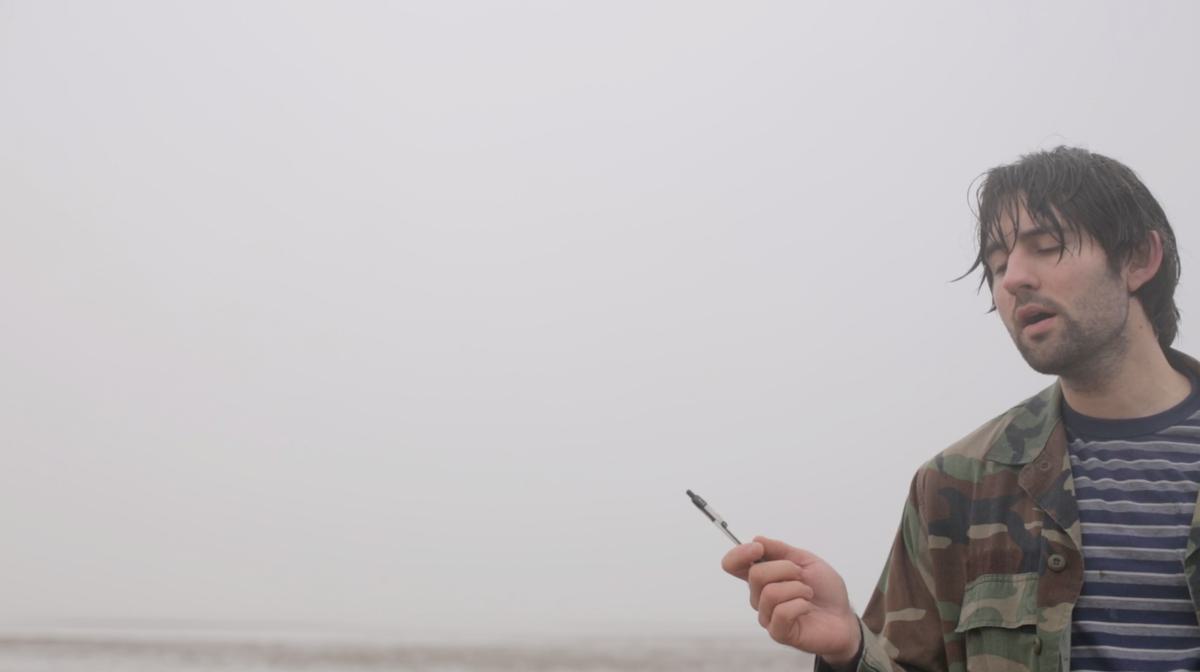 Sea Read approaches the apocalypse with optimism on "The World Is Ending"
Stepping out from his day job as tour manager of Spanish sensations Hinds, Callum Read finds jubilation in the end of all things with his latest offering under his alias Sea Read.
Think of the end of the world and what do you picture? Rampant chaos? Firey destruction? Crushing darkness? With "The World Is Ending" Sea Read imagines something a little less alarming.
Jaunty and upbeat, "The World Is Ending" sails towards oblivion with its wits firmly in check. Simple chords power the way along a campfire-sing-a-long-esque melody, handclap rhythms almost impossible to resist.
With the political climate as it is, the end of the world seems closer now than ever. In one and a half minutes, Sea Read takes that fear and uses it to fuel an upbeat energy. Empowering a positive spirit, the track is a potent redirection from misery - which, let's face it, is something we all need from time to time.
As he releases "The World Is Ending" Callum Read spoke to us about the song, recording in Madrid, and giving everything your all.
What inspired you to write "The World Is Ending"?
I remember being a little bit drunk by myself in my flat and I got into one of those holes… From reading about the worsening mass-extinction of bees then plodding through all sorts of misery that is happening around the world, including the ever-worrying adventures of you know who. Thinking about the combination of political hysteria and the fact that scientists are telling us every day that as far as climate change is concerned - we are pretty much fucked.
I was drinking white wine that night, which puts me in a much more positive mood than any other drink. So, when I got a little more drunk and got out of that hole, I started playing around with a really simple rock n' roll chord progression, probably the simplest one possible and I remember humming a little upbeat melody over the top and thinking "Diego [Garcia] would be into this". It didn't take long to write and when I listened back in the morning to the voice memo I had recorded, the combination of an upbeat happy-go-lucky melody with some pretty pessimistic lyrics gave it this freaky nihilistic feel, that I loved. It gave me the same kind of feeling as when horror films use children singing to freak you out (A Nightmare On Elm Street for example) I hope that in a few years, I'll listen back to the recording and be able to pretend to myself that I was just being sarcastic and playfully overdramatic, rather than genuinely worried.
You recorded the track in Madrid with Diego Garcia - what was it like working with him?
Recording in Madrid was great. Diego [The Parrots], Lois [Lois / Trajano!] and Fran [Los Nastys] opened a recording studio called Gamma Studio. They work together like a tripod. In this case I had Diego producing the tracks with the support and input of Fran and Lois, which created a really positive recording environment, they are great guys. It was a change for me, I'm far too familiar with recording my own demos with nobody else around. I'm extremely proud to be the first artist to release a song recorded at Gamma Studio - I really expect great things to come from them in the future.
How do you strike the balance between working as a tour manager for other bands and writing/performing yourself?
I was watching Supersonic (the Oasis documentary) and there's a part that made me smile. Noel is talking about his career touring as a drum tech for Inspiral Carpets. At one point he says (something like); "I wasn't stood there on the side of the stage thinking, ahh I wish it was me up there. As far as I was concerned, I had already made it. I thought, yeah, this will fucking do" That's pretty much how I've felt over the last 2.5 years.
I love tour managing and I am happy to say that I've given everything to the bands I've worked for (including almost dying from an undiagnosed burst appendix at Glastonbury 2016). I take it seriously, like you have to and I don't find it too hard to find a balance between working and being on the other side of the fence. In a way it's just a coincidence that my job tour managing is in very close proximity to my passion for writing, recording and performing myself. There's always going to be a creator inside of me and occasionally I do find myself arranging new song ideas in my head behind the wheel of a splitter van. I'm still getting used to the idea that my ideas (creatively) have some value, so my aim this year is just to get them out there and see what happens next.