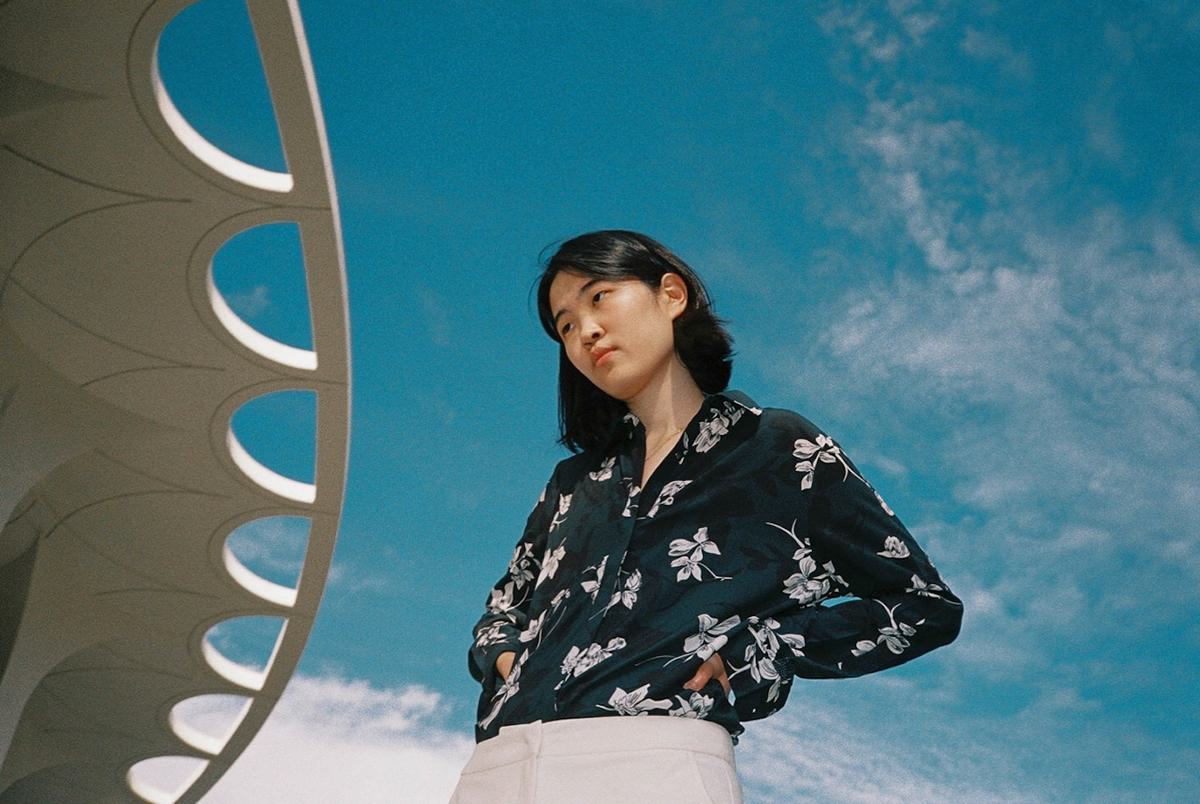 NoSo reflects on the turbulent nature of growing up in "Suburbia"
Juxtaposing the difficulty of a suburban upbringing with fond memories of friendship and nostalgia, LA-based artist and guitar virtuoso NoSo arrives with her first single under Partisan Records, "Suburbia".
NoSo carries her own message despite citing everything from Blood Orange, Ben Howard, Springsteen's "Born In The U.S.A", and '90s K-pop as her reference points. Across her minimal back catalogue, she grapples with the tumultuous search for a sense of identity and attempts to navigate the trappings of young adulthood, while her music teems with boundless possibilities.
Raised in the outskirts of Chicago in a suburb that Mean Girls was based on, NoSo (real name Abby Hwong) struggled with the narrowminded nature of the one-dimensional environment. "I was a very weird kid growing up because the environment was predominately white and heteronormative," she tells Best Fit. "I stood out like a sore thumb, even though I deeply wanted to conform."
"Throughout middle school and early high school, I was teased for being Asian and queer (even though I was closeted). I was called 'lesbian' as a slur, girls asked me out as a joke, etc, it was heinous."
NoSo soon turned to music throughout her formative years, with a keen interest in guitar though she admits she felt shy when singing. "In middle school, my friends and I would make joke songs for a fake musical we wrote together, but I was too insecure to write from a personal, vulnerable perspective."
Aware of the lack of representation across the entertainment industry, she continues, "Growing up, I didn't see many people who looked like me in music and TV and that was disheartening; I was worried the experiences I had were too uncomfortable and niche."
Hwong later graduated from the University of Southern California's music department (the same program as King Princess, Remi Wolf, and MUNA) and began laying the foundation for her releases to come. "Throughout college, I had a weird fear of learning music production. It wasn't until my senior year that I started messing around with Logic and ended up recording all of the instruments for 'Suburbia' (the first song I produced)," she recalls. "It felt like I'd finally found my sound."
"Suburbia" arrives as NoSo's first label release, via Partisan Records. Like her labelmates Laura Marling and IDLES, she favours a sardonically sunny guitar-backed sound but sets herself apart with her voice. Part Cali dream-pop, part folk-troubadour, "Suburbia" marks the maturity of an intriguing songwriter as she tries to make sense of, or at least accept, the disorder, pretence, and innocence of youth.
"I had the instrumental for a long time without knowing what to write about. One night, I got a drunk FaceTime from my friends in Chicago, and it was the first time in a while I really longed to return to that part of my life," she comments.
With a tongue-in-cheek nod to the behaviours which she once loathed, singing lines like "Rich kids and boutique drugs / And I miss you like it's enough", she forgoes the practice of burying uncomfortable memories while using retrospect to her advantage. The ridiculousness of small-town norms are ultimately the laughing stock of the track, yet it provides a twisted sense of nostalgia for NoSo.
"This song illustrates the absurdities of that suburban town (moms gossiping about teens) and the simple, lovely moments I didn't register as my childhood, like eating golden Oreos outside a pharmacy with friends I had since kindergarten. 'Suburbia' is ultimately about accepting the past for what it was and moving forward - something I've always struggled with."
On her first label release, NoSo achieves a hazy, spacious vibe while being poetically reflective as the first insight to her debut album that arrives next year. "I want to be the kind of artist I needed as a kid; I hope others feel like their stories are being represented through the music as well," she says.