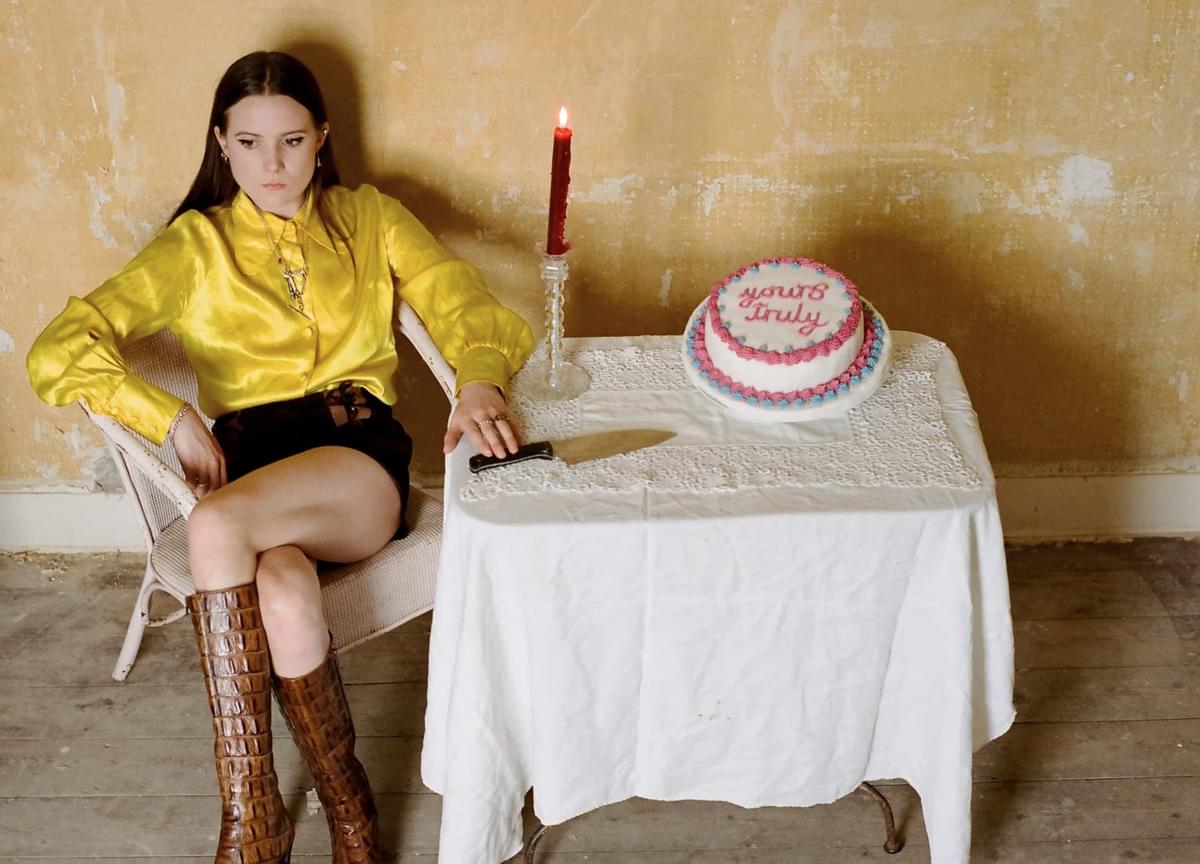 "Yours Truly" sees Martha Skye Murphy liberate herself from her mercurial paradox
With the new EP Yours Truly soon set to land, the beguiling Martha Skye Murphy delights in the fissures between ecstasy and unease on her latest single of the same name.
While the treasures beneath the rubble of London-based artist, actor and outlier Martha Skye Murphy's critically-acclaimed Heal EP continue to be unearthed, the title track from her second collection of the year shows her to be one of the most complete artistic voices hissing from the Kaa-eyed shadows of alternative music.
Solitary notes cautiously patrol the edges of the first single from Martha Skye Murphy's new EP, Yours Truly, delighting in the fissures between ecstasy and unease. The accompanying image is perfect: Murphy sitting disinterested in a canary yellow silk shirt, next to a celebratory cake and a butcher's knife. A mournful piano lullaby of the title outing slows itself enough to become mesmerized by her vocal, softly multi-tracked and curling around itself. Minutes in its company is like listening to Daniel Johnston's vampiric fantasies being whispered into the early morning dark of a snowstorm.
"I heard recently about a factory that had begun as a production line for bullets but later, with the same resources, had discovered a material for a bulletproof vest resulting in a much more fruitful business," Murphy says. "'Yours Truly' does something similar. I was using the ashes of heartbreak to build something that allowed me to combat and process its ingredients. In all my music I've been interested in exploring honesty; embracing rawness as something that enhanced my work rather than crippled it, challenging at what axis fiction and fact, documentary and reality meet."
Duly, for all the song's mercurial paradox, there's a freeing immortality that lets Murphy dismember her pain with playful harmony and a voracious embrace of the outside world. Anesthetized, you can hear the wind build around a punch-drunk, menacing denouement, with Murphy its spectral, gum-shoed proprietor. Her voice becomes sultry and serpentine, juvenile and vacant, like a child marveling at the way their arm bleeds as they pick at the wound they have just anointed, and put a plaster on.
Get the Best Fit take on the week in music direct to your inbox every Friday