There are parts of the world that many in Britain can't help being fascinated by. Countries that boast variants of our own independent music scene are always of particular intrigue – especially when our own popular musical history has been an influence on it – as it's so strongly been in certain parts of Scandinavia. The UK have a special relationship with Nordic pop; it's revered, untouchable. Artists from the cold North often think the same, and greater, of our own musical exports. This mutual respect can make for illuminating conversation when both sides come face to face, and tonight, as darkness settles over Aarhus, Denmark, that's exactly what happens.
I've come to the Pop Revo festival to meet the opening band The Rumour Said Fire, an act that has released two fiercely strong alternative pop albums in Denmark – The Arrogant and Dead Ends – and who blew their home country's doors down with breathtakingly tantalising folk ballad 'The Balcony'. Their shimmering sound boasts plenty of facets, but all centre, firmly and without compromise, around rich, sweet melodies.
The brains behind the tight four-piece operation is a songwriter whose primary instinct and desire is to create accessible, beautiful art: Jesper Lidang was man raised in a small town in the throat-end of Denmark, but grew up firmly within the grasps of British and American culture. I meet Lidang in the band's dressing room where – amongst the half-eaten Thai takeaway boxes and 330ml cans of Pilsner littering every surface – the band spread out and tell us about their lives amid Danish pop-rock stardom.
As we begin, the band are winding down from a raucous post-gig buoyancy, and the atmosphere is somewhat breathless. When asked how he would best introduce himself to a legion of strange British readers, Lidang grins.
"Well… we're a band. From Denmark," he laughs. "I write the songs, and I assembled the band some years ago. We've been working a lot since 2008, and we had a pretty big breakthrough here in Denmark with 'The Balcony'"
Lidang got into music at around thirteen years old, forming a band in school that played covers but says he always found it dull. "I started writing my own songs which probably sucked at first, but you grow…I was skating a lot at that time, and listening to a lot of hardcore music – obviously something very different from our style now.
"It was all kinda old school punk from the US and UK, like Minor Threat, but actually very little from Denmark. After I graduated I started really getting into music and wanted to start this band, and that's basically what I did. Christian and I had a mutual friend, so I assembled the band from there over a year." Rindorf adamantly interjects that it was half a year.
Søren Lilholt, the band's lead guitarist, leans forward as I ask about how it felt in the beginning and explains with absolute sincerity that "it was pretty clear from the start that this was all Jesper's… well, that Jesper was the main writer of the songs. We all knew that the base material would come from him and that we would work on it from there. I think that was an important distinction to make, and a good set- up to have."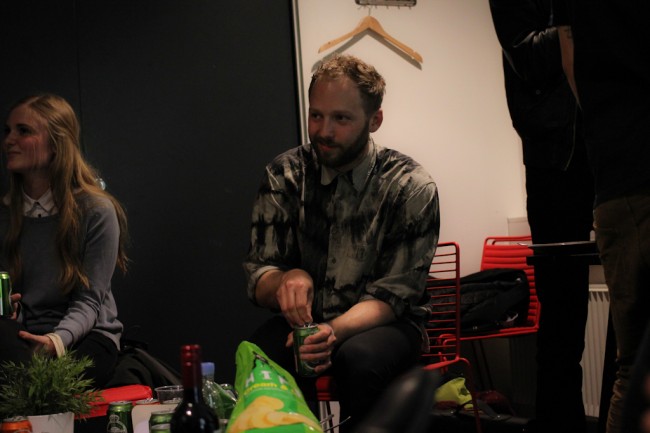 We move onto the band's roots: "We're from all round Denmark," Lidang explains. "I'm from Farsø, which was very boring as far as 'scenes' go. I like to think, though, that whilst it may be boring, you have a lot of time and a lot of room to just… evolve. You just sit in your room, listening to records, and just start writing whilst you grow and get better at what you do."
Despite this apparent silver lining, he doesn't feel like he's missing out now he's relocated to the Danish capital. "We're adults now, y'know?" he says. "You can take your time as much as you need. Our rehearsal room is in the middle of nowhere though, so I guess it's kinda the same in that respect!"
Lilholt interjects: "I would say that, growing up in a small city, there was probably only Jesper and maybe a couple of other guys listening to this kind of music, so you couldn't just go round the corner and meet a hundred people who liked indie music – you had to really work for it, and really work to get a record. They were usually from the UK, you know, and you waited a couple of weeks and then got it by mail and you invited the two dudes you were hanging out with all the time over to listen to it."
Lidang nods, and continues: "You'd have to go to much bigger cities to go to see any shows. It wasn't rational thinking or anything, because we were kids, but you just went with what your nerves told you to do."